We independently review everything we recommend. When you buy through our links, we may earn a commission. Learn more 
Dungeon crawlers are perhaps one of the best-established board games genre. They are a bit short of a Dungeons & Dragons DM experience and often give you the satisfaction of monster-grinding in an imaginary realm that promises to celebrate your feats by showering you with gold, fame, and anything that you may desire. Today, we take a look at the best dungeon crawler board games which are designed to throw you in this fantasy realm and offer you a real challenge.
We have reviewed 14 riveting dungeon crawler board games that have become a staple in the genre and offer an excellent variety of mechanics, storylines, and reasons to love them. Starting with the pinnacle of them all, Gloomhaven, we will run you all the way through to the echoing, alien-infested metal corridors of a spaceship in Nemesis!
List Best Dungeon Crawler Board Games 
1. Gloomhaven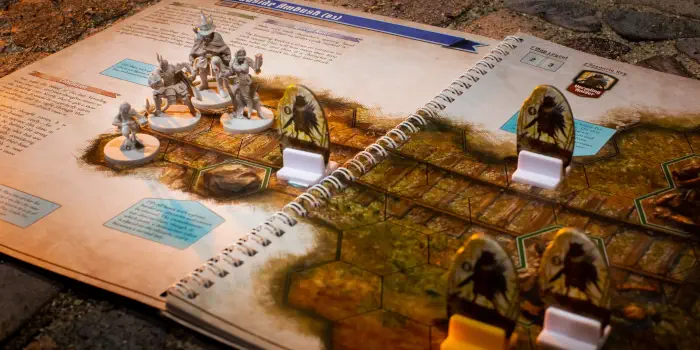 Designers: Isaac Childres
Players: 1-4
Time: 60-120 Min
Age: 14+
Complexity: 3.90/5
Gloomhaven is the pinnacle of dungeon crawler board games, offering you a mix of variety, replayability, and infinite game time encapsulated in a very long main quest and spruced up with a side dish of hundreds of additional missions. In Gloomhaven, 1-4 players band together to take on the game's unique enemies, dungeons, and the occasional boss villain, in what is a highly-tactical Euro-style game.
Each player is a wandering adventurer who has travelled to the darkest corners of the Earth and has become a member of this party, but this doesn't mean you are all working cooperatively all the time. Your party member will sometimes do something illogical to complete a mission and advance their own character first, leaving you gasping.
The game itself allows for a highly inspiring and immersive character "grind" whereby each dungeon makes you a little stronger, and allows you to progress by accessing new equipment, improving your attack deck, and choosing new cards to strengthen your core deck. There is subtle selfishness in what everyone does during a fight, but it will ultimately come down to you working as a team to defeat a mission, collect your loot and experience, purchase new gear, and plunge back into the next challenge.
Gloomhaven is not without its flaws, of course. To some players, including myself, the fact that some prioritize their "personal missions for the good of the entire party" can be a little dispiriting. Racing to collect gold coins instead of having an understanding of who picks them and when too.
Then again, this is part of the game's charm. Gloomhaven is definitely one of the best dungeon crawler board games you can find. The game is also getting a second edition, and you may also be interested in trying its sequel, Frosthaven. Cephalofair Games has also announced more than 600 miniatures that you can buy and add to the immersiveness of the experience.
2. HeroQuest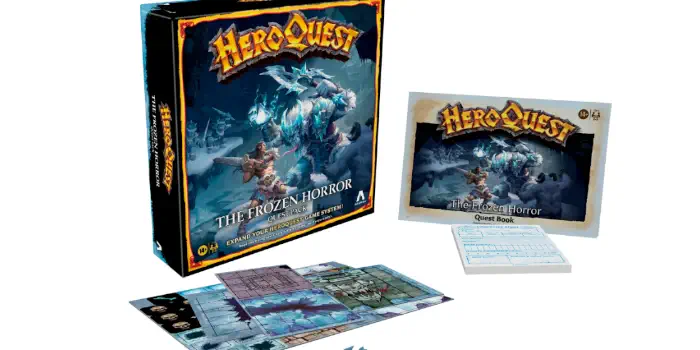 Designers: Stephen Baker
Players: 2-5
Time: 90 Min
Age: 14+
Complexity: 2.14/5
The best part about HeroQuest is that it's not much like Gloomhaven. Whether this is necessarily true is not for us to decide. Still, HeroQuest has a huge nostalgic factor as the original game was released in 1989 and has got numerous reincarnations and editions ever since, with the latest brought out by Avalon Hill. In any eventuality, HeroQuest is touted as one of the best dungeon crawler board games of all time, and with a good reason.
This game allows you to explore dungeons in an RPG-style fantasy adventure that allows for modular dungeon building and presents players with a good mix of luck and skill. It also expects you to run a Dungeon Master, the person who will be telling the story and unfolding fresh horrors before you. The game's terrain is a huge part of the experience, as it allows players to customize and build their play area, and the playing field is a highly-satisfying play area.
The miniatures for this game have been developed in collaboration with Games Workshop, which gets you a whole lot of detail and variability, and with some effort, you can take any 28/30-milimeter miniature and add it to your adventure. You will pick a quest, assemble your party, and follow the straightforward dungeon crawler experience, but still rely on your understanding of the game to make the best decisions moving forward, or perish trying.
HeroQuest is not just a nostalgic trip – it's a gateway game to more complicated titles in the dungeon crawler board game genre, but it stands very well on its own. Players of all levels can step into HeroQuest's varied scenarios, missions, and quests to make the most of their experience.
3. Mice and Mystics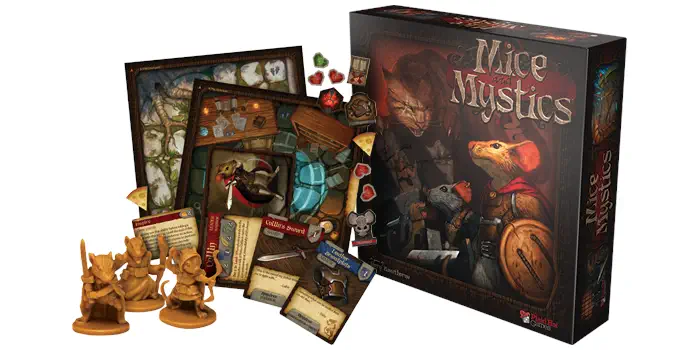 Designers: Jerry Hawthorne
Players: 1-4
Time: 60-90 Min
Age: 7+
Complexity: 2.72/5
The kingdom needs you – and you, its only hope, have been transformed into mice along with your fellow and most loyal subjects. You, Prince Collin, suddenly find yourself fighting not just against your former and now-gargantuan foes, but face new deadly threats in the face of other rodents, cockroaches and anything that wants to eat or step on you – which is pretty much the brave new world in which you are going to live. Plaid Hat Games is very good at telling stories.
Yes, the prince has been transformed into a mouse as his opponents are trying to get rid of him – that includes the housecat, Brodie. Mice and Mystics is a deeply thematic and evocative dungeon crawler board game where you will face an interactive environment, that is constantly shifting and requires all players to come together and work as a team to overcome the scenarios.
The story plays a huge role in the game, but so does the design. Although there are some flaws with the repetitiveness of the game – according to some – Mice and Mystics hold well on their own. A fair warning goes that you would have quite a few stops to read the storyline. The upside is that the game is really easy to pick with streamlined rules set and excellent quality minis.
If you have the patience to read through the bits and bobs of narrative, this could be a great gateway dungeon crawler board game to some of the usually darker variations of the genre, including Descent, Shadows of Brimstone, or something completely different!
Buy Mice and Mystics on Amazon US.
4. Arcadia Quest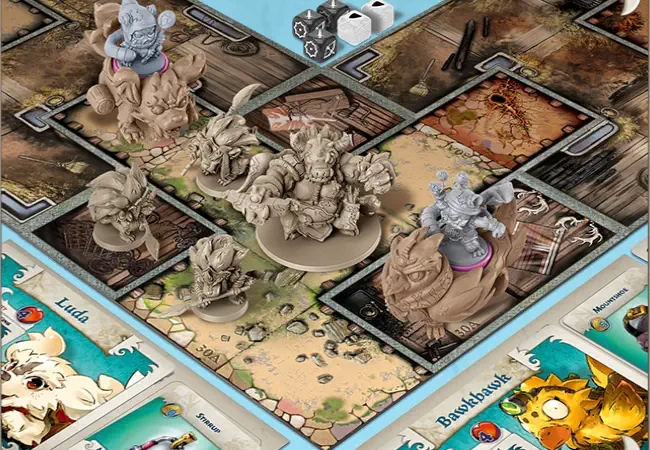 Designers: Thiago Aranha, Guilherme Goulart, Eric M. Lang, Fred Perret
Players: 2-4
Time: 60 Min
Age: 13+
Complexity: 2.53/5
If you are a little exacerbated at your teammates in a game of Gloomhaven, you may just want to try Arcadia Quest – the game that won't tell you it's semi-coop to see your fellow adventurer cut through a throng of mobs and collect the treasure chest behind. Arcadia Quest subverts the dungeon crawler genre's expectations.
In the game, you will find a versus mode, which is the whole premise of the game. Two to four players will lead their own guilds to face all sorts of monsters and rival guilds in a bid to topple the evil vampire lord and liberate the city from the competition and the supernatural forces of evil. There is a campaign that allows you to play six out of eleven scenarios, with branching and changing storylines and quests that need to be completed in order to win the scenario.
The replayability of the game – which is a buzzword for many players these days – comes from mostly approaching each scenario with new heroes and from a different angle. Although the missions remain pretty much the same, you can add freshness to them by challenging yourself to build different teams. All in all, Arcadia Quest is definitely a unique and fun game and deserves to be on our list of the best dungeon crawler board games.
Buy Arcadia Quest on Amazon US.
5. Zombicide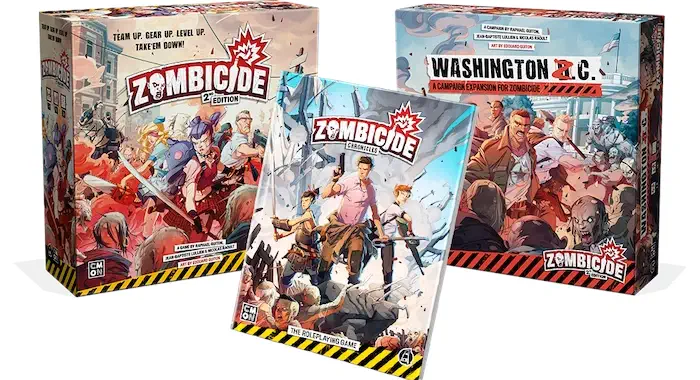 Designers: Raphaël Guiton, Jean-Baptiste Lullien, Nicolas Raoult
Players: 1-6
Time: 60 Min
Age: 14+
Complexity: 2.42/5
The 2012 Kickstarter debutant has been one of the best dungeon crawler board games of all time. In the game, 1-6 players come together to kill zombies, survive the undead rising, and then get back to killing even more zombies. This is the entire point of Zombicide as you try to crawl out of a difficult spot during the festival in Rio de Janeiro, the Middle Ages, or even in the Marvel Universe.
Zombicide has had quite a few versions over the years, but they have all remained to the core release, with players choosing a character and relying on their unique abilities to survive the undead, flesh-ripping tide. In the game, zombies won't give you too much trouble in terms of how well they play strategically, but they are still amassed in such large numbers that ignoring them is not an option.
Careful, though, as zombies will still evolve and smarter ones will appear as you advance through the scenarios. Players will be run through a series of those, usually 10 in the base game, but vary based on each individual version of the game. The second edition of the game was released in 2021 and enjoyed an even stronger fan reception, introducing streamlined rules that have to do with the game's core mechanisms, allowing more competitive and rewarding gameplay.
6. Shadows of Brimstone: City of the Ancients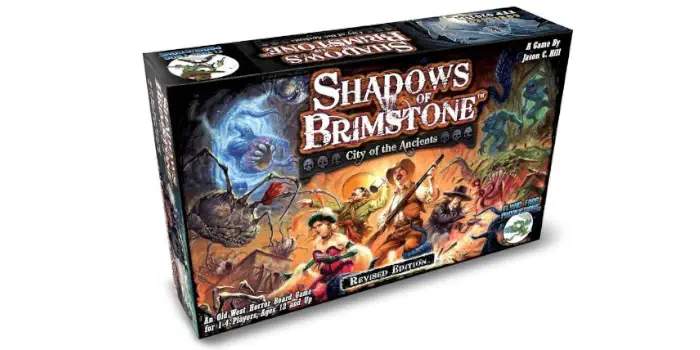 Designers: Jason C. Hill
Players: 1-4
Time: 120 Min
Age: 12+
Complexity: 3.35/5
As far as the best dungeon crawler board games go, Shadows of Brimstone: City of the Ancients is something that you cannot simply pass up on – nor can you on most of its expansions and standalone games that have followed since the original release in 2014. The game is a cooperative dungeon crawler in which you will trudge through the worlds of the Old West and the Targa otherworld.
The game offers an exciting campaign system that will have you run through the gamut of the dungeon crawler experience, improving your character by securing more loot and artefacts, gaining experience, and facing long odds against a powerful enemy. There are several unique things that make this game stand out in our opinion.
One is that it tends to appeal to players who love miniatures, including assembly and painting. The game features a unique darkness mechanic, which could be a little constricting on occasion, but still, something fun and new, even though it was designed several years ago.
Plus, there is the fact that something may happen to your character permanently, making it unique. Some people have loved the randomness of the dungeon, with others criticizing it for being a little too much like a video game. Either way, Shadows of Brimstone is in our collection and it definitely makes the list as one of the best dungeon crawler board games we own.
Buy Shadows of Brimstone: City of the Ancients on Amazon US.
7. Massive Darkness 2: Hellscape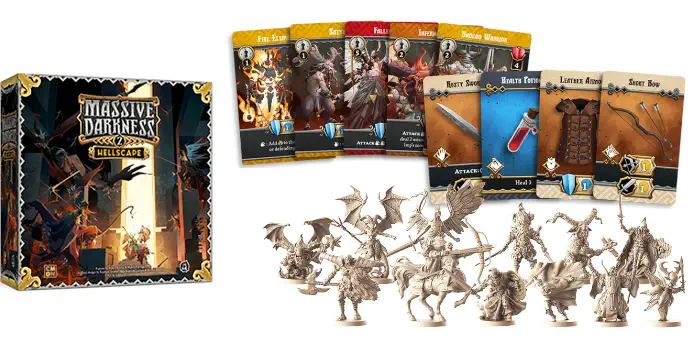 Designers: Alex Olteanu, Marco Portugal
Players: 1-6
Time: 60 Min
Age: 14+
Complexity: 2.70/5
Massive Darkness 2 is a… well, massive dungeon crawler board game that has quite a few expansions and a high player count, which is perhaps one of the reasons why it's an outlier. 1-6 players will get to come together and plow their way through 60-minute sessions as they try to keep the Darkness at bay. The Darkness is your nemesis, and it's seeping into the world through Portals that need to be shut down by you – a party of so-called Lightbringers.
The game uses a system that is different from the hand management you would see in other games on this list. To be honest, there is a fair bit of dice rolling in Massive Darkness 2, and while the game is a bit more push-your-luck, it does not dispense with strategy.
It's just a bit more forgiving if you have a bad roll or play a sub-optimal card as such. The characters you can play are also quite different, as each has its own play style. For one, the Rogue will be building a bag, and the Ranger will be really about either hitting well or missing to the disappointment of your party members.
If you want to get tied down into a bit more strategy, you may want to check out the Wizard, which will have to carefully plan and then execute spell-casting. The premise of the game is cool, the components – are of the highest quality, and the opportunities to expand and add to the experience – are in the dozens provided you end up loving the base game!
Buy Massive Darkness 2: Hellscape on Amazon US.
8. Claustrophobia 1643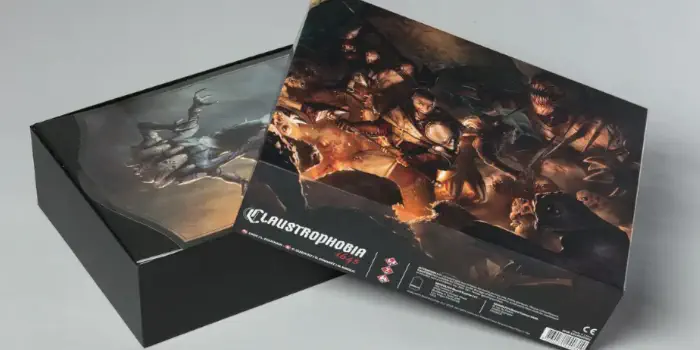 Designers: Croc, Laurent Pouchain
Players: 2
Time: 45-90 Min
Age: 14+
Complexity: 2.67/5
Claustrophobia 1643 smacks of Doom: The Board Game, but it has its own unique setting and narrative. Now, this is a two-player dungeon crawler board game, and it's very hard to come by – you won't find it on Amazon in the United States, for example. In the game, two players will control a band of humans and an unending spawn of demons who will keep coming at the humans until they have crushed them.
The combat takes place in medieval catacombs where the human player will try to come on top. The pace of play is dynamic, easy to grasp, and very thematic. There are other benefits to the game – unlike other dungeon crawler board games, Claustrophobia 1643 is indeed quite easy to teach with the rules taking 10 minutes or so, offers a much shorter play time in individual sessions, which means it won't hog too much personal time, and you have huge replayability through the dozens of scenarios available.
Plus, there is the added randomness factor which will elevate the experience even further for you. In a word, there is a ton that the game offers and you will be definitely fortunate if you can get your hands on a copy.
9. Bloodborne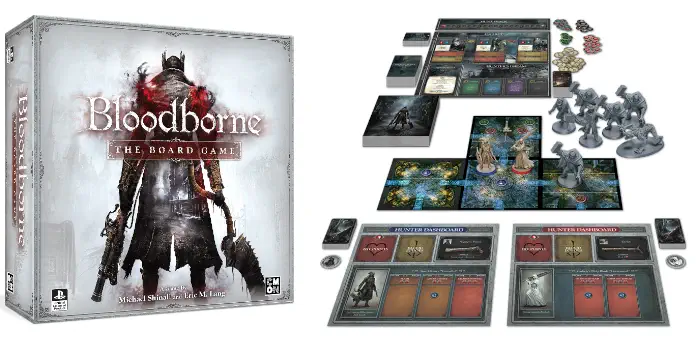 Designers: Eric M. Lang, Michael Shinall
Players: 1-4
Time: 45-75
Age: 14+
Complexity: 3.02/5
Seeped in the universe of the video game itself, Bloodborne: The Board Game by Eric M. Lang and Michael Shinall is a fantastic take on the original franchise but stands very well on its own as attested by fans of other popular choices game that share some of the mechanics (such as sequential card play), including Spirit Island, Gloomhaven, and Cthulhu Death May Die. Essentially, Bloodborne is a grim dungeon crawler board game in which you take the role of Hunters tasked with uncovering the treasures of the city of Yharnam and the magical world it's based in.
The game should have been a simple reskin of the video game, but it has been cleverly designed to feature its own fighting mechanic and AI deployment. For example, none of the opponents in Bloodborne is based on AI – players get to choose where the opponents will spawn, what they will do, and in a sense – have a complete game sense. This doesn't make it any less challenging, and if anything – every round is loaded with meaningful decisions.
You also get to play cards to perform attacks, and there is, not unlike Gloomhaven, a feeling of satisfaction in figuring out how to best play your card. Each opponent will fight you back after you attack them, so there is no chance to sit out a phase statically. This is a game with a lovely dynamic that you would love to explore in your next dungeon crawler session provided you love the setting and are looking for a fresh title to try.
Buy Bloodborne: The Board Game on Amazon US.
10. Descent: Legends Of The Dark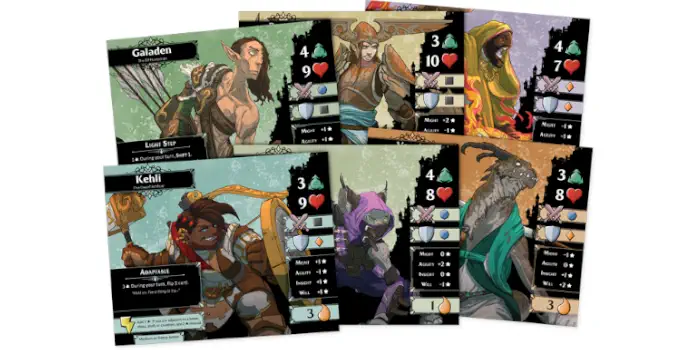 Designers: Kara Centell-Dunk, Nathan I. Hajek
Players: 1-4
Time: 120-180 Min
Age: 14+
Complexity: 2.69/5
Descent: Legends of the Dark Ring is one of the most ambitious designs in the entire Descent series to date, and fitting – one of the best dungeon crawler board games on any list. The game takes you on a long, action-packed campaign that will have 16 different quests to complete as part of the "Blood and Flame" cycle and see 1-4 players band together to become the heroes of Terrinoth, the game's magical world, faced with a fittingly powerful evil opponent.
In the game, you will develop your character and venture on various paths and quests to gather fame, tackle each quest's objective, and create a unique hero that has its own playstyle, abilities, and even motivation. The challenge in the game is not only brought in by the years that the Descent franchise has been around, but also by the fact that an assistant app will now have you experience changes to the gameplay, fight more complex and evolving opponents and generally enjoy your game as an evolving adventure influenced by your choices more so than predestination.
Descent is also gorgeously illustrated and the components have definitely seen some love from the manufacturer. The game has a specific system where all characters activate and perform actions, followed by opponents, and there is a crafting mechanic, too. Descent feels like a story-driven adventure with a lot of action and a very sound story to tie it all together.
Buy Descent: Legends of the Dark on Amazon US.
11. Star Wars Imperial Assault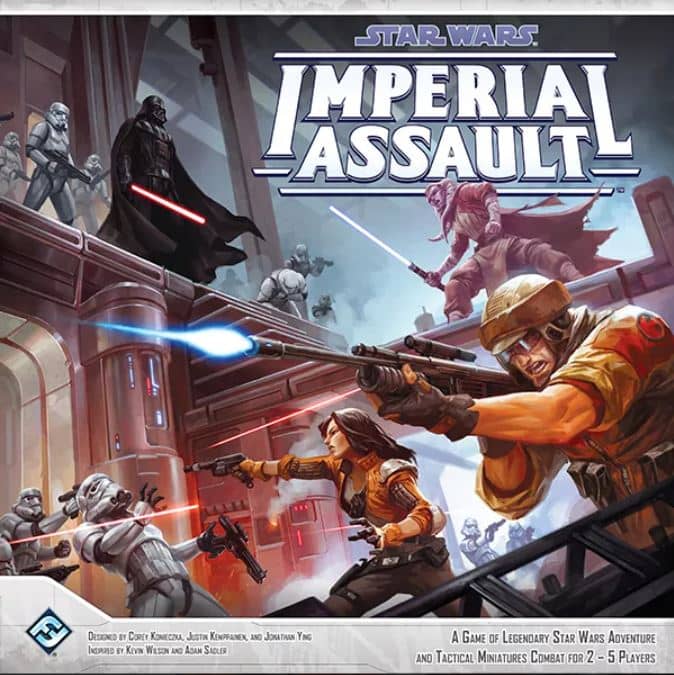 Designers: Justin Kemppainen, Corey Konieczka, Jonathan Ying
Players: 1-5
Time: 60-120
Age: 14+
Complexity: 3.30/5
Star Wars Imperial Assault is one of the oldest and best dungeon crawler board games out there, meticulously designed to a fault, and inspiring Star Wars fans to play as the Empire or the Rebels in one final showdown between good and evil. Up to four players can band together as the Rebels and fight the Imperial player who will do their damnest to quell the uprising and destroy every last pocket of resistance.
The combat is dynamic and strategic, allowing for deep and carefully thought-out choices that impact each team's chances of winning. Players will have to balance between pragmatic resource management and the occasional luck factor. Star Wars Imperial Assault is designed not in a vacuum but as a part of developing narrative with the Rebel heroes and armies starting small but gathering traction throughout the game.
But no matter how powerful, the Empire has a seemingly endless supply of troops they can throw in the mind grinder, with Darth Vader tiptoeing into battle every now and then. The game is definitely massive and this is by design.
For starters, it was crafted so that it features a long and rewarding campaign, but it also allows you to grab your minis and turn them into a nice skirmish game, try the co-op or solo modes, and check out the free app to immerse yourself not just in the franchise, but in the unique pocket of fun that is Star Wars: Imperial Assault.
Buy Star Wars Imperial Assault on Amazon US.
12. Warhammer Quest: Cursed City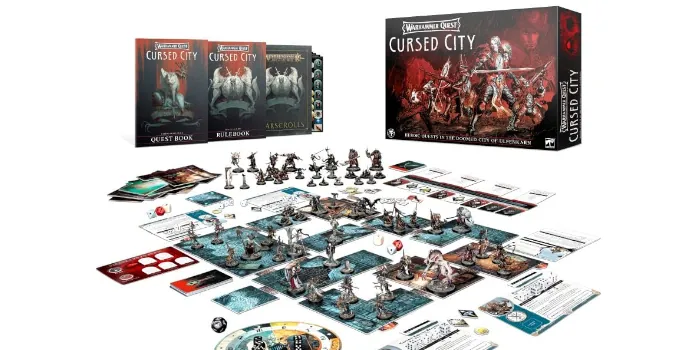 Designers: Games Workshop
Players: 1-4
Time: 120-180 Min
Age: 12+
Complexity: 2.45/5
Warhammer Quest is Games Workshop's take on the cooperative dungeon crawler board games genre, with a generous pinch of Age of Sigmar seasoning. 1-4 players will enter the city of Ulfenkarn and try to vanquish the tyrannical Vampire Lord that has cast his curse over the ruins. The rules are pretty much the same as in the original 1995 edition of the game, but there has been a major facelift insofar as the execution of individual mechanics goes.
The theme is evocative, the lore is surprisingly on-point, and the minis are of the highest quality, bringing a satisfactory, tangible feel to your every playthrough. The game will have you run through dungeons and gather equipment and resources as you seek to attain the power needed to throw down against Radukar the Wolf, the once hero of Ulfenkarn turned into a dark and potent being under the influence of Shyish Necroquake.
Players will roll dice, cleave through undead and other monstrosities, and collectively progress through a long and highly-thematic campaign. Warhammer Quest: Cursed City is one the best dungeon crawler board games on this list to try, albeit the repetitive farming of some of the side quests has been a bit of a slog. It will all depend on how much you love Warhammer Age of Sigmar, too!
Buy Warhammer Quest: Cursed City on Amazon US.
13. Doom: The Board Game 2E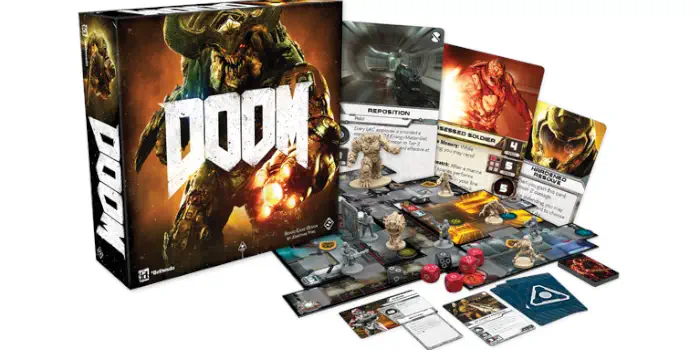 Designers: Jonathan Ying
Players: 2-5
Time: 120-180 Min
Age: 14+
Complexity: 3/5
Doom the board game is much like Imperial Assault a game in which you will enjoy an evocative setting and theme and have players go head-to-head in one of the best scenarios where evil meets "the good guys," or in this case – a bunch of elite marines who have to survive the spawn of hell and cleave through the thongs of demons that are invading the United Aerospace Corporation's facilities.
The game will have up to four players band together and complete missions and fight hell monsters and demons as they try to ensure that the objectives are complete lest the contents of Hell end up in the human world. The goal of both teams is simple – just like in the video game – to destroy the opposing team. Even though it was inspired by the video game, Doom stands very well on its own, bringing a unique set of mechanics and rules to create an evocative and worthwhile experience across the board. 
Buy Doom: The Board Game 2E on Amazon US.
14. Nemesis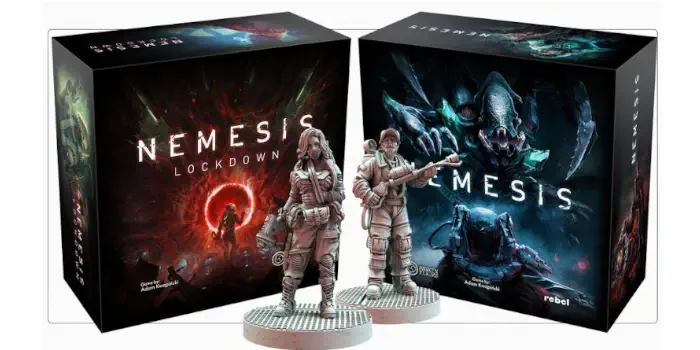 Designers: Adam Kwapiński
Players: 1-5
Time: 90-180 Min
Age: 12+
Complexity: 3.43/5
You wake up in the midst of a ship, just stretching out from cryosleep to discover that one of your crew members is lying dead before you and has a gaping hole where their chest is supposed to be. *Gulp* This is Nemesis, one of the most epic dungeon crawler board games there are, which will see 1-5 players onboard an alien-infested ship crawling with infectious larvae that are looking to lodge themselves in your chest cavity, and xenomorph adults who are looking for a human snack. This is the base premise in both the 2018 original game and its second instalment, Nemesis: Lockdown.
Players will come together playing a unique character each with their own abilities as they simper through the hallways of the ship and trying not to run into trouble. The game will have you habitually face off against an alien who is pretty hard to take down, especially with some of the classes and will require you to work together, only there is one little problem.
Winning the game is not necessarily a cooperative effort. Each player gets their own unique mission which means they could be asked to kill Player A, set the ship on a self-destruct sequence, and eject through an escape pot, leaving other crew members to their deaths. This constant wariness and mistrust of each other make for highly psychological and fun games that will have you second-guessing (and often wrongly) your team members and plunge the whole enterprise into its inevitable demise.
Of course, there will be that one coy vixen among you who will figure it all out and outsmart you all. When you realize who that was, you would all be gasping that they had the nerve to pull that one off!