We independently review everything we recommend. When you buy through our links, we may earn a commission. Learn more 
The Star Wars franchise just keeps on giving and no matter how you feel about the newer additions to the series, you definitely love The Mandalorian and maybe feel warmly disposed towards Star Wars: The Bad Batch. In any event, Star Wars has been particularly successful with board games, miniature games, and even TTRPGs. 
Today, we will have a dekko at the best Star Wars board games, but also some of the miniatures and war games that may catch your attention. There will be galactic strife, co-op experiences, and so much more.
List of Best Star Wars Board Games
The Star Wars board games hobby consists of remarkably well-polished products which have not missed the mark in recreating the sci-fi saga and bringing it to the tabletop experience in a way that feels and plays satisfying. Players definitely have a fairly long list of titles to choose from, but we will only shortlist the best Star Wars experiences that are available for board games fans today.
1. Star Wars: Rebellion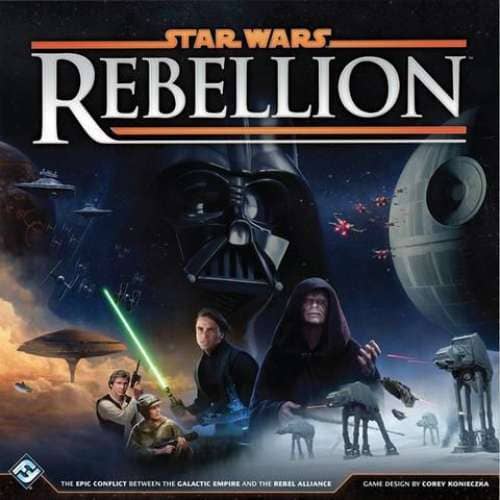 Star Wars: Rebellion by Fantasy Flight Games is often touted as the best board game about Star Wars there is. The game invites 2-4 players to take in the role of the Empire and the Rebellions who will vie against each other and race against.
Rebels will lurk in distant corners of the Empire as they try to bring a devastating blow to their opponents while the Empire scours sectors and looks for what leftover rebel scum there is. This interpretation of Star Wars for the tabletop hobby is done superbly, with plenty of suspense, and a truly epic feel as rebels and stormtroopers battle to the death to see their cause realized.
Buy Star Wars: Rebellion on Amazon US.
2. Star Wars: Imperial Assault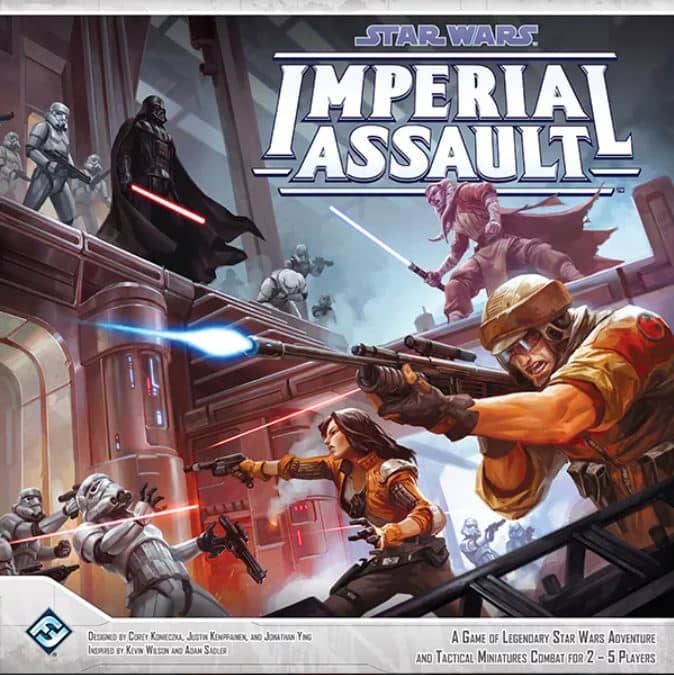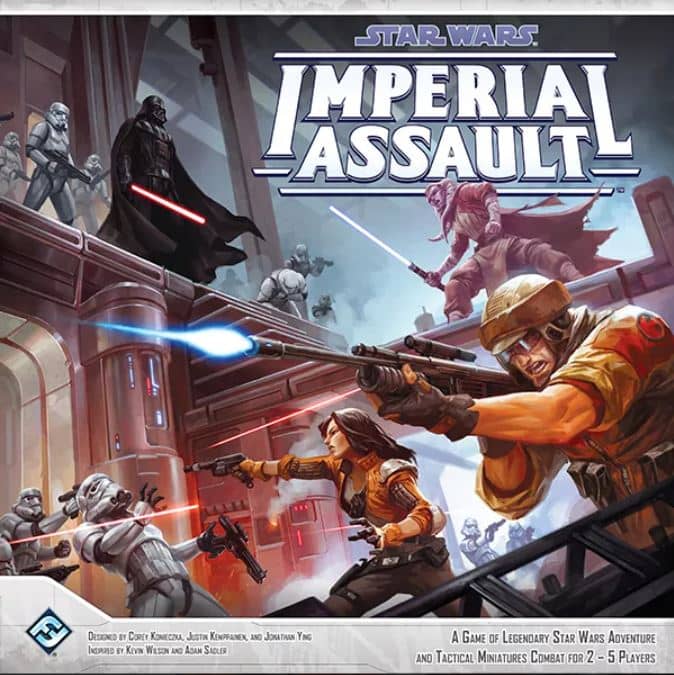 Imperial Assault is another brilliant addition to the Star Wars board games pantheon and it has already had dozens of fantastic expansions released over the years – the warm reception of board game buffs and Star Wars fans.
The miniatures game comes with two main modes, one campaign and the other – skirmish, where you can either compete against the pre-set and thrilling scenario or decide to juke it out against your friends. The battles are highly-tactical, and the head-to-head mode allows for endless replayability where each player controls Rebels or Imperial forces in what is an epic battle of cosmic proportions!
Buy Star Wars: Imperial Assault on Amazon US.
3. Star Wars: Dark Side Rising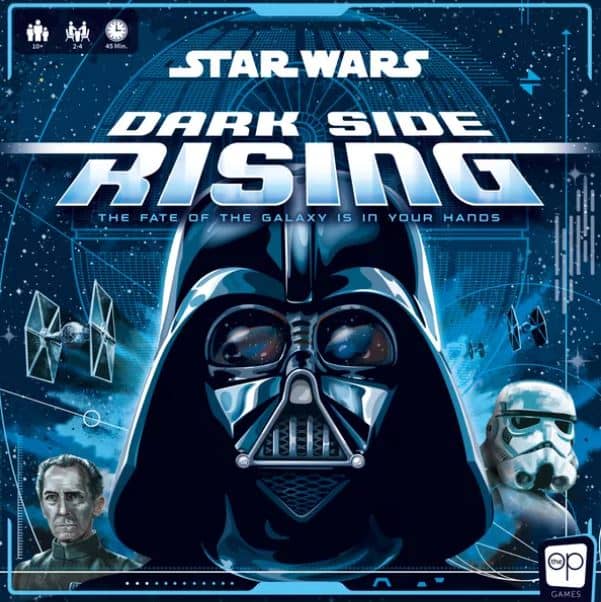 Star Wars: Dark Side Rising is a refreshing take on the franchise and while you will have to battle as the Rebels against the all-too-familiar empire, you will at least do so with your friends. This cooperative card and dice game will ask 2-4 players to bandy together and foil the construction of the Death Star, the Empire's most formidable weapon.
Players will set out to recruit a number of respected characters to their cause, including Obi-Wan Kenobi, Han Solo, C-3PO, and R2-D2 among others, never mind storyline or plot accuracy. You get to bring the best of the most upstanding characters in the franchise to battle the forces of evil, including Darth Vader himself.
Star Wars:Dark Side Rising is not currently available on Amazon US.
4. Star Wars: X-Wing Miniatures Game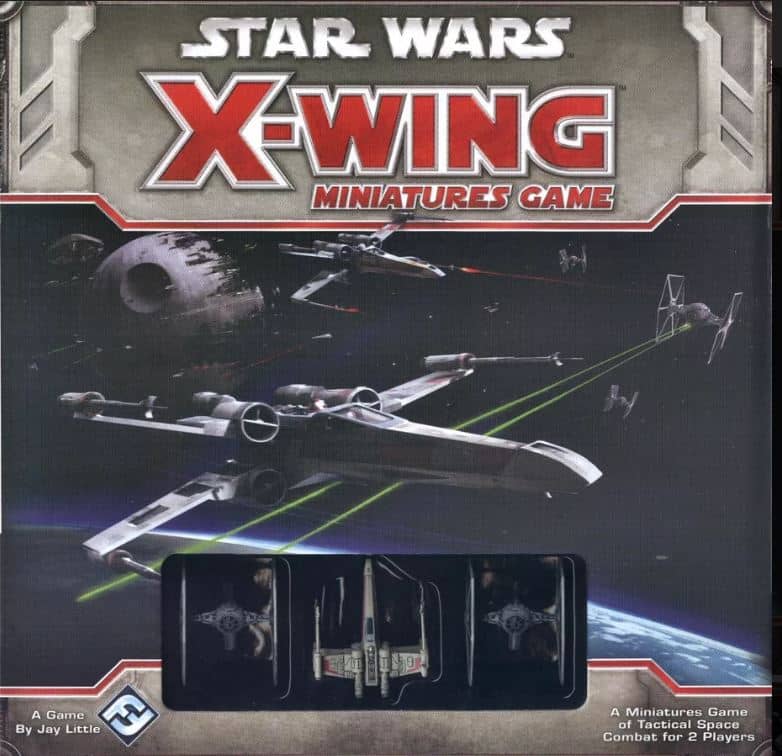 For many fans of the franchise, Star Wars: X-Wing Miniatures Game is what any tabletop experience is about. The game falls in the categories of war and miniatures games (as the title clearly suggests) with each player commanding their own unique fleet.
To determine the size of each fleet and balance it against the opponent, X-Wing Miniature Game uses a point system that reflects on each ship's power. Players can customize their fleets to adapt to the opponent's playstyle and fleet and vie in what is one of the best recreations of the Star Wars tabletop hobby.
The battle system is intuitive, although it takes some getting used to, and overall, this is one of the best space battle experiences you can bring to your table.
Buy Star Wars: X-Wing Miniatures Game on Amazon US.
5. Star Wars: Armada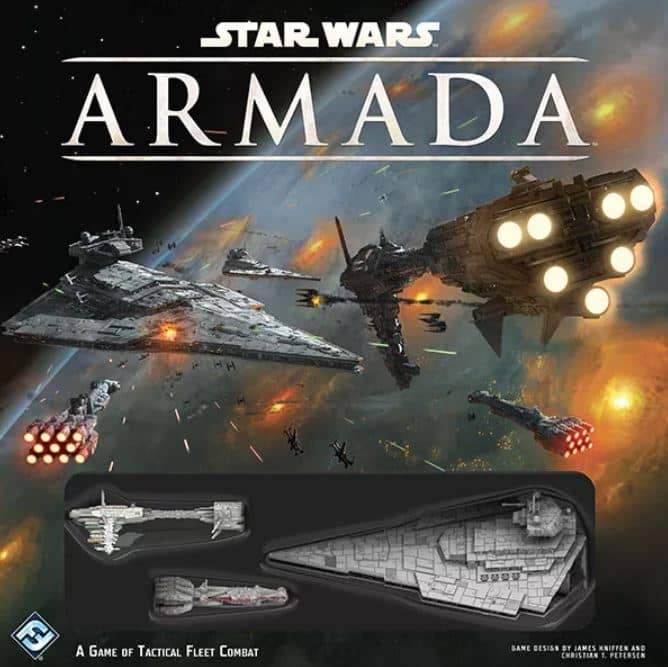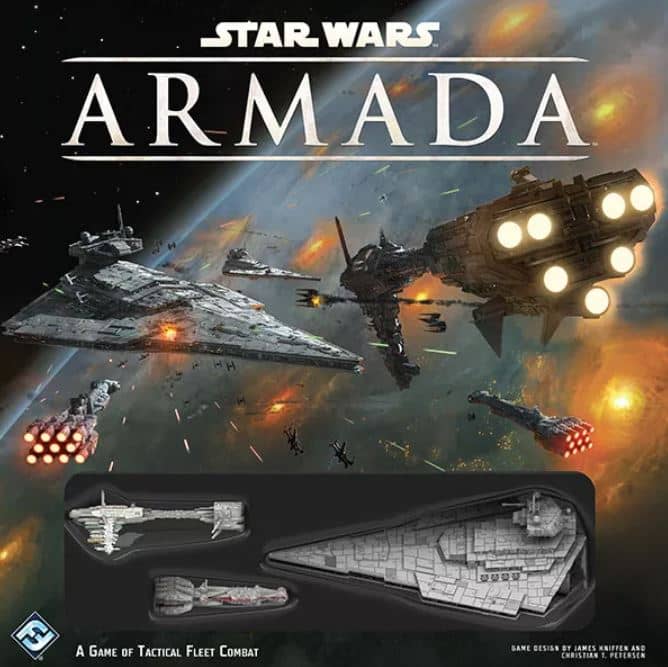 If you love the skirmish fashion of X-Wing Miniatures Game, but often felt that it lacks proportion, Armada is the remedy for that. Star Wars: Armada is a miniatures game set in the Star Wars universe and focuses entirely on space battles. The difference is that Armada is all about building massive fleets and forcing them into glorious all-out battles until there is no ship standing.
Players will become fleet admirals with the game set for 2 players and one commanding the Imperial Navy while the other one takes on the Rebel Alliance and they steer towards the epic battle. The game also comes with a special manoeuvre tool which allows spaceships to conduct more sophisticated attacking and evasive actions, which only adds to the depth of the experience and the satisfaction you get from playing smartly with your fleet.
Buy Star Wars: Armada on Amazon US.
6. Villainous Star Wars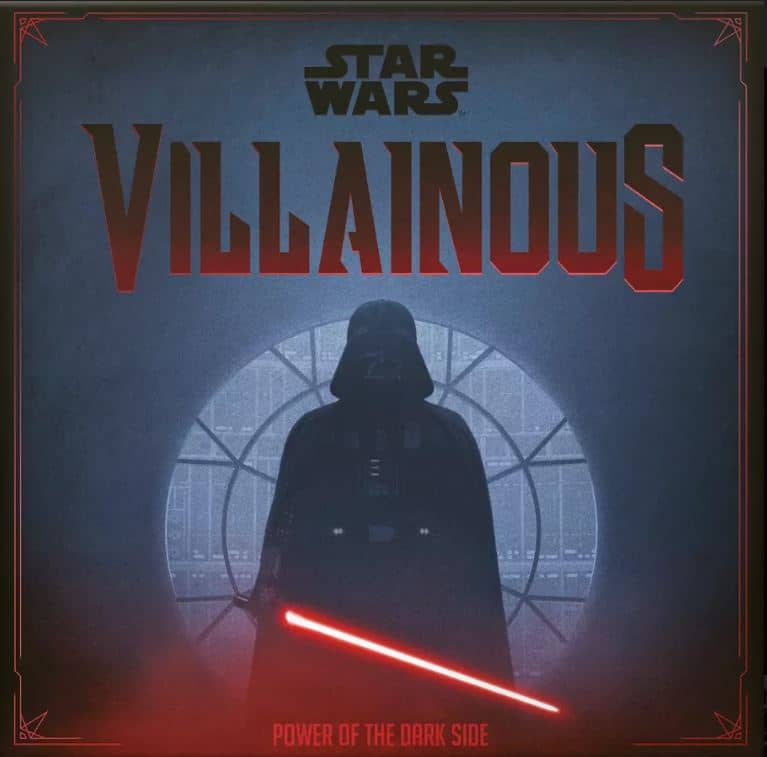 The boys are back, and they are out to advance their very own agenda. Villainous Star Wars is about helping some of the franchise's most iconic bad characters to complete their various missions and objectives, and no doubt snuff out what leftover light there is left in the galaxy. Well, duty calls and you get to step in the shoes of Kylo Ren, General Grievous, Moff Gideon, Asajj Ventress, or Darth Vader.
Each of the characters has their own mission and card deck, as they travel around the game and seek to grow more powerful. Villains will use special powers, rely on their coterie, and special items to ensure that they get closer to realizing their ultimate goal – which is to rule the galaxy on their own.
Buy Villainous Star Wars on Amazon US.
7. Jabba's Palace – A Love Letter Game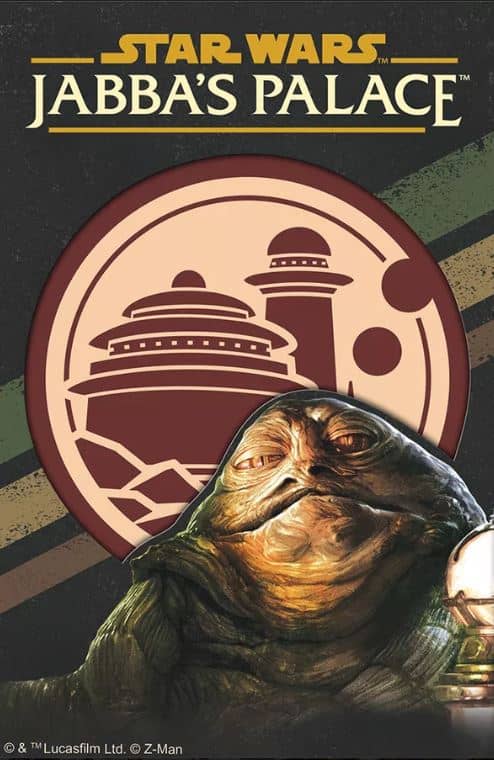 Welcome to Jabba's Palace, a place where cunning and deception do pay off. 2-6 players will step in the shoes of popular characters from Return of the Jedi and try to navigate the seedy underbelly of the galaxy under the critical gaze of Jabba himself. The core gameplay remains true to the original system the Star Wars skin is based on, along with the new Agenda cards that add a little more strategic depth and room to navigate with different playstyles.
There are a lot of twists and turns in the game as players can actually rely on some of the abilities and help of Jabba's own crew to beat everyone else and win the most points. It's a thrilling Star Wars board game that takes place in one of the most famous criminal dens in the galaxy!
Buy Jabba's Palace – A Love Letter Game on Amazon US.
8. Star Wars: Outer Rim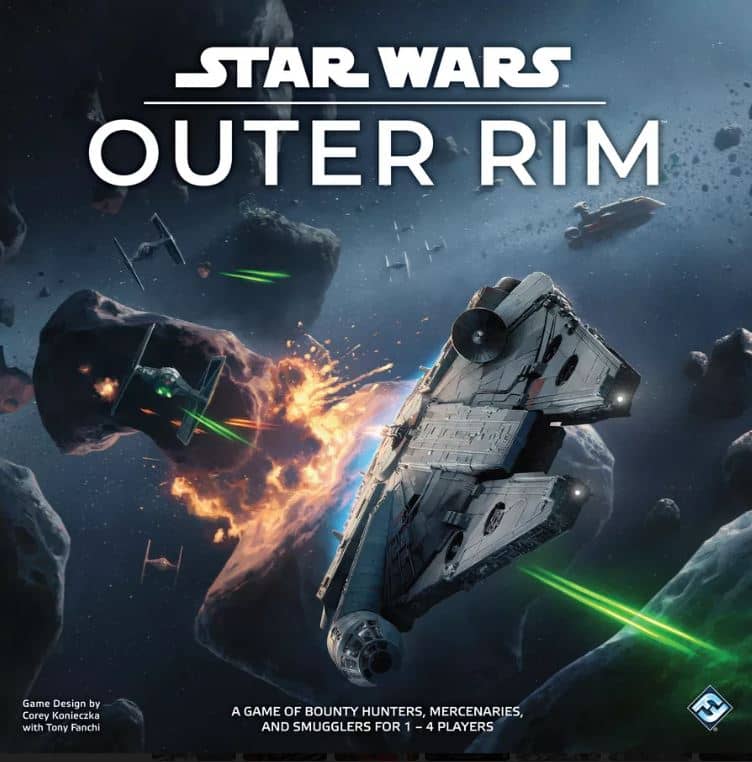 Star Wars: Outer Rim has a distinct Mandalorian quality to it. The players take the role of famous (or infamous) outlaws who navigate the Outer Rim which is patrolled by various factions that hold significant clout over the sectors you will now embark on exploring and completing jobs in.
Players will seek to recruit powerful characters from the Star Wars franchise and hopefully convince them to join their crew as you will navigate perilous systems and advance your personal character goal, collect bounties, try to contraband illegal cargo, and even take down some of the patrols in your immediate vicinity. Your reward? Credits – and credits get to buy you the finer things in life, plus they help you upgrade your ship, advance your reputation (which determines whether you win), and more.
Buy Star Wars: Outer Rim on Amazon US.
9. Star Wars: Roleplaying Game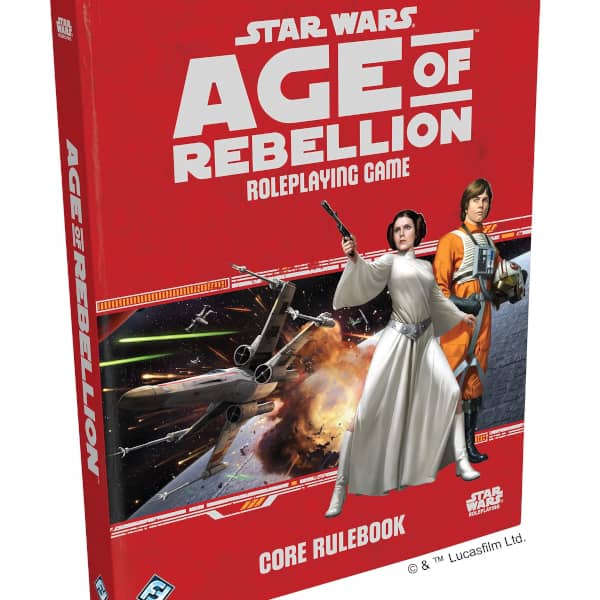 For those of you who are all about a more immersive Star Wars tabletop experience, we have a great option for you. Star Wars the TTRPG game is designed to provide you with limitless opportunities as you will get to craft your storylines and live them again and again. There are lots of excellent RPG games set in the universe to try, including Star Wars: Age of Rebellion and Star Wars: Force and Destiny.
Both of these games will tell different stories, with the Age of Rebellion focusing on the familiar conflict between the Empire and the Rebel Alliance. Meanwhile, Star Wars: Force and Destiny will take you through the much subtler and darker conflict between the Sith and the Jedi, the two orders that believe The Force ought to be used very differently. Both experiences are highly captivating and rewarding, and a brand new way to experience Star Wars board games.
Buy Star Wars: Roleplaying Game on Amazon US.
10. Star Wars: Legion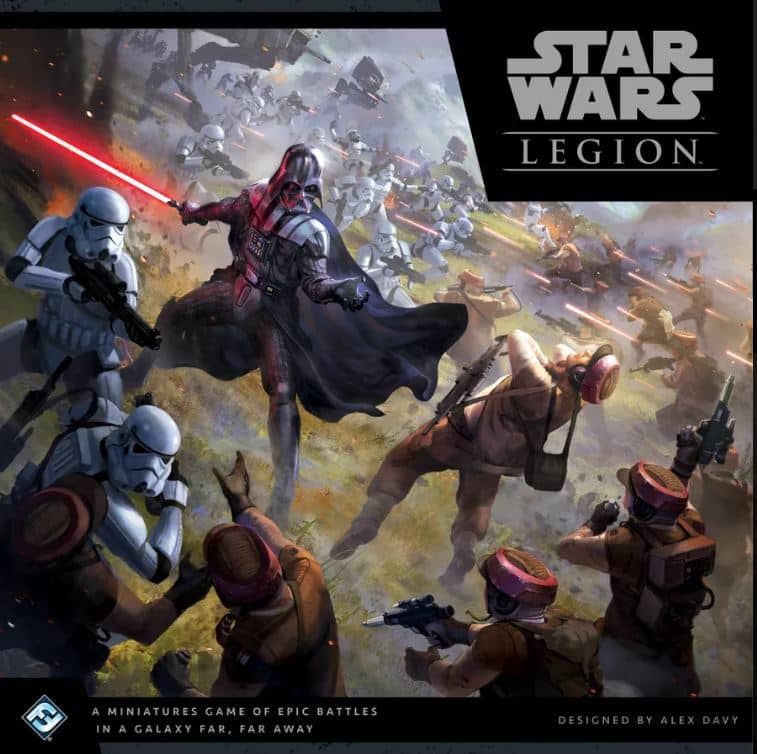 Star Wars: Legion is a brilliant miniatures game that takes the best of tabletop games and war gaming. Focused on miniatures gameplay, Legion is one of the best open-terrain skirmish games set in the franchise. It's a highly-customizable game with plenty of ways to grow your army and strengthen your ground forces.
The game comes with built minis that you may paint or play with straight away along with all the necessary rules and cards. Star Wars: Legion, unlike Armada, focuses on ground and infantry battles, with prominent characters from the franchise, such as Luke Skywalker and Darth Vader roaming the battlefield and bringing chaos into the enemy's ranks.
This is an epic game with miniatures set in the Star Wars: Legion with a fairly low entry cost and a distinct experience set in the familiar fan-favorite universe.
Buy Star Wars: Legion on Amazon US.
11. Star Wars: Destiny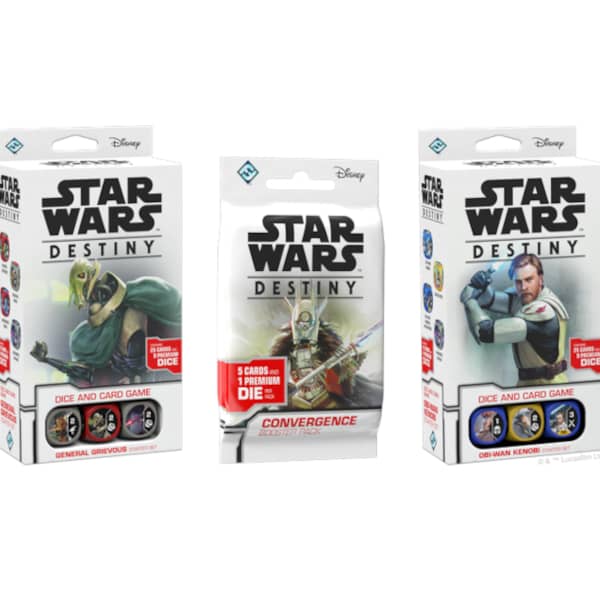 Another excellent dice-and-card board game set in the Star Wars universe, Destiny sees teams of players duel against each other, leading their squads of good and evil characters. Destiny is also a collectable card game which will allow for plenty of customization and bringing your own sets to the battlefield.
The combat is dice-driven with some degree of luck, but also a very strong hand-management quality to the overall game. Destiny comes with two starter sets that see Rey and Kylo Ren face off with nine dice and 24 cards to each set, along with booster packs that can be obtained later to strengthen these decks.
Still, Destiny feels and plays cool even if you choose to stick to the starter sets for the most part.
Buy Star Wars: Destiny on Amazon US.
12. Star Wars: Empire vs Rebellion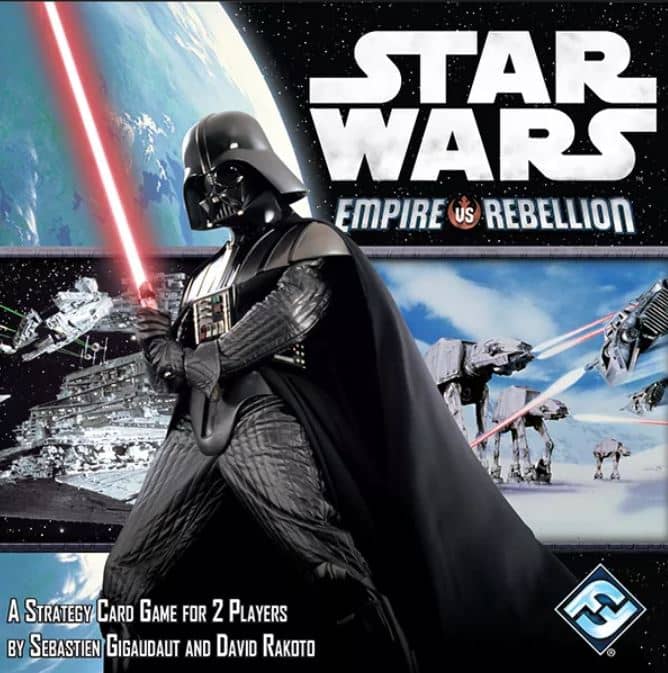 Star Wars: Empire vs Rebellion is one of the best two-player board games you will play, and certainly one of the best tabletop experiences set in this franchise. The game focuses on a strong bluffing mechanic and the gameplay is driven by cards, with the entire Star Wars saga unfolding before your eyes.
The game focuses on the original trilogy and introduces characters, events, and other familiar plot threads from the sector. Empire vs Rebellion is a conflict that calls into action every weapon in your arsenal, whether this is military might or the skillful use of diplomacy to achieve your goals, and – as you have guessed, the Empire and Rebel Alliance will go head-to-head once again.
Buy Star Wars: Empire vs Rebellion on Amazon US.
13. Risk: Star Wars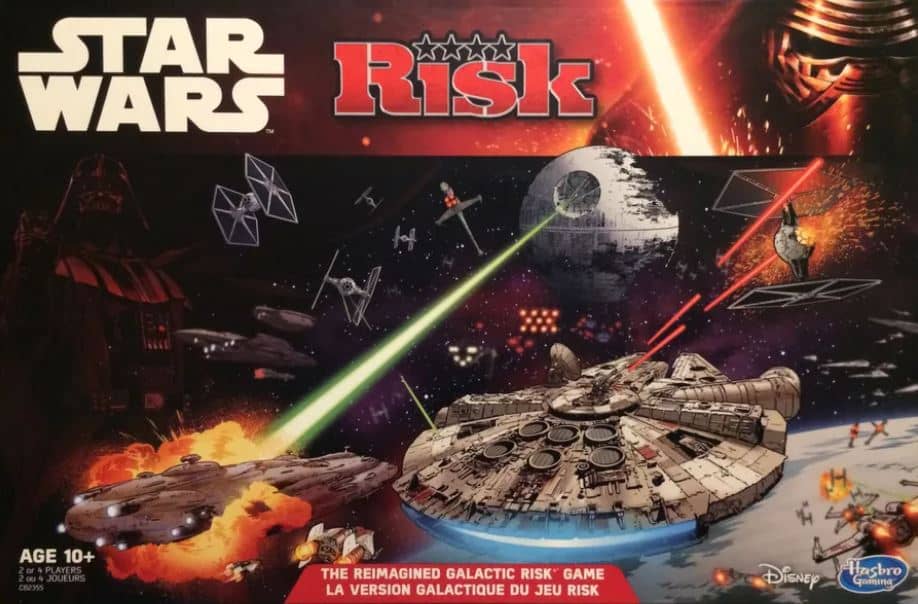 Risk Star Wars is a great reimagination of the original board game which is seeped in the franchise's most epic hours. The game focuses on the final scenes from Star Wars: Return of the Jedi and recreates the tense back-and-forth between the Rebel Alliance and the Galactic Empire. Only this time, the outcome is not scripted, and 2-4 players get to decide the fate of the galaxy!
Players will go in head-to-head combat attempting to protect or destroy the Death Star and emerge victorious. The game focuses on three distinct battles that take place at the same time and require players to skillfully position their forces and execute decisive manoeuvres and attacks when the stakes are extremely high.
Buy Risk: Star Wars on Amazon US.
14. Talisman Star Wars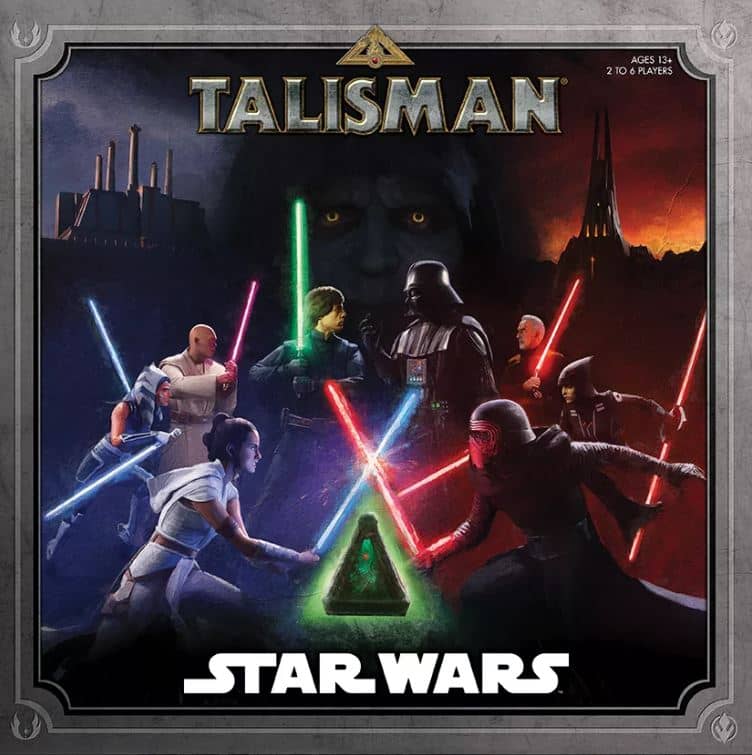 It's a veritable brouhaha! Talisman Star Wars will see 2-6 players fighting on both sides of the line competing to reach Emperor Palpatine's palace and fight him in a definitive battle to the death. The game adopts the familiar and well-tested Talisman mechanics and rules and adapts them to Star Wars in a seamless fashion.
Players will get to step in the shoes of famous characters from the franchise's universe, including Luke Skywalker, Rey, Count Dooku, Obi-Wan Kenobi, Kylo Ren, Darth Vader himself, and so many others who are bent on settling old scores with the Emperor. The sculpts are well done and the game itself is a fun addition to your Star Wars board games collection.
Buy Talisman Star Wars on Amazon US.
15. Spot It! Mandalorian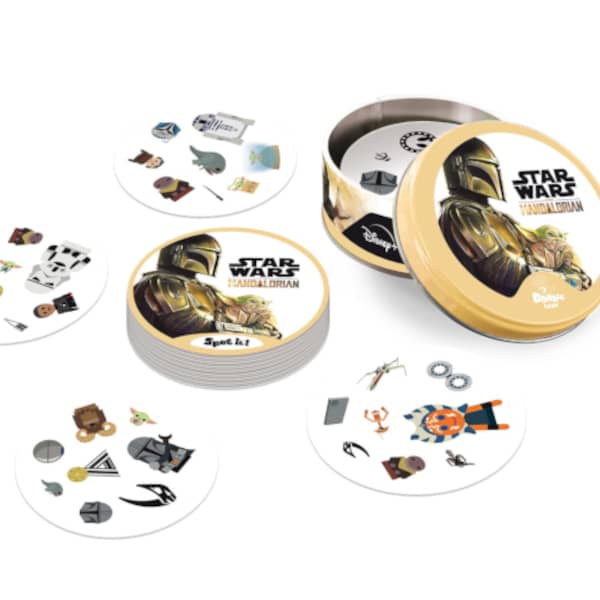 Spot It! is a popular party card game and it's one of the easiest and quickest games that you can get if you want to play Star Wars-themed product. The art is nice, the rules are very quick to pick, and the Spot It! series are generally a lot of fun no matter how much you are into the board gaming hobby.
You can easily use this product to introduce your friends to Star Wars board games and pick from one of the heavier and more serious titles on the list, or just keep coming back to Spot It! Mandalorian because, let's face it, Baby Yoda is just too cute to miss out! The game plays in 15 minutes and it's suitable for 2-8 players and ages 7+.
Buy Spot It! Mandalorian on Amazon US.