Solo board games are making a return, and in fact, they have never been more popular than they are today. Designers such as David Turczi and Vlaada Chvátil have crafted some of the best solo board games to enjoy on your own. Most of the games on our list are some of the hobby's most acclaimed titles ever that can be shared with others as well but are usually some of the best solo tabletop experiences you can try.
We have made sure to include a variety of genres and sought out some of the most replayable solo board games to provide you with an excellent mix of content, value, and narratives. Without further ado, let's take a list of some of the top solo board games you can find and play today.
List of Best Solo Board Games
1. Too Many Bones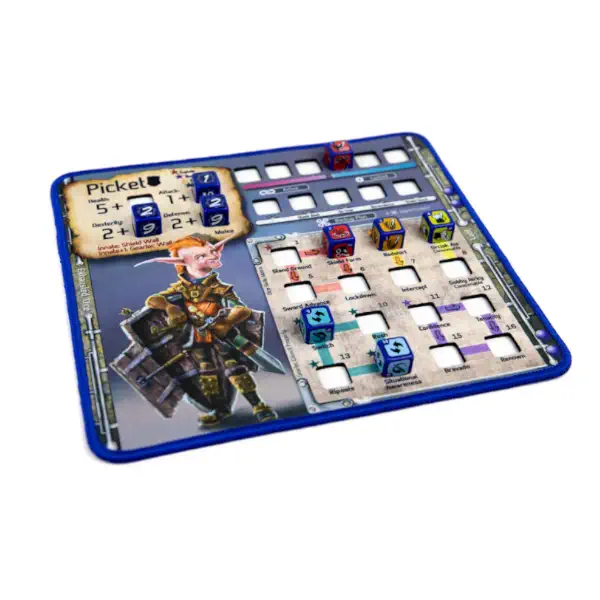 Designer(s): Josh J. Carlson, Adam Carlson
Players: 1-4
Play Time: 60-120 Min
Age: 12+
Complexity: 3.85/5
Too Many Bones is a unique solo board game adventure where you enjoy highly thematic and strategic character-building. The game will have you use dice to access new abilities, advance your character's strengths, and mitigate their weaknesses. The game itself has coined the dice-builder RPG genre, an exciting new take on RPG games in general.
There are more than 100 unique skills to choose from, allowing you to quickly navigate Too Many Bones and craft fantastic decks. The game also offers 4-7 classes to choose from, offering inexhaustible variety and replayability, and one of the best value for your money.
Each adventure will consist of 8-12 battles before you reach the final boss and meet him in the ultimate showdown! With many plot twists along the way, Too Many Bones is one of the best solo board games to try.
Buy Too Many Bones on Amazon US.
2. Mage Knight: Ultimate Edition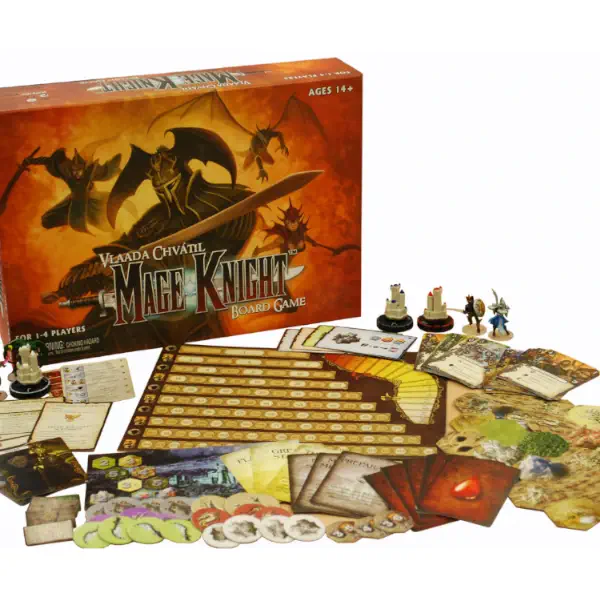 Designer(s): Vlaada Chvátil, Paul Grogan, Phil Pettifer
Players: 1-5
Play Time: 150 Min
Age: 14+
Complexity: 4.65
Mage Knight: Ultimate Edition is hailed as the very best solo board games experience you may ask for. The game is set in a fantasy realm in which you venture out to command armies, gather spells, discover artefacts and ultimately, establish your rule over the Atlantean Empire's domain.
As a Mage Knight, the player will try to conquer different cities across the kingdom and ensure that they are closer to becoming the ultimate ruler. The gameplay is engrossing and immersive, and the world-building of Mage Knight will have you return to the game time and over again.
The cards that drive the action are highly original and distinct from one another giving each of your playthroughs an entirely new way to enjoy the game, and turning Mage Knight into what we hold to be one of the best solo board games to check out.
Buy Mage Knight: Ultimate Edition on Amazon US.
3. Lord of the Rings: The Card Game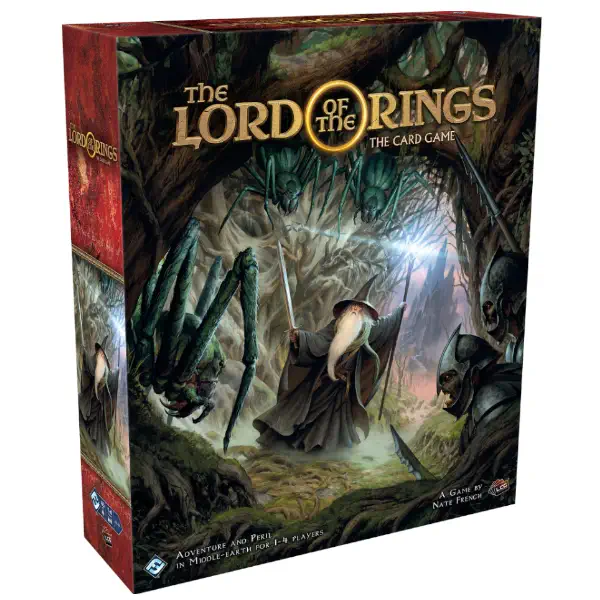 Designer(s): Nate French
Players: 1-4
Play Time: 30-90 Min
Age: 14+
Complexity: 3.44/5
The Lord of the Rings: The Card Game got a revised set in 2022, bringing the components up to speed, and offering players fresher art paired with the sound gameplay of the original released in 2011. In this game, you embark on unique adventures set in J.R.R. Tolkien's Middle-earth as you strive to complete quests and keep evil enemies at bay. The game will have you make decisions as to whether you should focus on your main mission and stem the evil that threatens Middle-earth's very existence or come to the aid of your allies as they risk being overrun by the onslaught of Mordor's armies.
The base game alone comes with 12 familiar characters from Tolkien's works, but the quests you embark on are set 17 years after Bilbo Baggins' 111th birthday and allow you to write your narrative.
There have been countless expansions introduced since 2011 with Fantasy Flight Games adding to the delightful variety that players have come to expect from the great solo board game experience that is The Lord of the Rings: The Card Game.
Buy Lord of the Rings: The Card Game on Amazon US.
4. Arkham Horror: The Card Game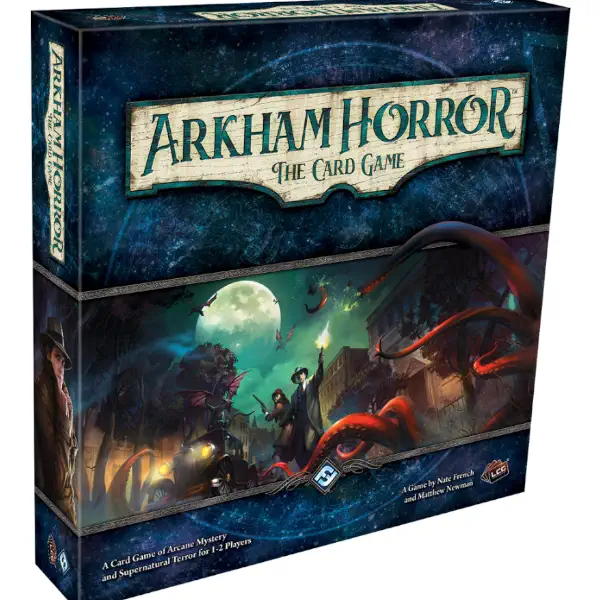 Designer(s): Nate French, Maxine Juniper Newman, Matthew J. Newman
Players: 1-2
Play Time: 60-120 Min
Age: 14+
Complexity: 3.53/5
Arkham Horror: The Card Game is another top solo board game that will stick with the player. The game puts you in the role of an investigator who sets out to discover the terrible mysteries in Arkham, a strange place linked to supernatural occurrences and monsters from beyond this world.
The game draws inspiration from Lovecraftian mystery, monsters, and madness. Your character will be on the brink of madness as is fitting in any story set in the author's universe, but you must push past this and try to get to the bottom of a mystery that may very well determine the fate of mankind.
Players will build customizable decks and lean in on their characters' strengths as they try to uncover a terrible secret as old as the universe. This is a game that will scar your mind and strain your sanity, but one that is ultimately one of the most immersive and evocative solo board game experiences you will find on our list.
Buy Arkham Horror: The Card Game on Amazon US.
5. Spirit Island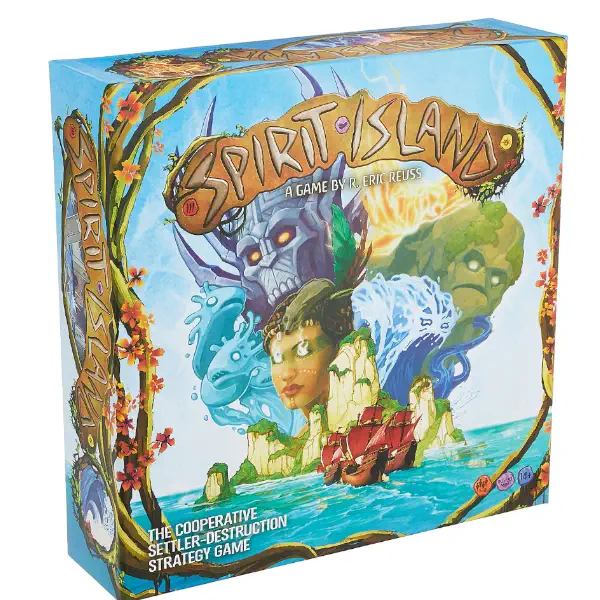 Designer(s): R. Eric Reuss
Players: 1-4
Play Time: 90-120 Min
Age: 13+
Complexity: 4.06/5
The spirits have risen from their slumber to protect the locals from the grabbing hands of the overseas explorers who have accosted the sacred land. In Spirit Island, the player will play as one of the powerful natural entities that watch over a bountiful virgin land that is populated with peaceful ingenious inhabitants. Overseas sailors have arrived, though, bringing with them destruction, and trying to industrialize the land and rob it of its resources.
In this worker-placement Pandemic-style game, the player will use nature's elements to make the ground tremble, winds gust, and the seas gobble up settlements, settlers, and their ships. The sailors though will not be easily put off as they continue to come in. Destruction becomes difficult to achieve, but you can strike so much fear in the hearts of the invaders that they leave by themselves!
Spirit Island mixes challenging gameplay with a highly-thematic and replayable experience that will have you explore different scenarios, adjust the difficulty level, and have one of the most unique solo board game experiences of all time!
Buy Spirit Island on Amazon US.
6. Gaia Project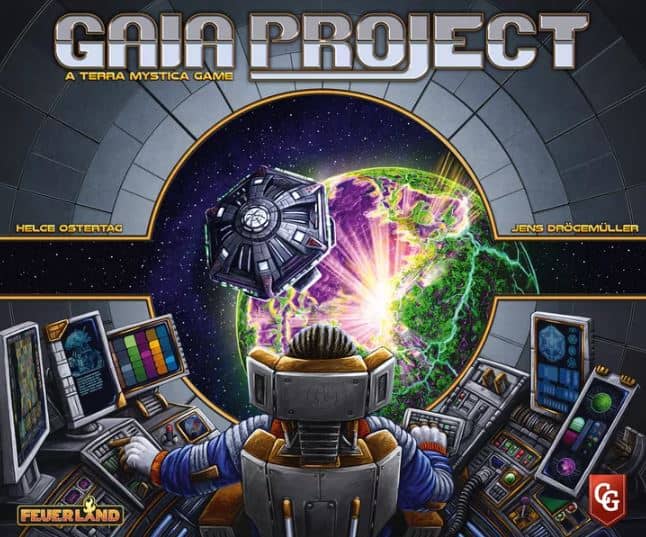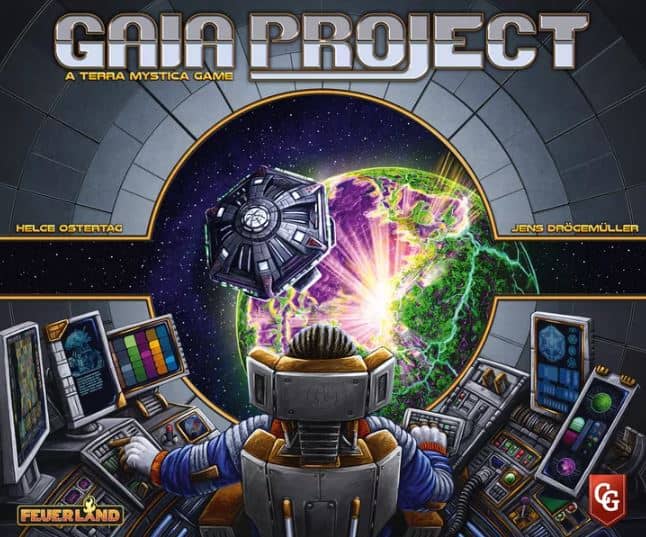 Designer(s): Jens Drögemüller, Helge Ostertag
Players: 1-4
Play Time: 60-150 Min
Age: 12+
Complexity: 4.39/5
Gaia Project is another highly-strategic title and one of the top solo board game options for you on this list. Although it lacks a bit in the way of story, this game has plenty of challenges, paths to victory, and a depth of the core design that will create one of the most competitive tabletop gaming experiences of your life.
Gaia Project is the futuristic cousin of another classic, Terra Mystica, and it has been optimized to offer players depth and strategy of the gameplay, unlike any others. You pick from 14 factions that will vie to colonize the known galaxy, generate hard currency and ore, advance in technology and science, and ultimately score the most points on the board.
The Automa of Gaia Project is possibly among the most challenging solo board games, with the fact that you can alter between 14 unique factions offering you bountiful variety that will only make you fall in love the game further.
Buy Gaia Project on Amazon US.
7. Under Falling Skies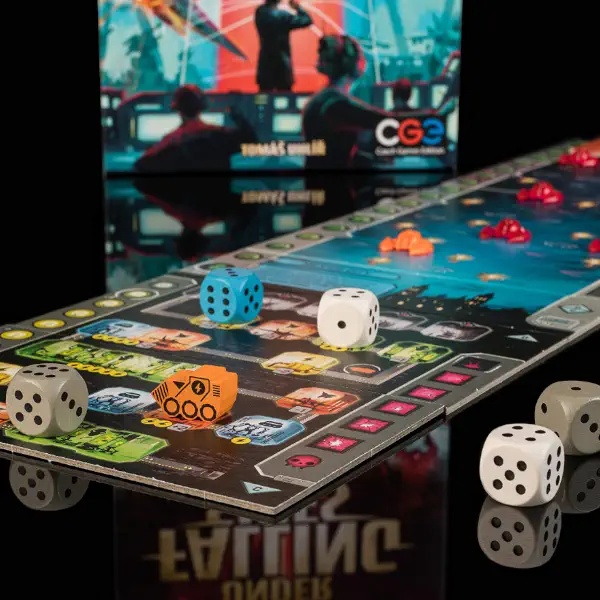 Designer(s): Tomáš Uhlíř
Players: 1
Play Time: 20-40 Minutes
Age: 12+
Complexity: 2.40/5
The alien invaders have homed in on your city. Now, it's down to you to hold the city's defenses against the invading outer-space force that will try to obliterate the last remaining shred of mankind. Dug into bunkers, the city of men stands, with the player repelling one wave after another. This game is designed exclusively for solo and offers multiple campaigns and scenarios in which you are tasked with the protection of the city, facing fresh challenges as you go along.
Players will fight in the air, trying to ward off the invaders, but they will similarly work on expanding the underground network of the city, accessing new powers and abilities to prepare for the arrival of the mother ship which is getting closer and raising the stakes for your defense.
This is hands-down one of the most original solo board games designs that stick with you long after you have completed it and leave you asking for more. Luckily there is plenty of scenarios and replayability value here!
Buy Under Falling Skies on Amazon US.
8. Imperium: Classics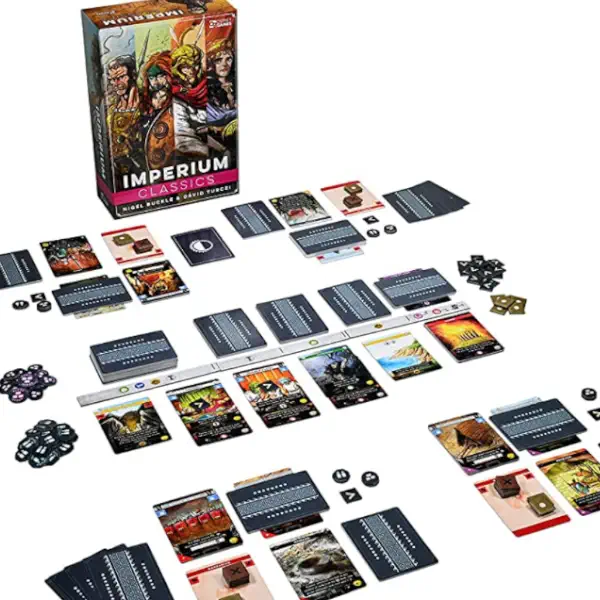 Designer(s): Nigel Buckle, Dávid Turczi
Players: 1-4
Play Time: 60-120
Age: 14+
Complexity: 3.53/5
Imperium Classics is one of the best solo board games that focuses on a civilizational theme. The core game comes with 8 factions with another 8 added in the standalone expansion Imperium Legends. In the game, you will navigate the Barbaric and Empire states of Ancient Civilizations who vie to establish their dominance over other peoples.
The card-driven gameplay is highly-thematic, brilliant, balanced, and inviting inexhaustible replayability and value. Imperium Classics lets you experience each faction by coming up with adaptable and dynamic strategies determined by the Automa, your preference, and a common market of cards that will help you establish a strong foothold and advance your civilization.
Osprey Games has shown a lot of love for this title, coming up with a third instalment in the series, Horizons, which is updating some of the old cards, adding balance tweaks, and a brand new module called trading that elevates the experience a notch further.
Buy Imperium Classics on Amazon US.
9. Robinson Crusoe: Adventures on the Cursed Island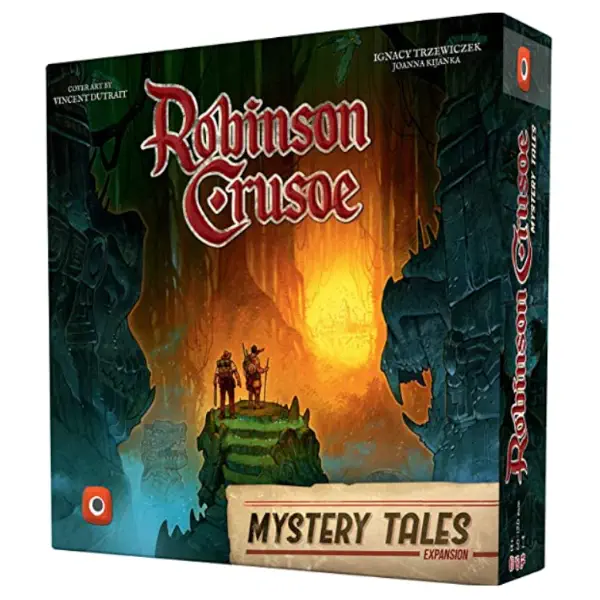 Designer(s): Joanna Kijanka, Ignacy Trzewiczek
Players: 1-4
Play Time: 60-120 Min
Age: 14+
Complexity: 3.81/5
For those of you who enjoy adventure, Robinson Crusoe: Adventures on the Cursed Island may just be the right solo board game for you. The player will live through the familiar tale of a shipwreck, with survivors washing away on the shores of a strange island that is filled with mystery and secrets. You are free to choose your adventure, picking from one of the four characters and trying to accomplish your mission.
You may choose to be an exorcist, a rescuer of a young lady trapped on an island, or perhaps a treasure hunter who is keen to explore the dormant volcano where they believe a treasure is buried. But this is not going to be easy as food and water are scarce, and the weather- unpredictable. To get to the end of any mission, you would first need to survive on the Cursed Island!
Buy Robinson Crusoe: Adventures on the Cursed Island on Amazon US.
10. A Feast for Odin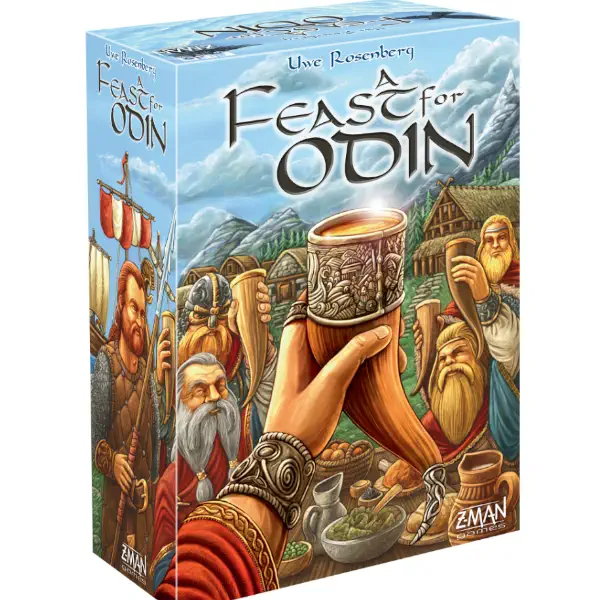 Designer(s): Uwe Rosenberg
Players: 1-4
Play Time: 30-120
Age: 12+
Complexity: 3.86/5
In A Feast for Odin, the player sets out to conquer foreign lands and secure wealth so they have a strong position in the often ruthless society of the Normans. "Vikings" as they are known today, were proud people who had to overcome incredible hardship due to poor agricultural prospects in the Scandinavian region. As such, they set out to raid foreign lands, discover new geographical points, and ultimately become fearsome warriors.
The game will have you go through all of this and more, as you praise Odin, creator of all, and try to raise through the Vikings' ranks and society. You will also have to prepare for a feast and demonstrate that you are a worthy member of society. There are various challenges to address that need to be addressed with the confidence and shrewdness of a Nordic seafarer in what is one of the best Viking-themed solo board games.
Buy A Feast for Odin on Amazon US.
11. Blitzkrieg!: World War Two in 20 Minutes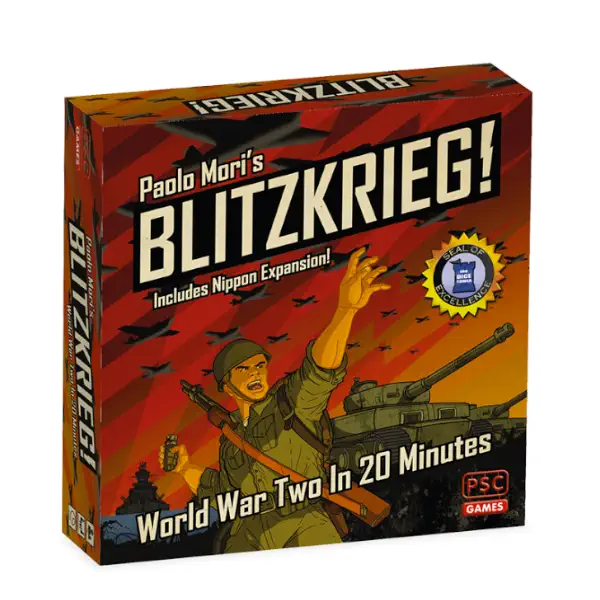 Designer(s): Paolo Mori
Players: 1-2
Play Time: 20-45 Min
Age: 14+
Complexity: 1.91
Blitzkrieg!: World War Two in 20 Minutes is one of the most fun solo board games titles you will try. The game has easy-to-pick rules, streamlined gameplay, and highly-thematic gameplay that will make you feel like you are rushing through World War 2 in 20 minutes. The player will have to decide where to allocate their military strength, as they try to win key theaters of war.
Players will have to figure out how they want to spend their strength to ensure that they secure important campaigns and advance the war in their favor. Apart from drafting resources at the beginning of the game, players will similarly have the opportunity to access further weaponry, strategic advantages, and so much more.
The solo mode was crafted by David Turczi, an acclaimed designer who has created the Automa and solo modes for many games, including Imperium Classics, the Defense of Procyon III, and more.
Buy Blitzkrieg!: World War Two in 20 Minutes on Amazon US.
12. Marvel Champions: The Card Game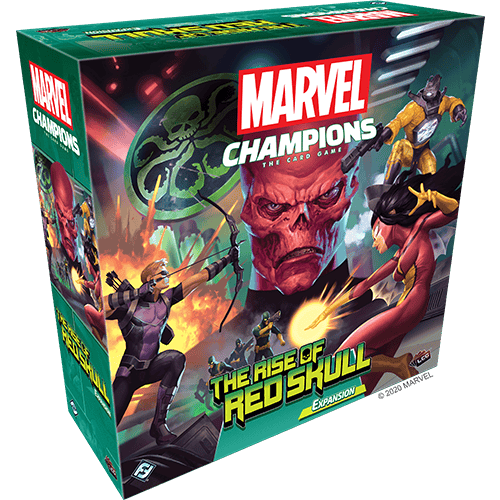 Designer(s): Michael Boggs, Nate French, Caleb Grace
Players: 1-4
Play Time: 45-90 Min
Age: 14+
Complexity: 2.92/5
Marvel Champions: The Card Game is very well one of the best solo board games you may try your hand at. The game revolves around highly-thematic, challenging, and immersive boss fights where the player takes on the role of one of the many heroes in the Marvel universe. You may be Iron Man or Spiderman, Hulk or Scarlett Witch as you try to bring down the ultimate villain and his minions and allies.
Fantasy Flight Games has released dozens of scenario packs and Marvel Champions expansions that will present you with new challenges, and entire Campaign Sets in which you set out to fight Thanos and the Red Skull. Players will rush against the clock, balancing between their alter ego and superhero form to fight crime and evil on all fronts, as well as rely on a preconstructed deck of cards to get rid of the evil boss' lackeys as they look to bring an array of evil-doers down.
The solo campaigns stand out with polished gameplay that makes for a very fun way to enjoy Marvel Champions: The Card Game. This is a solo game with unlimited replayability and playthrough value.
Buy Marvel Champions: The Card Game on Amazon US.
13. Terraforming Mars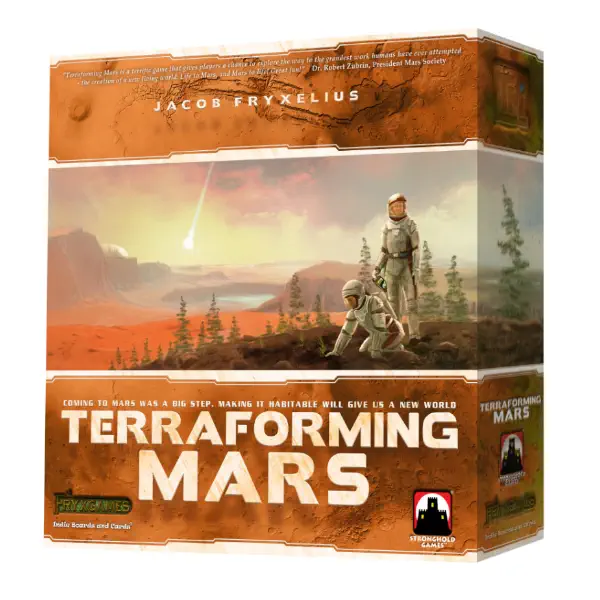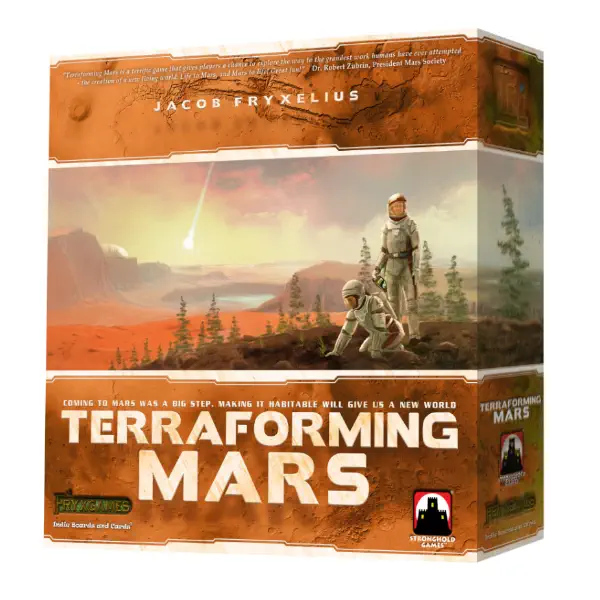 Designer(s): Jacob Fryxelius
Players: 1-5
Play Time: 120 Min
Age: 12+-
Complexity: 3.26/5
Humanity's biggest dream is almost accomplished – the colonization and ultimate terra-formation of Mars is on the cards with the Red Planet becoming the focus of lofty human aspirations and good old-fashioned corporate greed. In the game, the player sets in the shoes of a corporate CEO who is intent on fixating a sprawling empire of companies on top of the soon-to-be-Eden planet and amassing credits.
However, corporations will have to come together to make sure that they keep the planet at the right temperature. The game will have you scour the deck of cards for the right draws as you want to introduce more oceans and greenery to begin the planet-wide transformation that will feel challenging, exciting, and fill you with joy if you are even one iota of space buff and yearning space explorer.
Terraforming Mars is without a doubt one of the best solo board games, and one of the best tabletop titles of all times and will prove one of the most epic and worthwhile adventures for you to enjoy as well.
Buy Terraforming Mars on Amazon US.
14. Viscounts of the West Kingdom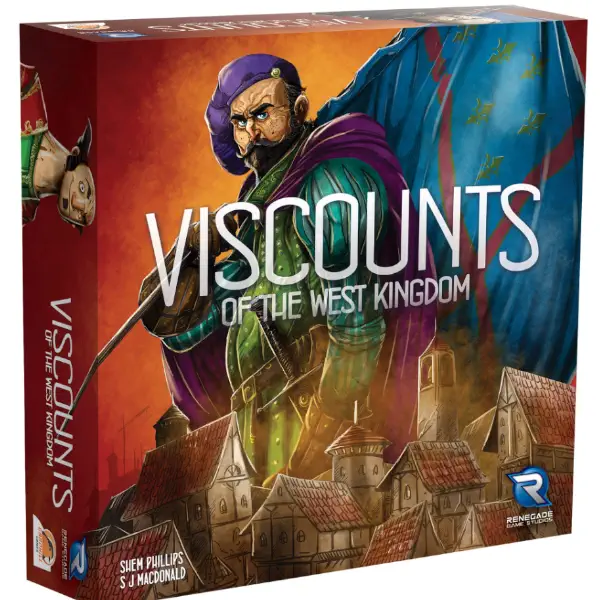 Designer(s): S J Macdonald, Shem Phillips
Players: 1-4
Play Time: 60-90 Min
Age: 12+
Complexity: 3.45/5
In Viscount of the West Kingdom, you will try to become the richest nobleman, pleasing the people and perhaps trying to shake the people's faith in the Crown. The Viscounts are loyal to the King but were there to be a power struggle, they would need the backing of the kingdom's subject. This is why you set out to spread prosperity, or possibly poverty, to advance your subtle but carefully-planned political agendas.
The game will have you travel around the kingdom and sway public opinion, amass Victory Points in the form of fame, and perform various feats that help you advance in the often perilous pecking order of the monarchy. Viscounts of the West Kingdom has a brilliant theme that comes alive in the solo as well as versus versions of the game, and it's one of the top solo board games we would recommend to anyone.
Buy Viscounts of the West Kingdom on Amazon US.
15. Final Girl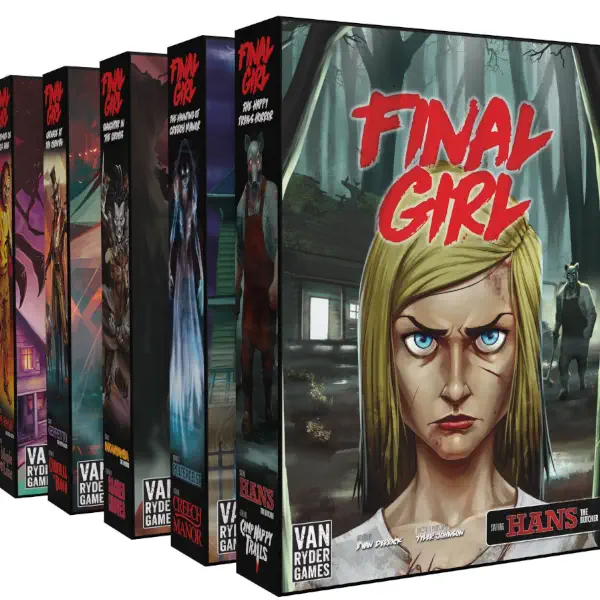 Designer(s): Evan Derrick, A. J. Porfirio
Players: 1
Play Time: 20-60 Min
Age: 14+
Complexity: 2.59/5
Final Girl is perhaps one of the most thematic games on the list of solo board games we bring to you today. The premise of the game, which is exclusively for one player, will have you play as the main character of a pulp horror movie where you must survive and escape the killer. The game is expandable and it features new "Horror Movie Boxes" which are designed to introduce new movie plots and new murders, with the narrative finding inspiration in such classic villains as Slasher, Ghostface, Babyface Killer, Pearl, Art the Clown, and so many more.
You get to play one of the main actresses in that movie and try to escape the murderous unhinged maniac that is out to get you – and unleashes a blood bath as his hunt continues. A huge plus here, apart from the unique design and plot, is the fact that Final Girl is set ups and folds quickly, allowing you to jump straight into the action. With plenty of expansions that are all telling their unique story, this is a solo board game to consider trying.
16. The 7th Continent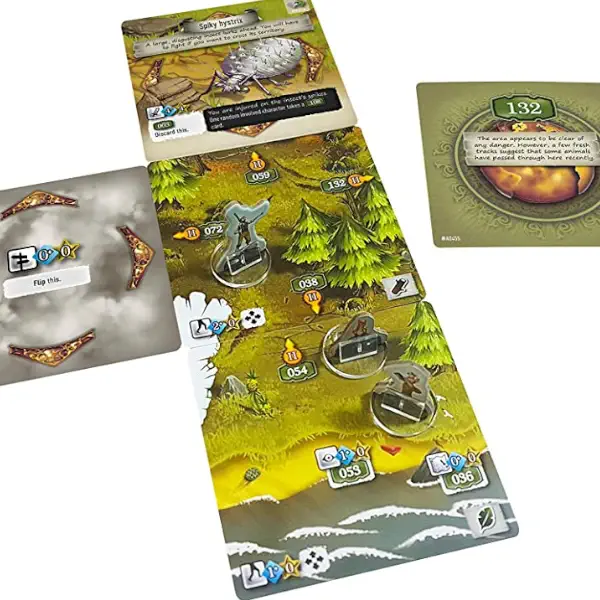 Designer(s): Ludovic Roudy, Bruno Sautter
Players: 1-4
Play Time: 5-1000 Min
Age: 14+
Complexity: 2.90/5
The 7th Continent is a narrative-driven game where you will try to figure out a mystery as old as the continent itself. The game is focused on a Lovecraft-inspired story where an explorer returns to an accursed land as they try to shake off a debilitating illness that is on the brink of driving them into madness.
As you explore an island, you will start discovering clues about the horrors this mysterious land holds. You would be asked to offer a blood tribute to activate a strange altar, try to sail out of a desolate rock, and venture into stranger places still. The game is highly thematic and immersive with the gameplay guided by you exploring new tiles, reading them, and making decisions based on the choices you have been offered.
The 7th Continent is a brilliant and immersive game that will offer fans of the horror game genre one of the best solo board games experiences of their lives!
Buy the 7th Continent on Amazon US.
17. Aeon's End 2nd Edition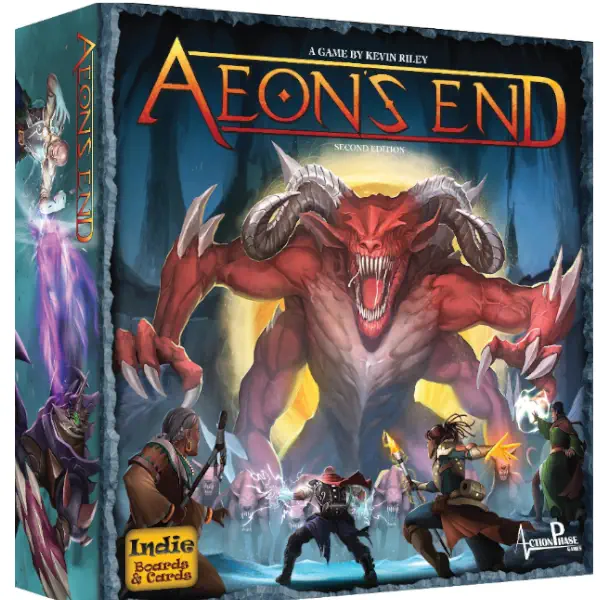 Designer(s): Jenny Iglesias, Nick Little (I), Kevin Riley
Players: 1-4 Players
Play Time: 60 Min
Age: 14+
Complexity: 2.80/5
Gravehold, the city that is the last refuge for mankind, is under another great threat sent in by the supernatural forces of a mysterious entity simply known as The Nameless. Aeon's End will prove a fantastic choice for any solo player who wishes to introduce more challenges in their board gaming routine.
Aeon's End has clever deckbuilding and deck-execution mechanics which expects you to plan carefully ahead if you are to stem the tide of hordes that are trying to wipe Gravehold. The character you can choose may be an expert melee combatant or muster powerful spells that devastate lands and the foes standing on them.
The deck management and planning mechanic invite a deep strategic play that will appeal to players who love turn-based and deck-driven games, and who wish to enjoy some of the best solo board games that build immersive storylines that allow the player to contribute to how the world is constructed and the story written.
18. Gloomhaven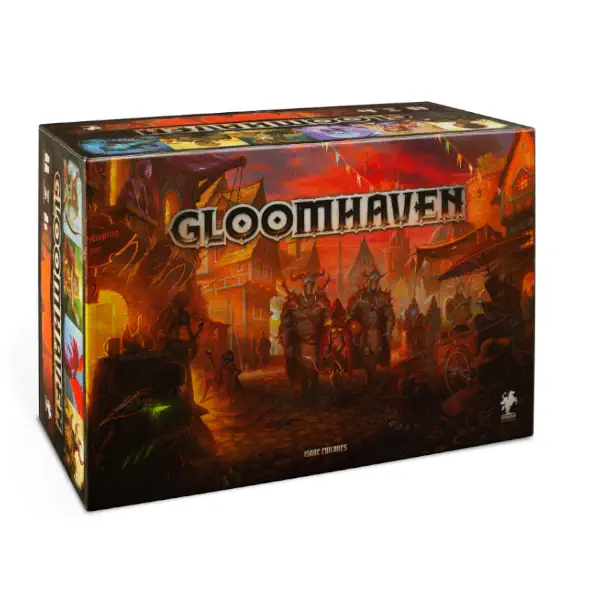 Designer(s): Isaac Childres
Players: 1-4
Play Time: 60-120 Min
Age: 14+
Complexity: 3.89/5
Gloomhaven is one of the pinnacles of immersive RPG board games, and one of the best solo board games experiences you will get. For those of you who are familiar with video games such as Diablo, The Witcher, The Elder Scroll and others, Gloomhaven is just that in tabletop format. In the game, you set out as adventurers who take on different quests in exchange for fame and bounty.
Upon return, you develop new skills, craft new gear, and increase your prowess in combat and spell casting. Battles against opponents are highly-thematic, and challenging, and require actual strategic engagement and thought. The game's world is one of an ever-changing narrative that is based entirely on the decision the player makes.
There are hundreds of hours worth of content in the game and even when you think you have gone far enough, you can always reset the game and start over. Gloomhaven is by and far the most immersive, rewarding and value-for-its-money solo board game we have on this list and a strongly recommend title to try yourself.
19. One Deck Dungeon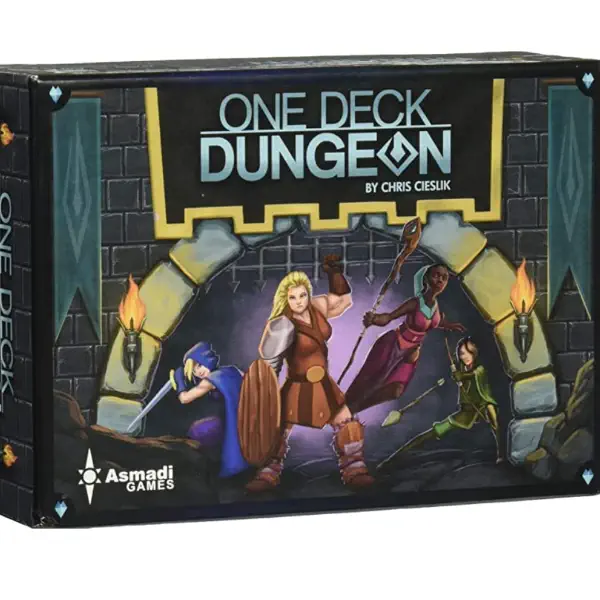 Designer(s): 1-2
Players: Chris Cieslik
Play Time: 30-45 Min
Age: 14+
Complexity: 2.06/5
One Deck Dungeon is a great RPG experience not unlikely Gloomhaven, but a much simplified version, nevertheless. Yet, the game has its own unique dynamic and challenging setting that will make for fantastic solo board gameplay. In One Deck Dungeon, players are set on a journey into the recesses of a cavernous and pitch-dark dungeon where they try to survive all sorts of horrors and monsters.
Players build their characters from scratch and develop their abilities and skills, but to gain anything, you first must survive encounters. You may pick from a range of great characters, such as Thief, Paladin, Warrior, and others to pick a playstyle that best suits you. All of the characters are cast as female as well, which is a nice change from male-dominated adventure and fantasy board games.
In One Deck Dungeon, you will be able to guide every aspect of your character creation as successfully defeating an opponent comes with a choose-your-reward mechanism that allows for further character customization as well. A great feature here is that the game tends to be quite difficult which is going to appeal to players who crave a little more challenge.
Buy One Deck Dungeon on Amazon US.
20. Frostpunk: The Board Game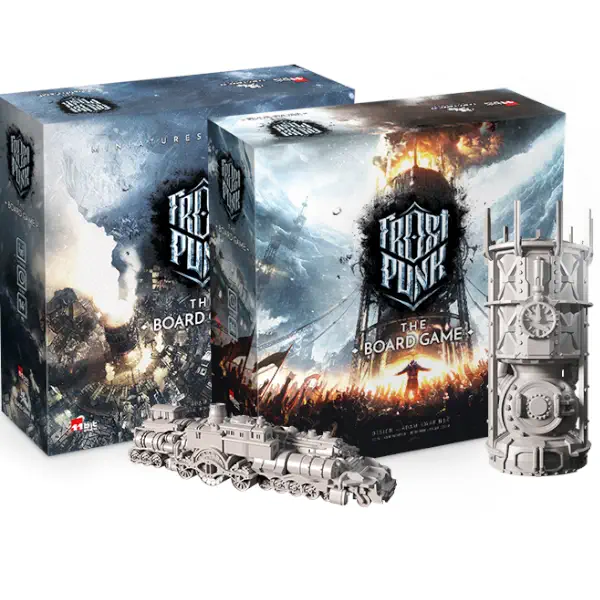 Designer(s): Adam Kwapiński
Players: 1-4
Play Time: 120-150 Min
Age: 16+
Complexity: 4.32/5
Frostpunk: The Board Game is a very successful adaptation of the video game of the same name, which is a co-op survival experience that plays just as well as a solo board game. In Frostpunk, you live in a city that is trying to scout the neighboring frozen desert for materials and resources that can be turned into a source of warmth for the city's citizens who constantly fall sick.
The objective of the game is to survive the oncoming storm, make sure that the population withstands epidemics, and continue to man the factories to survive. Yet, surviving under such strain is never easy. You will have to let some of your citizens fall and often make decisions that may not appeal to your citizens. There is also the matter of the giant Heat Generator that may break down at any time, making the conditions you live in harder still.
This gripping survival story is without a doubt one of the most replayable and thematic solo board games options we have on the list today. Survive this new ice age and overcome impossible adversity to do so.