A new game by Sagrada designers Adrian Adamescu and Daryl Andrews – Mistwind – is now crowdfunding on Kickstarter, with the game surpassing its $30,000 funding goal and sitting at $168,215 contributed from 2,030 backers at the time of writing.
Adamescu and Andrews are bringing a new game for 1-5 players and 75-120 minutes of play time fit for players 14 and older, which uses area movement, hand management and network and route building amongst some of its main mechanics.
In Mistwind, you strive to build elaborate and efficient trade networks, using transport whales and outposts. The game is a strategic endeavor where each nation strives to create the best network, with players gaining resources to build outposts or train their supernatural transport whales.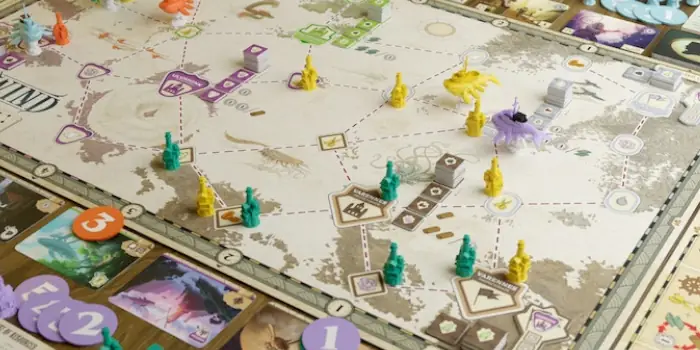 Players will also gather and deliver cargo, meet territorial demands, and complete their networking contracts with neighboring nations. Achieving this will bestow upon them the title of a Trusted Trader in Mistwind.
The world in which the game is set is based on the Mistwind Islands, a magical realm where bustling cities sprawl and produce economic value for all. To ensure that the life of plenty is shared by everyone, networks ought to be build so that commerce may boom. Each player trains transport whales and uses them to complete a variety of tasks, including the transportation of resources, completion of networks and more.
Each player will have four discs to place each round, with all players taking turns placing one disc at a time. The rulebook is already available for preview as part of the campaign with the game offering a quick onboarding experience and making for intuitive decisions in the designing process to ensure that players may enjoy a quick and easy play. The price of the game on Kickstarter for a single copy is set at $90 compared to around $120 for when the product hits retail.
Mistwind is illustrated by Gordon Oscar, who has worked on the art of Get Off My Land, Town Builder: Coevorden, and others.