We independently review everything we recommend. When you buy through our links, we may earn a commission. Learn more 
Space, huh? Board games about space come in all shapes and forms – from the civilization building games to the deckbuilders, to the sci-fi horrors where you wake up on a spaceship that has become a canteen for an alien race of xenomorphs and you are their favorite snack.
Today, we bring you a list of the best space board games, offering a mix of genres, designers, mechanics, and objectives. Players will find something for every taste – logistical games, spaceship fights and heavy euro strategies, along with thematic experiences based on popular franchises, and then some. Let's take a look.
List of the Best Space Board Games
1. Star Realms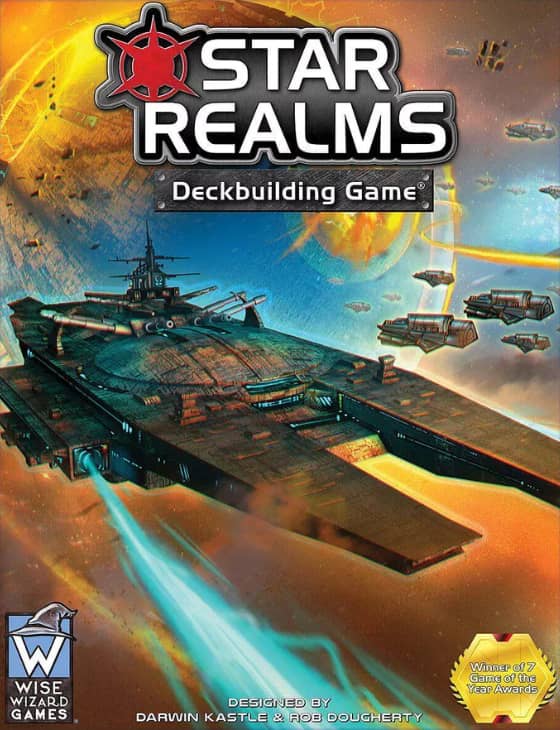 Designer: Robert Dougherty, Darwin Kastle
Players: 1-4
Play Time: 20 Min
Age: 12+
Complexity: 2.00/5.00
The free people have risen against the corporations and whoever comes on top will boil down to who has the biggest space guns, stations, and defenses. Star Realms is one of the best space-themed games of all list featuring a simple deck-building mechanic with plenty of honest variabilities, strategic thought, and a fast pace of play. A game of Star Realms comes down to drafting a deck of various factions from a common market and taking a turn by playing as many spaceships as possible, and stations, representing your battlefleet on each turn.
Opponents have to wait out your assault and take damage – unless they have planted an orbiting space station to protect them – before they can put forward their own ships or even repair some of the damage done. The pace of play is fast and the sheer variety is outstanding. The game plays excellent for 1-4 players and takes 20 minutes to complete. There are many cheap expansions that can be bought to give the core game even more variability, including a cooperative mod. On balance, Star Realm stands tall as one of the best space board games well on its own.
2. Roll for the Galaxy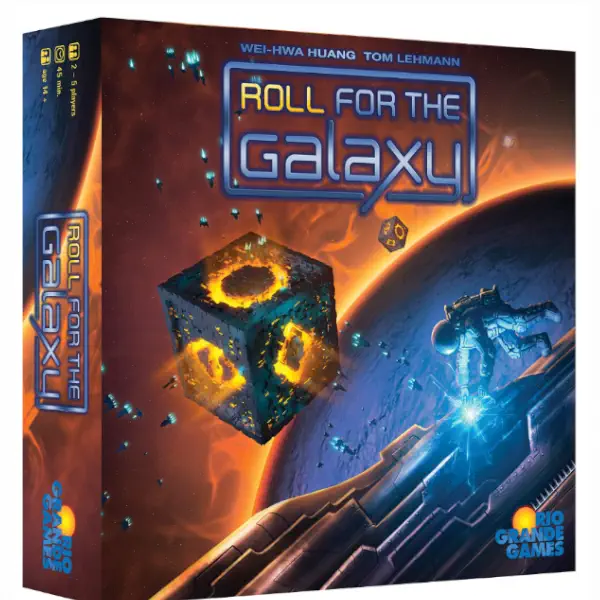 Designer: Wei-Hwa Huang, Thomas Lehmann
Players: 2-5 Players
Play Time: 45 Min
Age: 13+
Complexity: 2.78/5
Roll for the Galaxy adds numerous mechanics to your space board games gameplay, including action retrieval, dice rolling, and variable phase orders. At its core, Roll for the Galaxy is a civilization board game where 2-5 players battle it out in space in a bid to develop technologies, colonize new worlds, and trade goods. Although the confrontation in the game is limited to a less militaristic aspect of it, the competition between players is tangible. You use your dice as a resource – populace, which is then put to different tasks.
The game adds even more variety and strategy as you go through variable turn orders that inform your strategy and require you to adapt. Then, there is the thematic beauty of the game, which uses cards to represent the various advancements and successes your empire has achieved, with you watching over your part of the galaxy and benevolently overseeing an empire of planets that are churning out goods and resources to make you the final winner.
3. Galaxy Trucker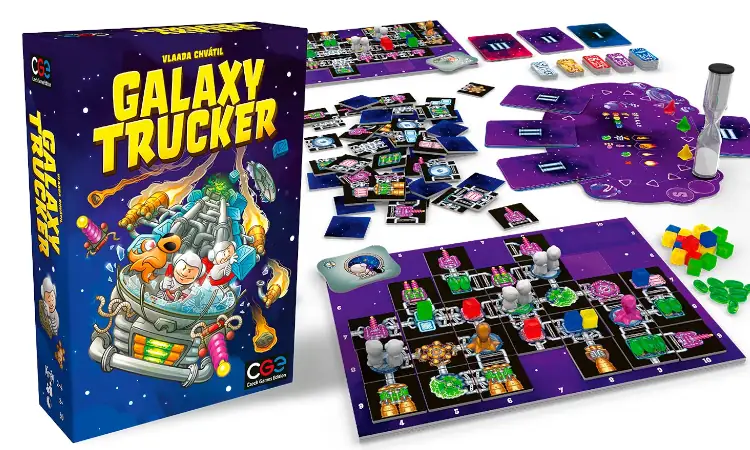 Designer: Vlaada Chvátil
Players: 2-4
Play Time: 20-30
Age: 8+
Complexity: 2.34/5
You are on the long, long road into the nothingness of space, and you have only a minute to build your ship! Galaxy Trucker is a game in which you will trek your usual delivery road with your "space truck," and try to avoid all sorts of weird and random calamities the universe throws at you. The game, which is definitely one of the most fun space-themed board games on this list, lets you build your own ship, fitting it with weapons, shields, and the occasionally exposed pipe.
Watch out, however, because if you end up with too many pipes exposed, you will get space rocks stuck in and cause a boom in a part of your ship! Losing part of your ship while in flight is never a good thing. So, Galaxy Trucker is a game about planning your ship as quickly as you can as you forage for parts in a common pile against your opponents and then make different stops at planets and try to avoid the nerve-wracking things that happen along the way – from a comet smashing into you, to space rocks, to flying into a star.
4. Nemesis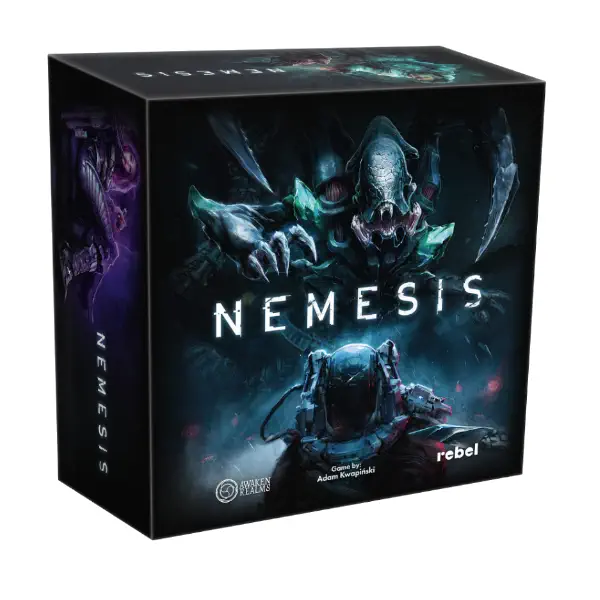 Designer: Adam Kwapiński
Players: 1-5
Play Time: 90-180
Age: 12+
Complexity: 3.43/5
Welcome to one of the best space board games packed with hours of fun – and no, not even setting the destruction sequence on will make the game any less suspenseful or give you a quick ticket out. Nemesis is a game clearly inspired by Ridley Scott's Alien movies, in which 1-5 players receive individual objectives and have to survive an alien-infested spaceship. Now, it would make all the sense in the world to team up and get yourselves to safety, but how do you know the person you sent to fix the engines won't sabotage them and head to the nearest capsule? The short answer is – you do not.
That's why you are sitting in the computer room and waiting to eject them as soon as they step into the wrong room. That is unless they get chomped on by a terrifying alien that runs to the player making noise. Nemesis is a suspenseful board game of genuine team effort and heart-breaking betrayal in which your character will collect weapons, help keep the ship (sometimes for as long as it fits their own objective) and ultimately – try to survive.
5. The Search for Planet X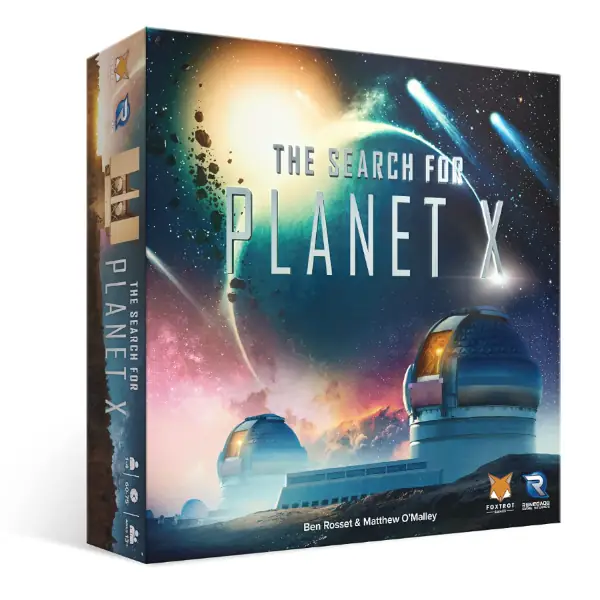 Designer: Matthew O'Malley, Ben Rosset
Players: 1-4
Play Time: 60-75 Min
Age: 13+
Complexity: 2.38/5
Do you love Decrypto? Well, you may now enjoy Matthew O'Malley's space board game of finding Planet X. This planet is possibly hiding somewhere in the shadows of what science can see from Earth and they are hellbent on discovering it for the sake of explaining the unique orbit of dwarf planets and other objects. Players will have to use observations and logical conclusions to try and pin the position of the phantom planet and focus it on their telescopes so they can prove to the scientific community they were right all along. The players will of course be caught in a race against one another as each will be trying to pinpoint the exact location before anyone else could!
Buy The Search for Planet X on Amazon US.
6. Wormholes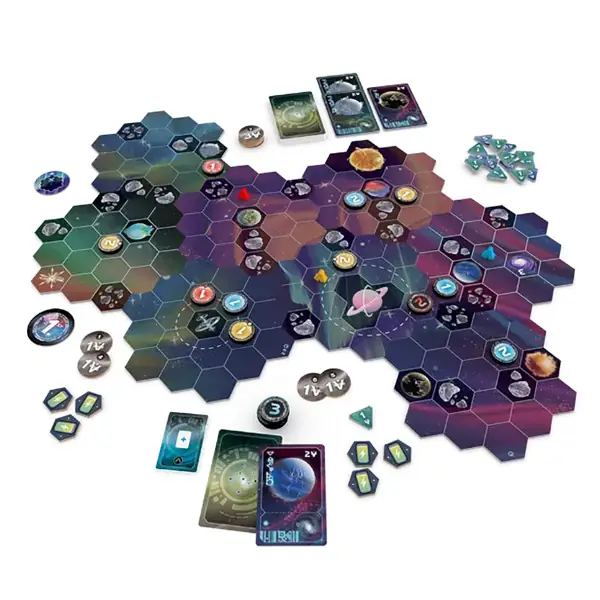 Designer: James Kniffen, Christian T. Petersen
Players: 1-5
Play Time: 45-60 Min
Age: 14+
Complexity: 2.13/5
Wormholes is one of the lightest space board games you will ever play. It's fun, quick, and enjoyable across the board. In Wormholes, players take the role of ship captains whose vessels are equipped with wormhole fabricators and can open wormholes between different parts of space. Now, all of this takes time, resources, and effort. Your stock is ferrying passengers from one planet to the next and you will have to balance between the demands of the travellers while also developing your private network. Worst comes to worst, though, you can piggyback on another entrepreneurial captain's wormhole tunnels, although that will cost you points – and points are everything in this game!
7. Star Wars Armada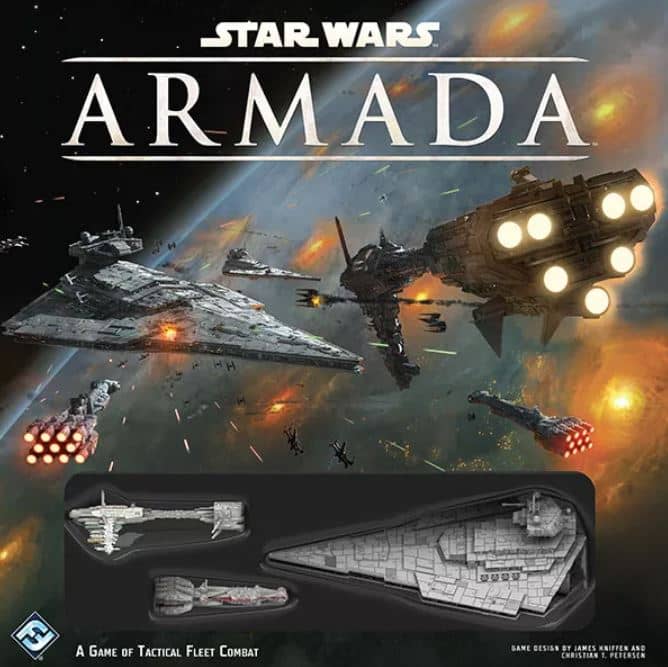 Designer: James Kniffen, Christian T. Petersen
Players: 2
Play Time: 120
Age: 14+
Complexity: 3.16/5
What would this list be without a great space-themed board game that focuses on spaceships locked in a deadly fight? Well, Star Wars Armada has spaceships aplenty, bringing you some toe-to-toe fights with players mustering their fleets across the board to pull off tricky positioning and blast their opponents to pieces in the eerie vacuum of space! In the game, you assume the role of a fleet commander, build an army based on points and deploy various vessels in a bid to outmanoeuvre, outsmart, and outgun your opponent. The game is collectable with the miniatures being timeless, meaning that the army you build this year would be still playable in 20 years, providing you find a worthwhile opponent.
Buy Star Wars Armada on Amazon US.
8. Twilight Imperium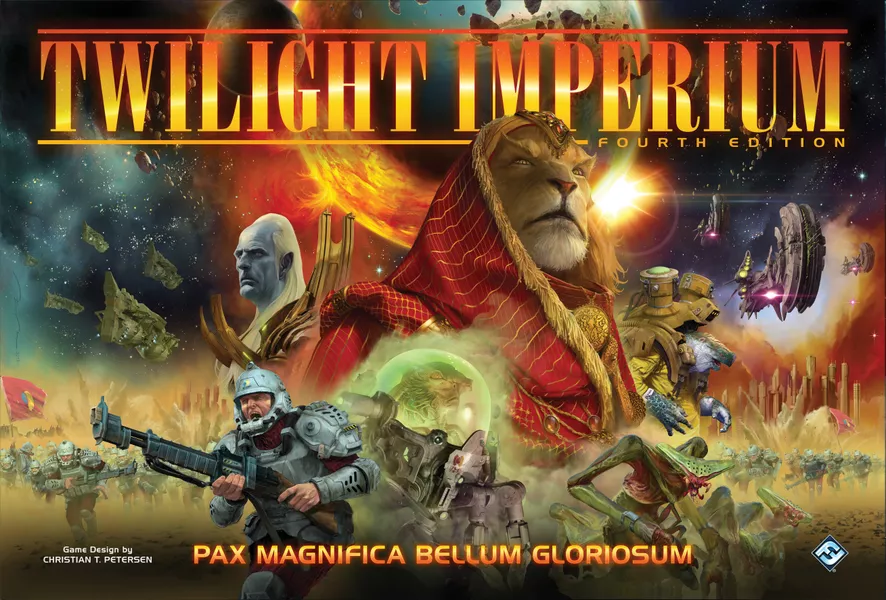 Designer: Dane Beltrami, Corey Konieczka, Christian T. Petersen
Players: 3-6
Play Time: 240-480 Min
Age: 14+
Complexity: 4.31
The throne of Mecatol Rex sits empty as the great houses struggle to assume control and enforce their ruling with a firm and battle-hardened hand in an almost Dune-esque fashion. Twilight Imperium is the ultimate space board game of political scheming, betrayal, and space warfare that will be fought from orbit, in the vastness of the galaxy, and with boots on the ground on each planet, you try to colonize. Players produce ships, muster troops, and set out to threaten their opponents, alternating between brinkmanship & sabre-rattling and all-out war. There are alliances to be struck and parties to be established, with betrayal an ever-present danger. Twilight Imperium is without a doubt the most popular and most worthwhile 4X space board game which will plunge you into the unique world of the game where the gameplay can easily take you more than 6 hours to complete a game.
Buy Star Wars Twilight Imperium on Amazon US.
9. Beyond the Sun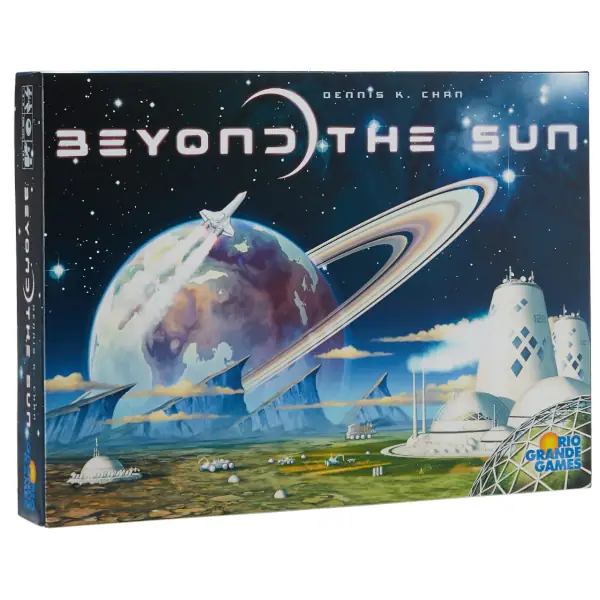 Designer: Dennis K. Chan
Players: 2-4
Play Time: 60-120 Min
Age: 14+
Complexity: 3.12/5.00
Beyond the Sun is one of the most fun space board games on this list, as it will have 2-4 players decide collectively what technological leaps mankind should be making next. Although there are factions and you are very much going to strive towards a common goal – sending mankind to the farthest ends of the galaxy, you will all try to influence the set objectives and technological advancements. Each faction will be busy growing its population and putting it to good work, exploring scientific, economic, military, and commercial opportunities as they go along. You need to stake out your claim early and make sure that you have sufficient clout to sway others or deny them their goals. It's an intriguing odyssey of advancing mankind while also looking to secure your own selfish ends.
Buy Beyond the Sun on Amazon US.
10. Terraforming Mars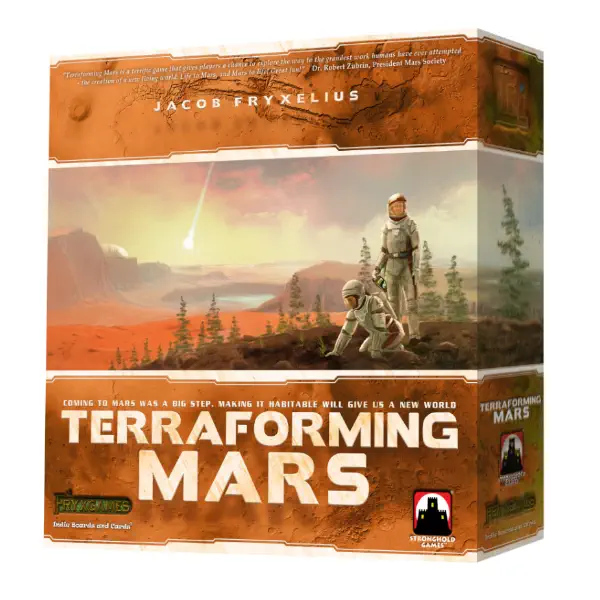 Designer: Jacob Fryxelius
Players: 1-5
Play Time: 120 Min
Age: 12+
Complexity: 3.26/5
Capitalism has reached the Red Planet and that really isn't as bad as it sounds. Corporations are now competing to terraform the Red Planet in what is one of the most relatable space board games and, admittedly, one of the best designs on this list. Players assume the roles of corporations as they set out to turn the planet into a new Eden against all odds, but also make sure that they make a pretty penny on the side.
Each player will choose their own unique path but also try to not allow their greed to spill over and upset the entire planetary progress for the sake of a quick profit. There are hundreds of unique cards to use in your attempt to get rich and terraform the planet and the game itself offers an endless variety. Terraforming Mars is one of the space board games with the most expansions out there, and more are coming out all the time!
Buy Terraforming Mars on Amazon US.
11. On Mars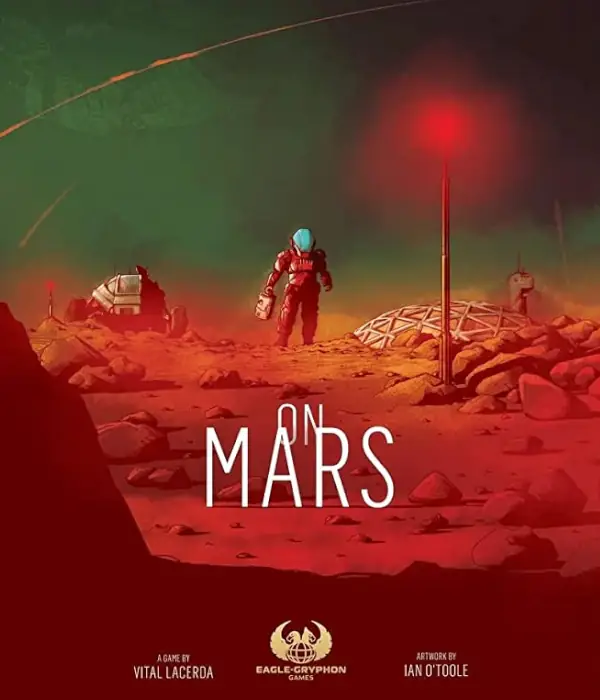 Designer: Vital Lacerda
Players: 1-4
Play Time: 90-150 Min
Age: 14+
Complexity: 4.67/5
The name was Vital Lacerda rings a bell. The man is known as one of the most sophisticated designers and his games, as some of the most artistically sophisticated ones. On Mars is no exception from the Lacerda's signature style which focuses on design excellence. At the core, the game will focus on the Red Planet once again. Players will be the members of the first Martian colony and seek to distinguish themselves from the rest through merit and contributions. After all, why else would you be up there? Players will have to not only navigate the colonial hierarchy but also ensure that the D.O.M.E. project advances. Forget Earth, you are On Mars to establish a new future for mankind in what is one of the most artistically beautiful space board games.
12. Gaia Project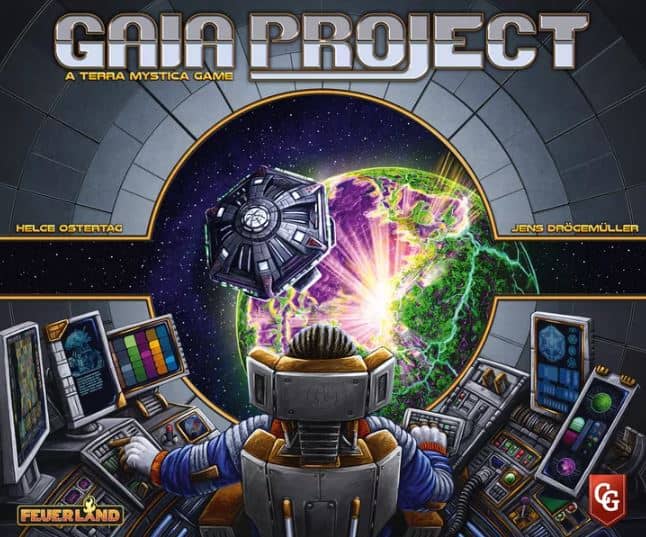 Designer: Jens Drögemüller, Helge Ostertag
Players: 1-4
Play Time: 60-150 Min
Age: 12+
Complexity: 4.39/5.00
Gaia Project is one of the deepest space board games you will ever play. The game will have you peacefully building and developing your civilization by colonizing different planets across the universe. Each faction has its own unique rules and the opportunity to advance down different tracks – economically, technologically, or through special and unique technology tiles. In Gaia Project, you are constantly trying to balance your resources to take the most optimal decisions which yield resources and more actions during any turn. There is a soft competition for planets between players and a chess-like feel all throughout the game. You will see others advance and try to keep up while also remaining that the best way to beat the opposing factions is to ensure that your own strategic arc culminates in a powerful economy.
Buy Gaia Project on Amazon US.
13. Cosmic Encounters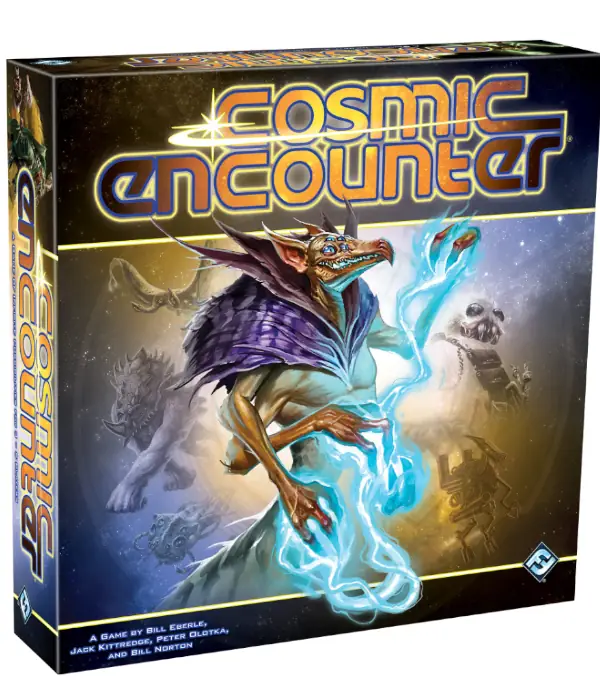 Designer: Bill Eberle, Jack Kittredge, Bill Norton, Peter Olotka, Kevin Wilson
Players: 3-5
Play Time: 60-120 Min
Age: 12+
Complexity: 2.59/5
Cosmic Encounter is a game of bluffing and negotiation, a game of great fun. As one of the best space board games on our list, you will discover a completely different gameplay paradigm. Each player will be able to choose from dozens of alien races, which bring their own abilities to the fore with each player taking a turn to try and establish their dominance on a planet. Defending players can muster cards or even invite allies to help protect their invaded planets and deny the attacker points and steer them away from victory. Although it has a clear party-esque vibe about it, Cosmic Encounter can be a challenging and intense game. Played with a big smile on your face, this is a space board game that really makes space fun! A player wins when they have established their presence across sufficient systems and planets – that is if your "allies" allow you to.
Buy Cosmic Encounter on Amazon US.
14. Xia: Legends of a Drift System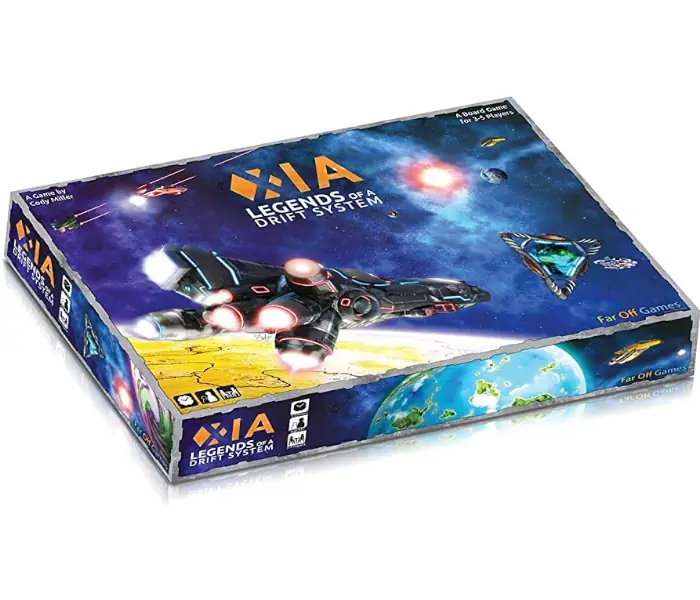 Designer: Cody Miller
Players: 3-5
Play Time: 60-180 Min
Age: 12+
Complexity: 3.19/5.00
Xia: Legends of a Drift System is yet another unique gem on our list of the best space board games. The game invites you to take the role of a space captain who owns their own ship and is not past smuggling contraband past planetary shields. The world of Xia is vast, and you will set out exploring the system, earning credits, and defeating opponents. Or, perhaps, you will avoid conflict at all costs and scurry around completing missions, transporting cargo, and if the need is – upgrade to bigger guns. The game has you edge closer to victory by completing the various tasks at hand of which you may choose aplenty. A fun and easy-to-teach game, Xia invites some degree of luck, especially when steering across asteroid fields, but on balance – this is a game of sound design, lots of fun, and the ability to play through it picking your own rewarding way.
Xia: Legends of a Drift System is not available on Amazon US.
15. Star Trek: Ascendancy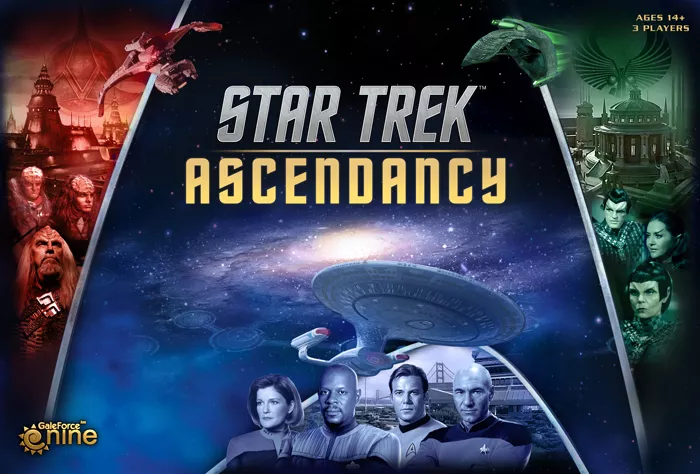 Designer: Aaron Dill, John Kovaleski, Sean Sweigart
Players: 3
Play Time: 180 Min
Age: 14+
Complexity: 3.14/5
The Romulans, the Klingons and the Federation are at each other's throats again and they are all intent on annihilating their opponents in yet another 4X space board games. Star Trek: Ascendancy is not just a smart skin on a decent core mechanic – it's a genuine effort by the designers to create a sound game and design, and no matter how much of a Trek fan you are, the game works wonders. The conflict is captured well, and it takes strategic depth and smart use of resource to advance. There are planets and sectors to fight for and others to forfeit and let your opponents waste your time. The asymmetrical factions bring their own special something to each fight, and diplomacy is an option – but seldom the chosen path. This game makes for a gripping reincarnation of the Star Trek franchise for the tabletop hobby, and deservedly so.
Buy Star Trek: Ascendancy on Amazon US.
16. Eclipse: Second Dawn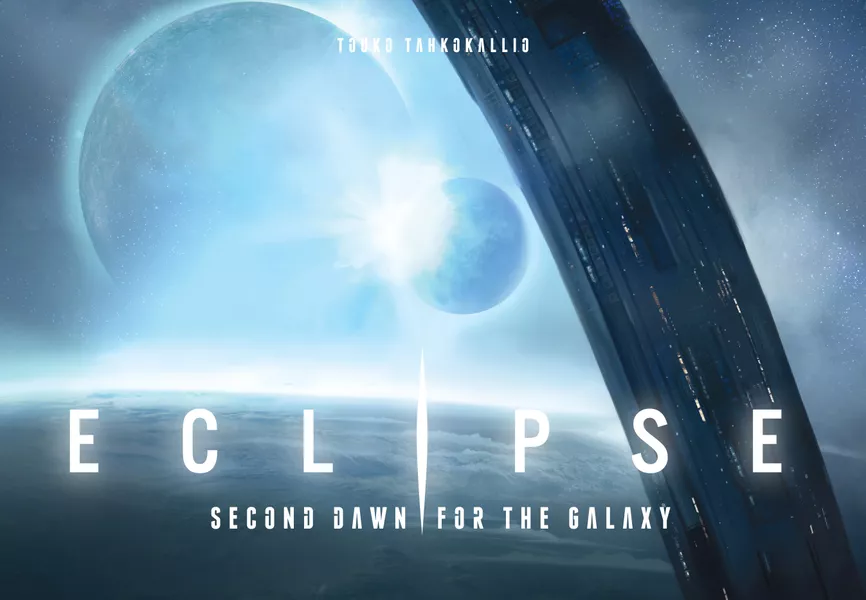 Designer: Touko Tahkokallio
Players: 2-6
Play Time: 60-200 Min
Age: 14+
Complexity: 3.64/5
An economic 4X cornerstone, Eclipse: Second Dawn is one of the best space board games you can ever play if you are looking for a slightly more complicated and civilization-focused experience. The game will have you explore new star systems, advance your technologies and development, and populate new planets. While you do this, you will continue to muster a formidable fleet of spaceships that you want to keep away from battles as warfare is a costly affair, but sometimes an unavoidable event in Second Dawn. The game offers plenty of variability and the opportunity to enjoy yourself all across and will give the master strategists amongst your numerous paths to victory. Each game will vary greatly as no two clashes in the game are the same and your ability to think ahead will determine your success.