There are many small box board games available today. Some will be a great fit for 2 players, others will be great for adults or even solo players. Today, we bring you a complete list of the fun, rewarding, engaging and best small box board games you can pick up and play at anyone's house or take with you on a trip.
The games on the list are very easy to carry around, have great replay value, excellent mechanics, and are strategic to make all players happy. You will find light and relaxing titles, as you will have some more competitive choices, and even solo small box board games. Let's check it out.
Best Small-Box Board Games
1. Cartographers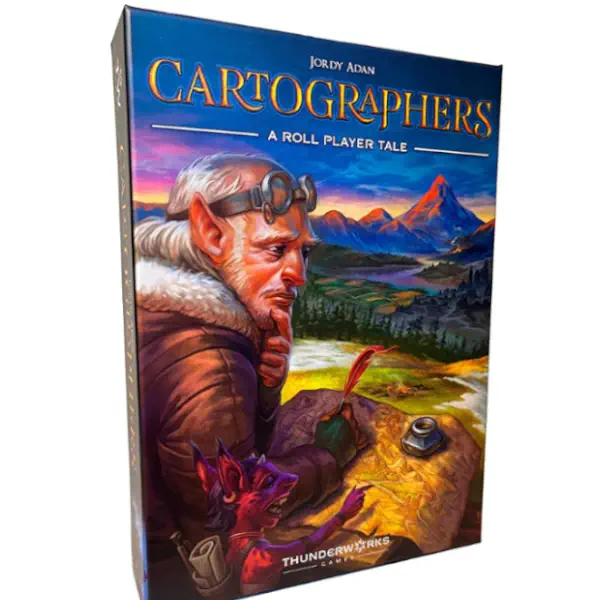 Players: 1-100
Play Time: 30-45 Min
Age: 10+
Complexity: 1.89/5
Cartographers is a tiny box of many delights. Published by Thunderworks Games this 8.1" box will accommodate anything between 1-100 players and can be brought to any party or trip, making it one of the best small-box board games on this list. The game's goal is right in the title. Players step in the shoes of cartographers who study different lands and draw maps, factoring in the relief, such as forests, rivers, mountains and more. Players will compete to draw the most worthwhile maps, which are scored based on whether you have contiguous regions of the same type or have the most of any one type of region. It's an exciting game of quick scribbling and light fun. Oh, and did we mention that there are monsters as well? The game plays in four turns and has easy-to-learn rules and is definitely something to check out.
Buy Cartographers on Amazon US.
2. Patchwork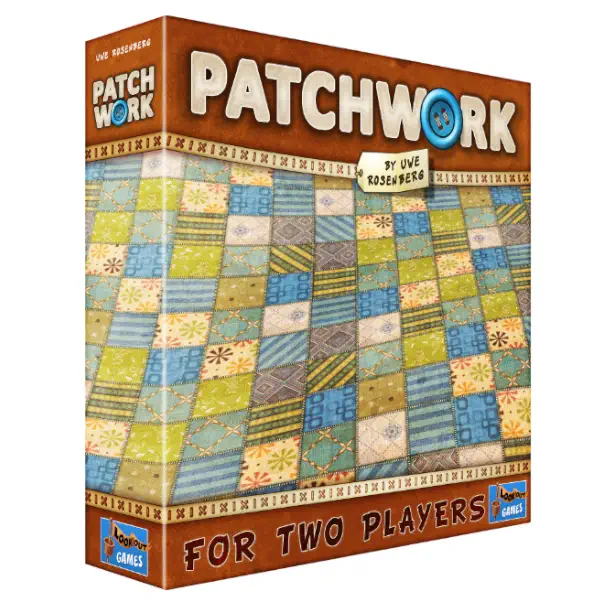 Players: 2
Play Time: 15-30 Min
Age: 8+
Complexity: 1.61/5
Patchwork is another tiny box that you can easily fit into a rather large pocket. The game is quick and easy to teach, but increasingly satisfying to master. In Patchwork, two players will compete to piece together the snuggest quilt, adding various adornments such as buttons and using all sorts of colorful patches. You play on a nine-by-nine grid, drafting new patches and adding them to your quilt. Each patch can be placed freely anywhere where there is a slot for it, but you will want to make sure that the pieces are tightly knit together so that you can score the most points at the game's end. Patchwork also expects you to spend your time wisely, as there is a special mechanic into the game that involves a time token for each player.
Buy Patchwork on Amazon US.
3. Archaeology: The New Expedition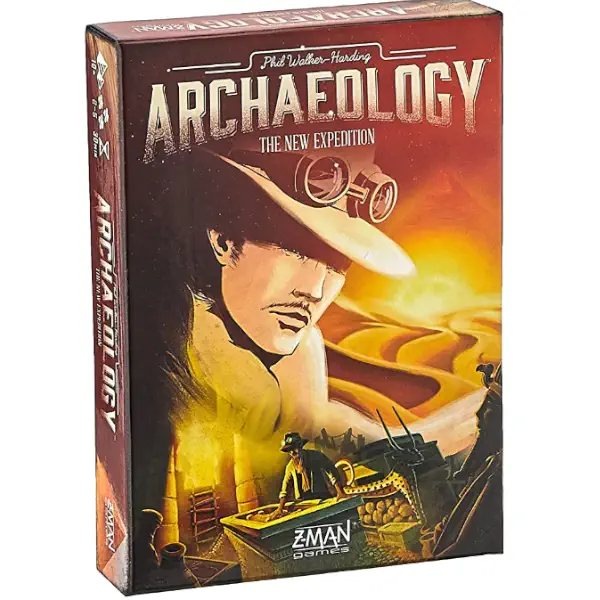 Players: 2-5
Play Time: 20 Min
Age: 10+
Complexity: 1.3/5
Get your Indiana Jones on, because you will be entering the world of Archaeology: The New Expedition, one of the best small-box board games for 2 players on the list to check out. Designed by Phil Walker-Harding and published by Z-Man Games, this title will have 2-5 players race to become the best archeologist in 20 minutes of play time. The game is extremely easy to teach and transport. The plot is set in the 20th century, a time of archeological renaissance, with prominent professors and explorers determined to retrieve the most exquisite statues, vases, jewelry, and ancient artifacts. Nevermind the ethical conundrum that this will create over the coming 100 years. Players will have to play their cards smartly and manage resources as they would end up running into all sorts of difficulties, such as unexpected events. Thieves, sandstorms and worse can all hinder your progress and give your fellow players the upper hand.
Buy Archaeology: The New Expedition on Amazon US.
4. Forbidden Desert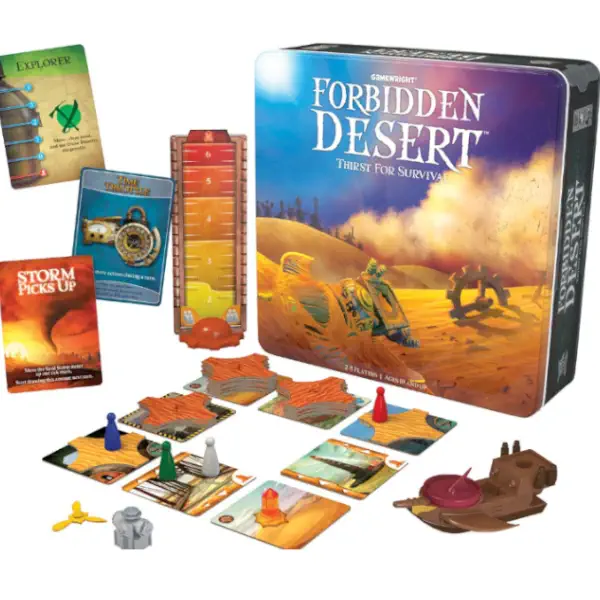 Players: 2-5
Play Time: 45 Min
Age: 10+
Complexity: 2.04/5
The desert, a bunch of survivors, and limited chances of success. This is the plot of Forbidden Desert, a cooperative survival game and one of the small box cooperative games you will enjoy on any day. The plot of the game will have 2-5 players try to survive in a desert wasteland as they navigate a precarious terrain, try to stay hydrated, avoid sandstorms and uncover a flying machine that can help get them out of this dry hell. As you and your team come together to discover a way out, the challenges you begin to face become more difficult – natural elements will hit even harder, and eventually – the sandstorm becomes so strong that you stand no chance of ever escaping the desert. The game offers a challenging and highly-rewarding gameplay that brings tons of replayability, beautiful artwork and unique design solutions that will have you fall in love with this game, and doubly so if you love small-sized, engaging, and fun games!
Buy Forbidden Desert on Amazon US.
5. High Society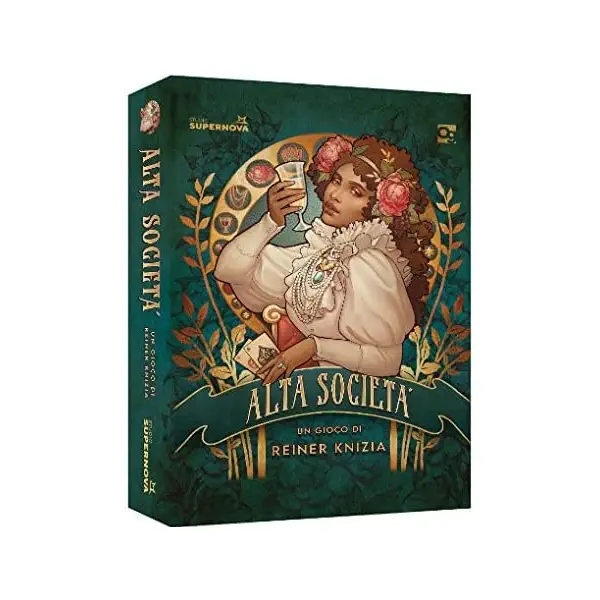 Players: 3-5
Play Time: 15-30 Min
Age: 13+
Complexity: 1.5/5
High Society is another Reiner Knizia board game originally published in 1995 and re-released for a second edition with improved art and design. The core auction-based gameplay of the original remains in the new edition. In High Society, 3-5 players will play as socialites who are trying to become the wealthiest member of society and acquire a variety of luxury goods, such as mansions, yachts, racehorses, and more. Players will try to amass wealth while avoiding debt. Only one player loses in this game and that is the player with the least amount of money who is chucked out of the higher circles of society. The game comes down to strategic bidding and careful money management which makes for a dynamic and fast-paced gameplay. High Society is one of the best small board games for adults to try on our list.
Buy High Society on Amazon US.
6. Herbaceous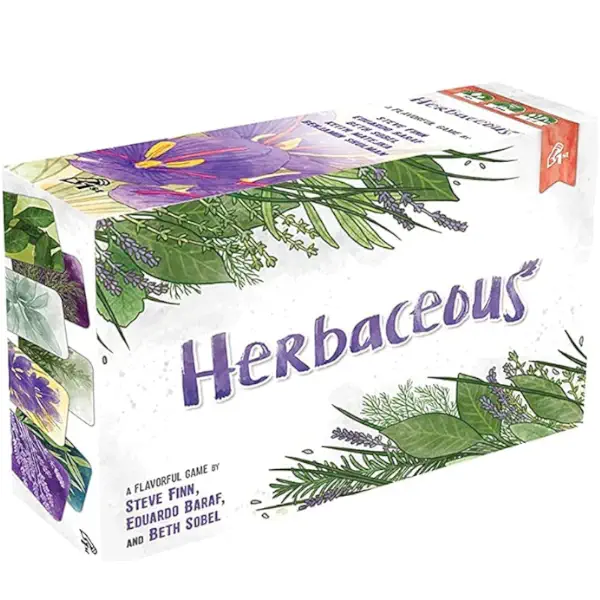 Players: 1-4
Play Time: 15-25 Min
Age: 8+
Complexity: 1.2/5
Herbaceous is one of the great small card games on this list to try. The game was first published in 2017 and designed by the trio of Eduardo Baraf, Steve Finn, and Keith Matejka. In the game, players will cultivate and harvest a garden of herbs, with the end goal of having the best plantation across all plots and scoring the most points by growing the most exotic herbs. Each herb will come with its own unique ability and point value, which will make players choose wisely what herbs to plant and to pass upon as they expect better seeds down the road or in a future round. The game plays for anything between 1-4 players and is in fact a great small box solo board game. The usual game time is 15 to 25 minutes, and Herbaceous is a laidback game that has a strategic element to it and offers simple yet intriguing mechanics to make it a lot of fun.
Buy Herbaceous on Amazon US.
7. Sushi Go!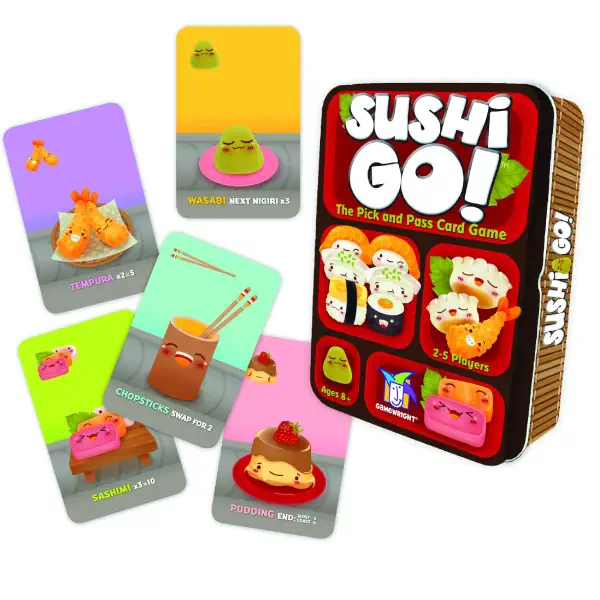 Players: 2-5
Play Time: 15 Min
Age: 8+
Complexity: 1.2/5
Sushi Go! is an exquisite board game for players who love sushi – or like the colorful rolls and how they combine in interesting sets. Well, the game is pretty much about this plain and simple. In a game of Sushi Go! 2-5 players will try to create the best combo sets, using all sorts of delicacy, including sashimi, tempura, or maki rolls. Each piece of food stuff you add to your set will have an associated value with it, making for a delicious addition, true, but also a great way to score some points. Each player is dealt a hand of cards at the beginning of the game. Players will also have to choose and keep one card from their hand in each round and pass the others to the player beside them. Once all the cards have been drafted, the final hand is revealed, and points are scored. This goes on for three full rounds when points are compared, and a winner is chosen. Overall, Sushi Go! has a fun, simple and engaging gameplay which makes for a rewarding experience through and through.
Buy Sushi Go! on Amazon US.
8. Resist!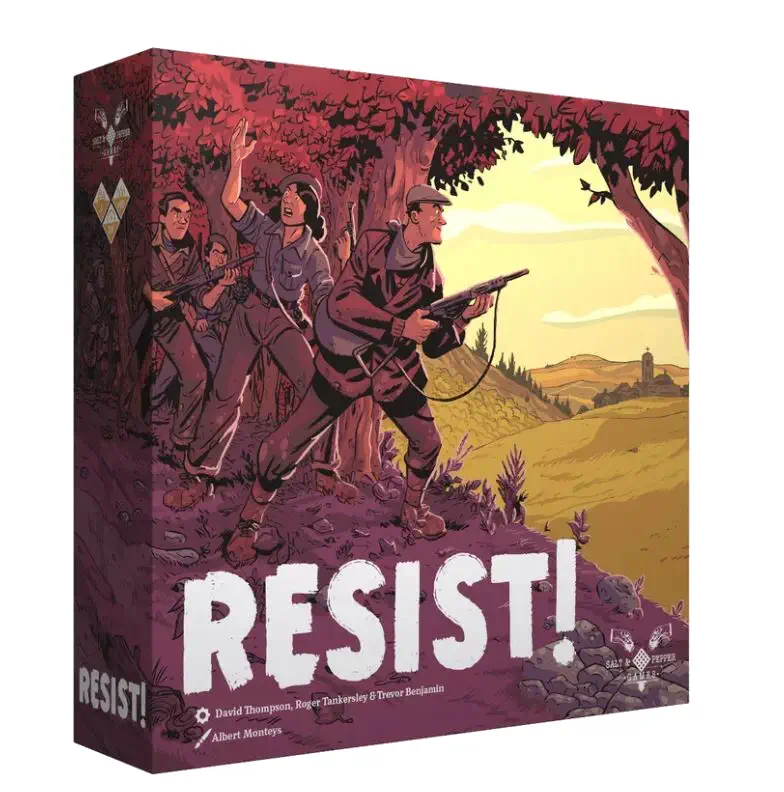 Players: 1
Play Time: 20-40
Age: 10+
Complexity: 2/5
Resist! is hands down one of the best small box solo board games you can play today. The game is set in the Spanish Civil War and the period immediately after the war. Although the Republic has lost, loyalists known as Maquis have carried on and you will try to resist General Franco and try to defend the ideals of democracy and freedom. Players will go toe-to-toe with the Army of Franco, the Civil Guard, and the Armed Police and enjoy a fast pace of play in this solitaire game experience. Players will undertake increasingly difficult missions to break free from the chains of oppression and defeat the Monarchy. You will have 12 Maquis at your disposal and balance between keeping them hidden and revealing them at the right time to extract their full potential. Resist! is primarily a deck construction card game although you may notice some deck building elements as well. It's a brilliant small box game to play on your own. Published by Salt & Peppers and designed by Trevor Benjamin, Roger Tankersley, and David Thompson, this is a game to add to your collection.
Buy Resist! on Amazon US.
9. Cards Against Humanity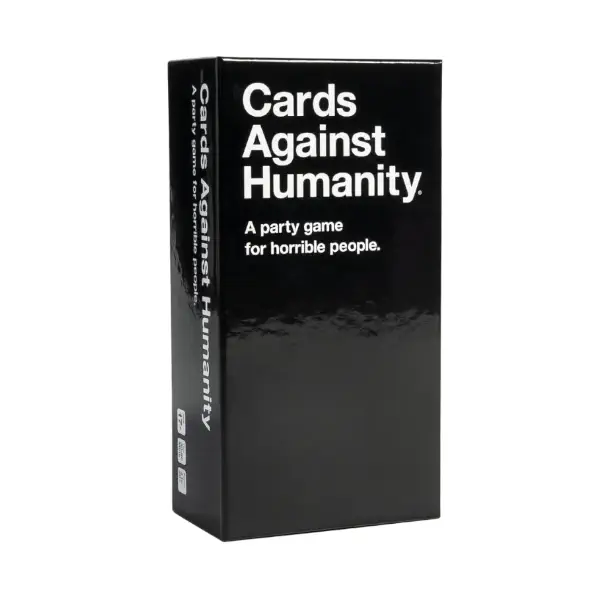 Players: 4-30
Play Time: 30 Min
Age: 17+
Complexity: 1.20/5
Cards Against Humanity is one of the most controversial small-box board games for adults on our list. The game is a fun thing to bring to parties and play with a close group of friends, as you will try to finish off a story off a prompt card and usually have some saucy punchline to deliver. The person to score the best (and sometimes meanest) punchline to a prompt card is declared the winner of a round with fellow players taking turns voting whose card was the best. Cards Against Humanity can be very fun, it's quick, and it is engaging. One small caveat here is that although the game is fun, some players may find the jokes a bit too much, so make sure everyone is on the same page and happy to play Cards Against Humanity before you offer!
Buy Cards Against Humanity on Amazon US.
10. Radlands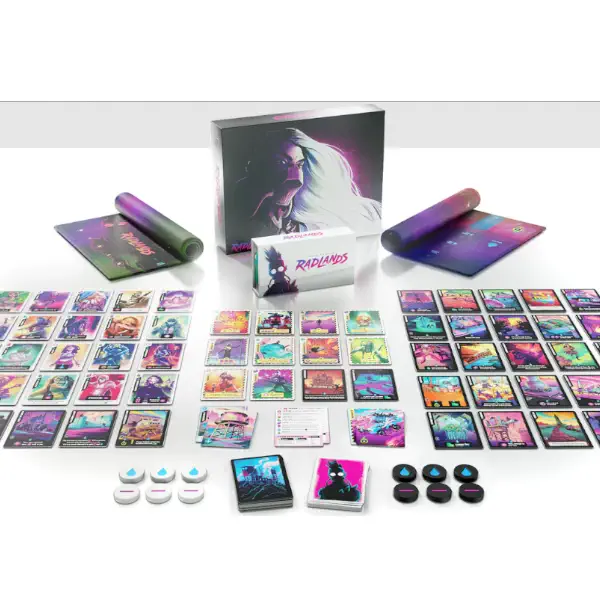 Players: 2
Play Time: 20-40 Min
Age: 14+
Complexity: 2.20/5
Radlands is definitely one of the best small-box board games for 2 players you will find here. The title is an absolute blast, and it was published by Roxley Games who are in love with the post-apocalyptic punk theme. In Radlands, 2 players go toe-to-toe in a bid to destroy each other's base and steal precious water resource. Water are scarce, and the warring tribes must make the best of what they have left. Players will use cards to collect other resources, such as scrap metal food, gain followers, and launch fresh attacks on the opponent's camp. The game features a unique combat system in which you will try to create formations and gain a strategic advantage as you unfold your attack against the opponent. Radlands is a fast-paced and engaging title which is also one of the best small box board games you will find anywhere. Yet, this small box contains so much delight and fun!
But Radlands on Amazon US.
11. Blitzkrieg! World War Two in 20 Minutes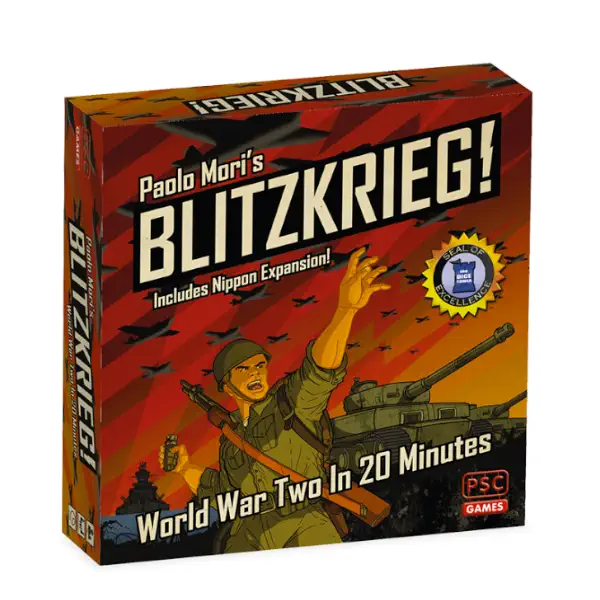 Players: 1-2
Play Time: 20-45
Age: 14+
Complexity: 1.8/5
One of the best small card games on this list, Blitzkrieg! World War Two in 20 minutes is a fast-paced title that will bring tremendous fun. Players will use a deck of cards with each card representing the different units, tactics, and events during the war. You will then take turns to attack each other and try to win the war, but to crown your efforts with success, players have to resort to careful resource management. The game is beautifully illustrated and will bring you tremendous and enjoyable moments as you play along and have fun. Quick, intense, and a strategic delight, this is a game that you may want to try out!
Buy Blitzkrieg! World War Two in 20 minutes on Amazon US.
12. The Crew: Mission Deep Sea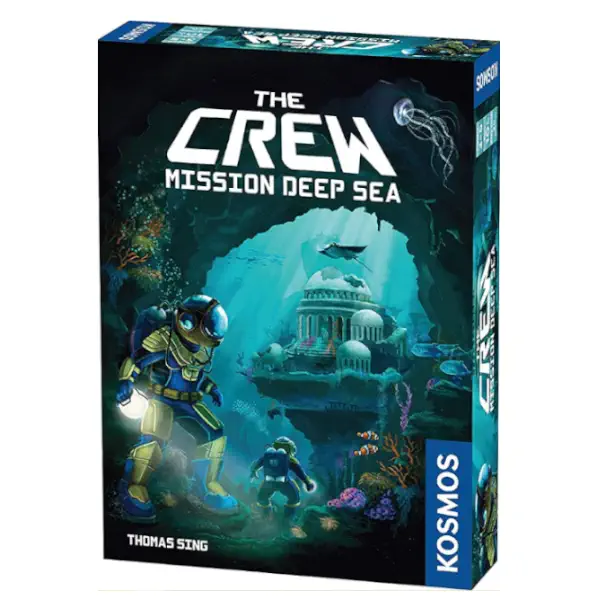 Players: 2-5
Play Time: 20 Min
Age: 10+
Complexity: 2.04/5
The Crew: Mission Deep Sea is the follow-up game from The Crew: The Quest for Planet Nine, and players will face challenges that become increasingly difficult to overcome as time goes on. Each mission will expect players to complete a specific mission, using broken equipment and trying to advance further by collecting treasures, making discoveries, or fixing a broken piece of equipment. The title features a communication restriction mechanic which simulates underwater work by scuba divers who need to use special signs to tell each other what to do. The title relies on teamwork, and this immediately makes The Crew one of the best small box cooperative games. Each player has a specially-designated role and uses trick-tacking to carry out actions. The Crew: Mission Deep Sea makes a great bit of fun for 2-5 players and players aged 10+.
Buy The Crew: Mission Deep Sea on Amazon US.
13. Air, Land & Sea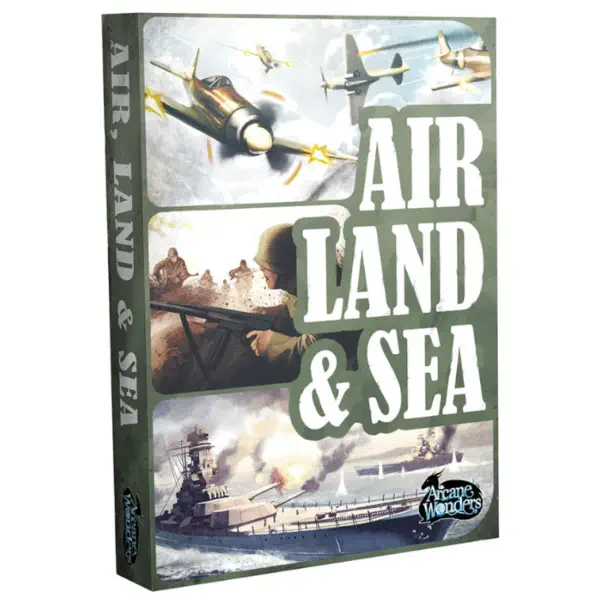 Players: 2
Play Time: 15-30 Min
Age: 14+
Complexity: 1.72/5
Air, Land & Sea is a unique, dynamic, and card-driven war game that plays over 15-30 minutes. In this game, 2 players take the role of military commanders who will vie for control over three out of six battlefields. Each player has a deck of 18 cards and uses those cards to launch attacks and defend against their opponent. The game comes down to managing your hand well and knowing what your opponent's intentions are. There is a fair degree of bluffing and risk-taking in the game, which makes it a lot of fun. Overall, we believe Air, Land & Sea to be one of the best small box card games on this list and a game that is fun, thematic, easy to pick up, but satisfyingly difficult to master with a seemingly endless depth.
Buy Air, Land & Sea on Amazon US.
14. For Sale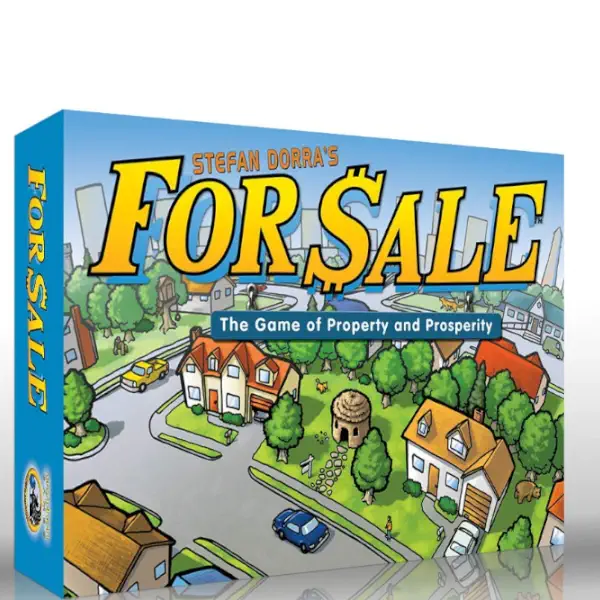 Players: 3-6
Play Time: 30 Min
Age: 10+
Complexity: 1.3/5
For Sale makes the latest auction board game entry on our list of best small box board games. The title revolves around a simple bidding game where players will have to manage their resources smartly and choose what pieces of property they can secure. Other players will of course try to bid for the same properties as they offer victory points. The key in the game is to know when to bid, when to bluff, and when to go all in on a property. The first phase is all about acquiring new real estate. Then, there is another face during which you will be selling the properties to generate as much money as you can and back you are at it again. For Sale is easily taught and it definitely feels and plays very rewardingly. Plus, you can bring the game with you pretty much anywhere.
Buy For Sale on Amazon US.
15. Bohnanza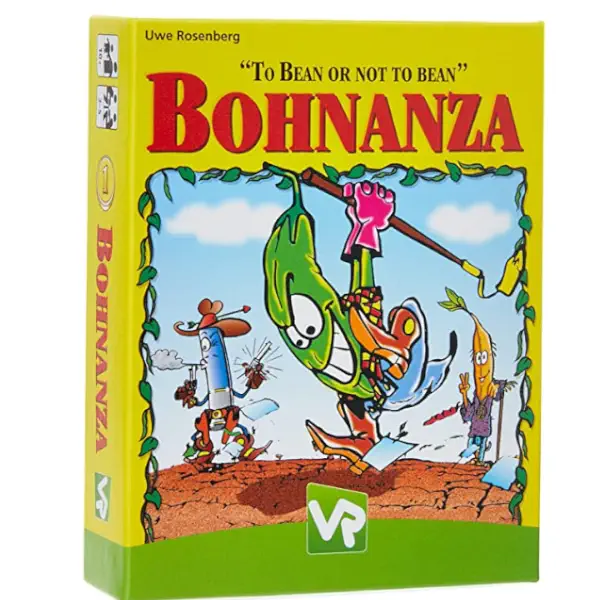 Players: 2-7
Play Time: 45 Min
Age: 12+
Complexity: 1.67/5
Bohnanza is a true classic in the tabletop community, and one of the best small box board games that you will experience and enjoy on this list. The game is played in 45 minutes during which you will plant various cards on the table in front of you which stand for different produce, and score points based on what you plant. You will play a card each round, but you may not choose which one as you must play your cards in order. To offset some of the cards you don't want, though, you can trade with other players, and this way get the cards you want into play sooner. Bohnanza plays and is taught very quickly, yet there can be some tantalizing strategic feel and depth to your experience with the game as it's delightfully challenging to master. You need to consider when to trade against other players and when to deny a trade altogether in the hopes of denying your opponents getting ahead. Read the cards right and bide your time to plant the right product for maximum scoring potential in this classic board game!
Buy Bohnanza on Amazon US.
16. Hungry Monkey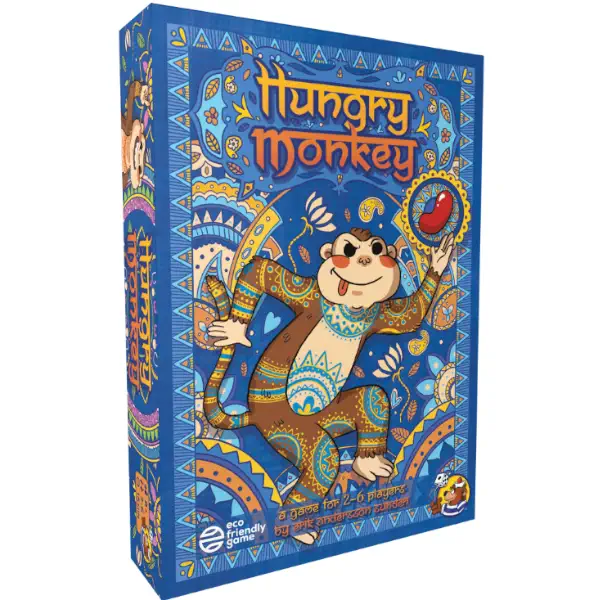 Players: 2-6
Play Time: 15-30
Age: 8+
Complexity: 1.3/5
Get rid of your cards and collect all the beans you can – this is how you sum up Hungry Monkey, a small card game that will be a great choice for you to take to anyone's house. The game will have you play cards that match the ones that have just been played in order to get rid of them, and sometimes – you will end up triggering an interesting animal effect that can get you the beans you are after. There is a lot of back and forth between the players and really no way for you to call it quits. Each time you end a game, each player will count their bean cards and calculate points based on that. You may play just the one round or have several rounds and accrue points across all of them!
Buy Hungry Monkey on Amazon US.
17. Trailblazers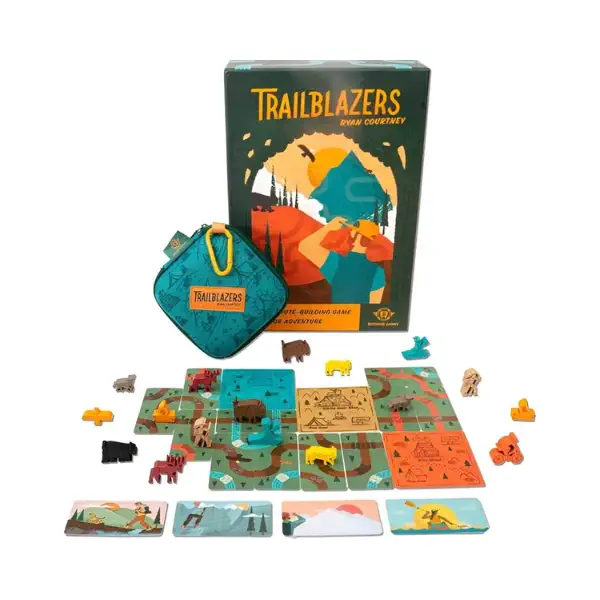 Players: 1-8
Play Time: 30 Min
Age: 8+
Complexity: 2/5
Trailblazers is one of the top small board games for travel. In the game, you will hike across a national park. You will explore various parts of the parks and find your way through the wilderness. Fit for 1-8 players, Trailblazers will have participants overcome various obstacles, explore terrain, collect resources to survive on their own, and overcome obstacles such as steep cliffs, rivers, and even hostile wildlife! You will work to decide how to best approach your journey and what needs to be done to make it through the end. The game is fun and it's very educational, with the entire series focusing on different national parks and trying to introduce them to the players as accurately as possible.
Trailblazers is not currently available on Amazon US.
18. For the Queen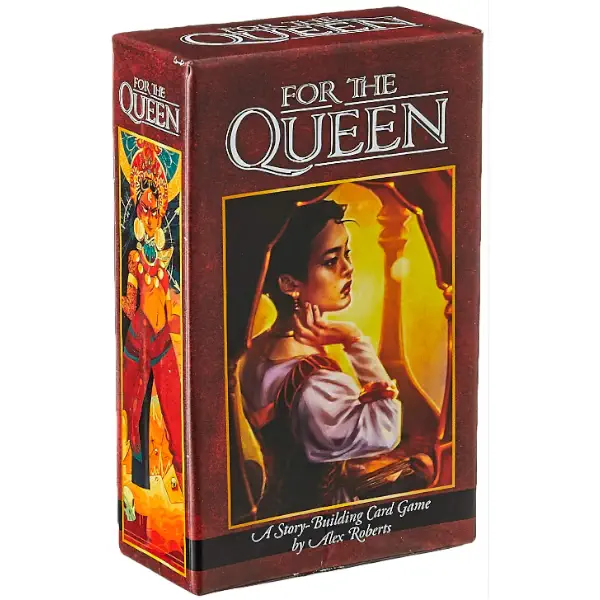 Players: 2-6
Play Time: 30-120 Min
Age: 13+
Complexity: 1.2/5
For the Queen board game with a card-driven storytelling gameplay designed by Alex Roberts and published by Evil Hat Products. This is one of the best small card games to try as it's easy to take with you, and get people introduced to its unique and rewarding gameplay. The game will have 2-6 players play over 30-120 minutes and try to support the Queen on her journey to a distant power where she hopes to broker an alliance that would bring peace and prosperity. Players will take alternate turns and draw from a central deck and contribute to the story. Players must work together to make sure that the Queen's passage is safe and that the prosperity and safety of the kingdom is assured. Players will enjoy a great collaborative storytelling experience, develop characters, and improvise balancing between risky decisions to explore the full game and win at the end of this beautiful journey.
Buy For the Queen on Amazon US.
19. Twilight Inscription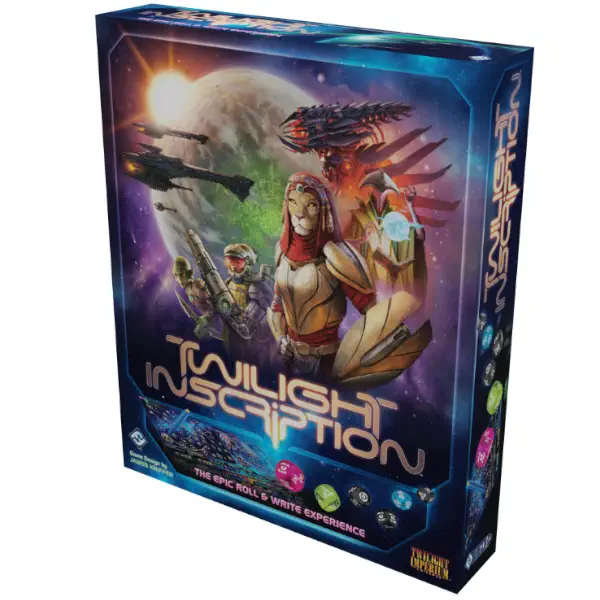 Players: 1-8
Play Time: 90-120 Min
Age: 14+
Complexity: 3.20/5
Twilight Inscription is a dice rolling and pencil-and-paper version of the 4X board game heavyweight Twilight Imperium. In the reimagined version of the game, players will cut down the play time significantly, while still enjoying waging space wars on up to 8 players. Players get in the driver's seat of a unique faction and seek to replace the Emperor who has recently passed away. To do so, though, would require you eliminating the competition.
The game recreates the original grand-scale conflict and once again will have you manage your Warfare, Expansion, Industry, and Navigation tracks as you seek to expand your reach and pull in the galaxy and establish yourself as a worthy successor to the Emperor. The game will once again have you make important strategic choices and build a space imperium that overshadows all of your opponents. This is definitely one of the best small box board games to try as it features tons of gameplay in a rather compact and fun format!
Buy Twilight Inscription on Amazon US.
20. Bang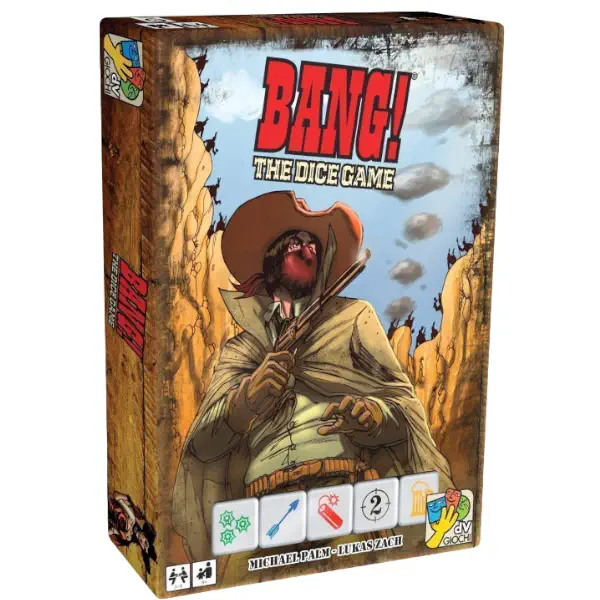 Players: 4-7
Play Time: 20-40 Min
Age: 10+
Complexity: 1.63/5
The wild west is a dangerous place – there are renegades, outlaws, the sheriff, and his deputies, and they are all at each other's throats. Bang is a fun, dice-rolling game in which 4-7 players take on the roles of different castes of groups in the Wild West. You will try to shoot down other players, without knowing their true identity and apparently making a few gaffes along the way. The only person whose role is revealed is the sheriff, and he wins if all the bad guys are killed. The renegades play a double game, as they try to first take care of the outlaws and then face the sheriff one-on-one, but here's what – even if there are two renegades, they must make sure that they are the last player standing to gun down the sheriff. This makes for a compelling and exciting game of cat-and-mouse where you will even get your special role in this western. Oh, and the box size? Bang is one of the most convenient small-box board games you can enjoy and play, and you will have absolutely no trouble bringing it with you anywhere or teaching others the rules in a few minutes!
Buy Bang on Amazon US.
21. Hanabi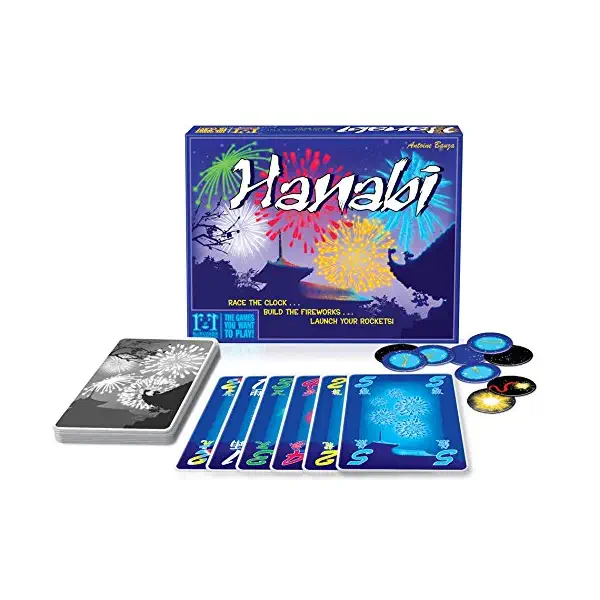 Players: 2-5
Play Time: 25 Min
Age: 8+
Complexity: 1.69/5
A game of Hanabi is so simple and straighforward you can teach it to your 8-year-olds or overly ambitious 6-year-olds. Yet, artificial intelligence that has defeated humans in chess and go struggles when it comes to Hanabi. To win in a game of Hanabi, you need to create a perfect row of fireworks, represented by cards. The cards are denominated from 1-5 for each of the different color suits there are. So, what you have to do is just pick the right card and play it. It sounds easy, but the fact of the matter is that you cannot see your own cards and have limited moves to create the display of fireworks before you run out of cards and fail to defeat the game. You will have to read your fellow players cues and subtle hints, making Hanabi one of the best cooperative small box board game experiences there is! We state this loud and clear, this is hands down the best small box board game you will ever find, with some really neat editions coming in pocket-sized tin boxes that fit all you need to play a game of Hanabi!
Buy Hanabi on Amazon US.