We independently review everything we recommend. When you buy through our links, we may earn a commission. Learn more 
Congratulations, you are now an adult. You finally have the means to buy the board games you have ever wanted. Although you are running short on time, there is surely no stopping you from sparing a few nights a week to have your group come together and play. But play what exactly? Today, we take a look at some of the best board games for adults and why we think they make the perfect pick for board game night.
We have put together a list of the most popular board games for adults that span the entirety of the board gaming experience. Whether you are looking for a capital-e epic adventure through a dungeon in Gloomhaven or are sent back to the somber industrial revolution of Brass Birmingham, we know that there is a game for you on this list.
Our Top Picks for Board Games for Adults
1. Gloomhaven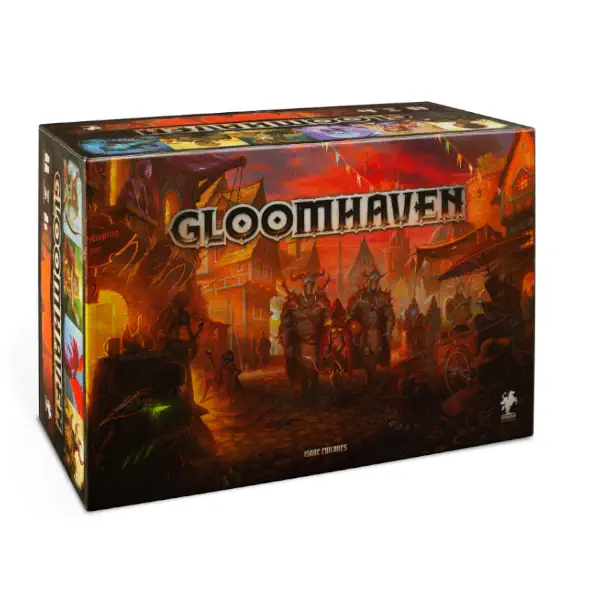 Players: 1-4
Play Time: 60-120 Min
Age: 14+
Complexity: 3.89/5
Gloomhaven is possibly the pinnacle of board game nights. Held up in a room, the adventurers could easily spend hundreds of hours playing the game and exploring its overarching story, leveling up their characters, securing better equipment, accessing more powerful abilities, and completing quests. Gloomhaven is the ultimate cooperative role-playing adventure game that has conquered the world and is estimated as the best board game of all time.
In the game, 1-4 players will pick from a bunch of possible characters and heroes and start leveling them up throughout the adventure. The action takes place across a modular map and dozens of different dungeons and battlegrounds where the heroes will brave new opponents. The gameplay relies on the tactical play of cards with heroes spending cards to take one of two actions indicated on them and help the party overcome throngs of opponents who keep coming at you in every encounter.
Gloomhaven deserves its own dedicated table and no bedtime, and if you are an adventurer RPG player at heart, this is very well one of the best board games for adults you can try. That's not all. Gloomhaven layers the experience with complex monster behavior that will pose a real challenge in every encounter and make you think hard before you are venturing blindly into battle.
This is very possibly the most popular board game for adults that is enjoyed and beloved by all age groups, nevertheless. The game has received critical acclaim and it continues to amaze and inspire with its unique and deep game system that has even inspired a video game adaptation. Make no mistake, however. Gloomhaven is best enjoyed on the tabletop with your friends.
Buy Gloomhaven on Amazon US.
2. Brass Birmingham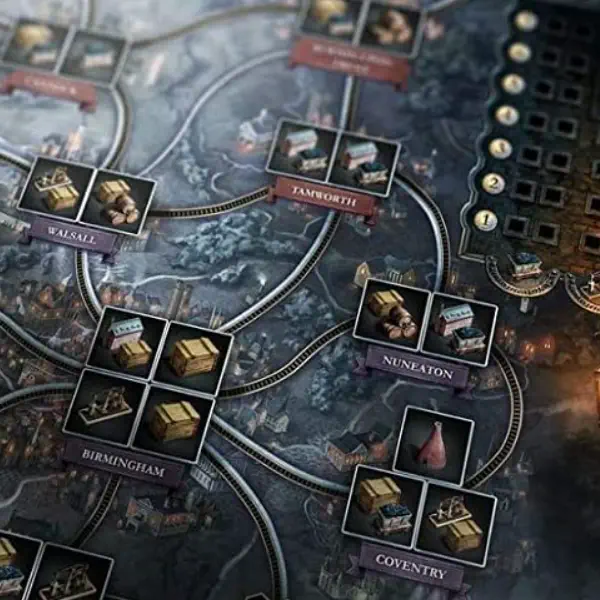 Players: 2-4
Play Time: 60-120 Min
Age: 14+
Complexity: 3.89/5
In the coaly duskiness of the Industrial Revolution, a brilliant board game is born – enter Brass Birmingham, one of the most delightful game systems you will play in your adult life as a board gamer. Brass Birmingham is set in Great Britain, and it will have you transport coal and iron to various locations, scoring victory points as you do.
The truly unique mechanic of the game stems from the fact that the scoring system is beautifully intertwined all across the board. The roads you build to transport resources will score points when in the proximity of buildings, and you will want to supply resources to your opponents to flip your building tiles and score even more points.
The game boils down to players playing cards from their hands and placing down buildings in the cities they have the cards for – more or less. You also have to expertly manage your finance by taking on extra debt or relying on base income every turn so that you have more resources to build buildings.
There is tons of strategic planning in Brass Birmingham which makes it such a brilliant board game for adults. The title asks you to make some very real logistical decisions and know when to pounce at the free resources dangled by an opponent, and when to take the harder road around to foil their development. This game of industrial cat and mouse has never been more fun than in Brass Birmingham – one of our favorite board games for adults!
Buy Brass Birmingham on Amazon US.
3. Spirit Island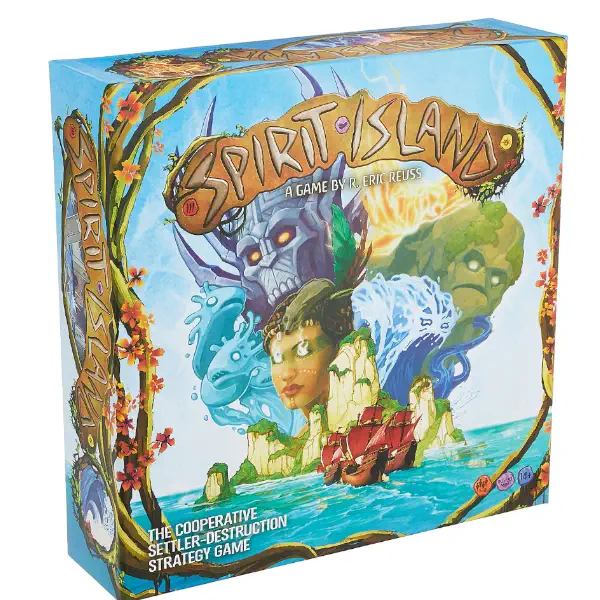 Players: 1-4
Play Time: 90-120 Min
Age: 13+
Complexity: 4.06/5
The settlers of the Old World have arrived very much the way you would expect them to – entitled, spoilt, and greedy for resources. This has stirred the supernatural spirits of the aptly called Spirit Island, which is our next suggestion for you if you are on the lookout for the best board games for adults there are.
But why Spirit Island? This Pandemic-inspired game (sort of) takes place on a modular generic island rich in fertile soil, mountains, forests, and even sandy dunes, which the colonists from far-flung lands have come to exploit for their gains.
The indigenous tribes are suddenly driven out of their homes so that the colonists may build their towering and often ugly structures and take the land by force, that is if it's not for you – the 2-4 players who will take on the role of one of the many spirits of the island and begin protecting and guiding the locals in how to deal with the pesky invaders.
Each turn, you will place down tokens and totems as a spirit but also cast powerful abilities that tame the natural elements and reign terror and destruction on the invaders – often at the same time. You win the game if you have struck enough terror (which is an actual game-winning condition!) or if you somehow manage to destroy all the white plastic pieces (because the invaders are all made from white plastic).
Every playthrough can and feels different as you get on a new spirit to try and a new strategy to test. The game comes in varying levels of difficulty making it a challenge and a delight for new and veteran players alike. Besides, there are tons of expansions and cool little things to add to the core gameplay for an even more fun experience!
Buy Spirit Island on Amazon US.
4. Terraforming Mars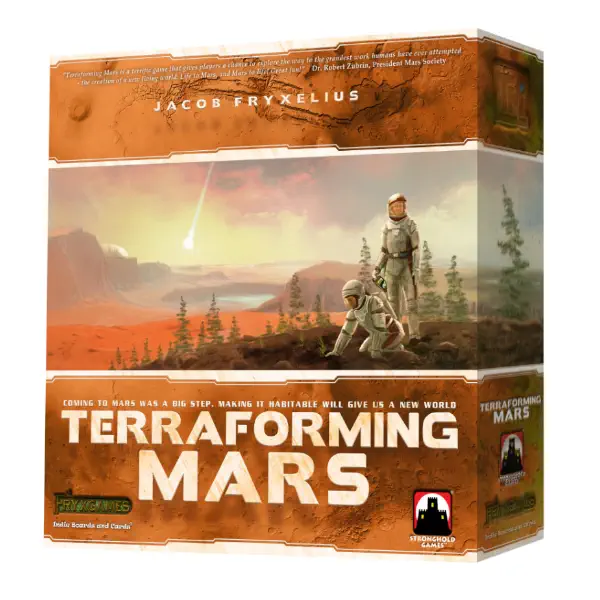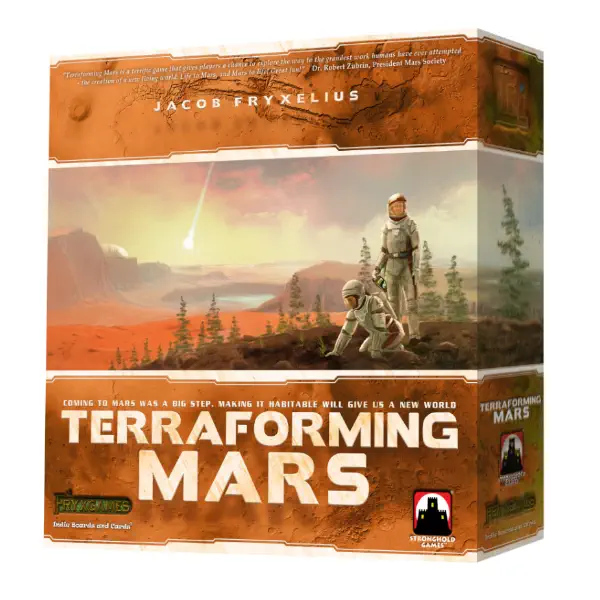 Players: 1-5
Play Time: 120 Min
Age: 12+
Complexity: 3.26/5
Mankind has finally made the voyage to Mars, hauling equipment and erecting settlements on the dusky red planet which remains as inhospitable as it is beautiful. Players set out to help with the colonization of the lifeless rock that holds the potential for the future of mankind, with players stepping into the roles of corporations that will work tirelessly to advance various terraforming goals and score high on the victory point tracker.
Players all get various cards to use and build infrastructure that will help them accomplish achievements and win points while also allowing them to have sufficient resources to play with as they try to make optimal moves each turn. Although players will play together, they will also compete and try to strategize an optimal way to use their resources.
Each action will be a gambit, as your decisions will have a bearing on the planet's temperature and oxygen levels, a fine balance that must be kept in place or everyone loses. Terraforming Mars is one of the best board games for adults that will throw you into the vastness of the scientifically plausible and immerse you in the race of ploughing a fresh course for humanity.
Terraforming Mars is on the whole a brilliant, evocative, and immersive game that stays with players and will make a worthwhile addition to your collection or a great thing to bring out during game night and show your friends. No scientific degrees are required!
Buy Terraforming Mars on Amazon US.
5. Dune: Imperium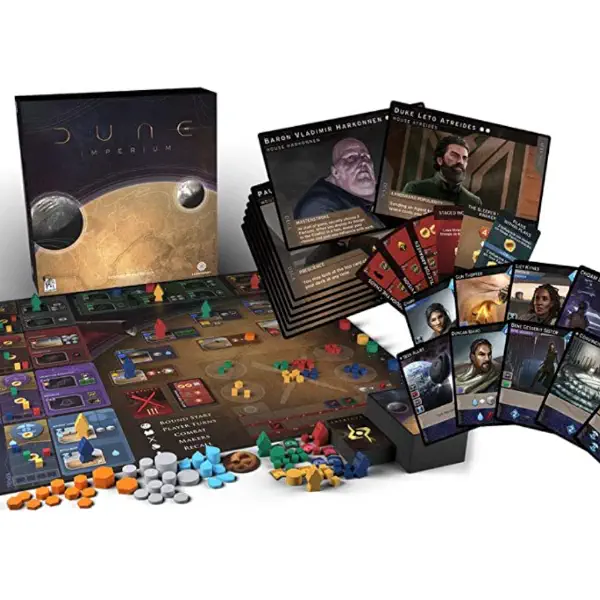 Players: 1-4
Play Time: 60-120 Min
Age: 14+
Complexity: 3.02/5
Dune: Imperium is one of our true favorite board games for adults. Designed by Paul Dennen in collaboration with Dire Wolf Digital and Ravensburger, this is probably the best adaptation of the Dune franchise to the tabletop experience. The base game accommodates 1-4 players and uses a deck-building and worker placement mechanic to let players advance their houses.
Each player will play with one of the said houses that contend over Arrakis, the sand planet from where the spice needed for space travel comes. The game focuses on player conflict and accessing new technologies, with the action unfolding economically, politically and militarily. Players will seek to control various locations around the planet on every turn and score point or bring themselves closer to unfolding some major stratagem.
The game perfectly emulates the tension and political strife captured by Frank Hubert's Dune novels. Overall, Dune: Imperium is a game of elegant complexity and engaging dynamic that will leave you wanting more.
Buy Dune: Imperium on Amazon US.
6. Anachrony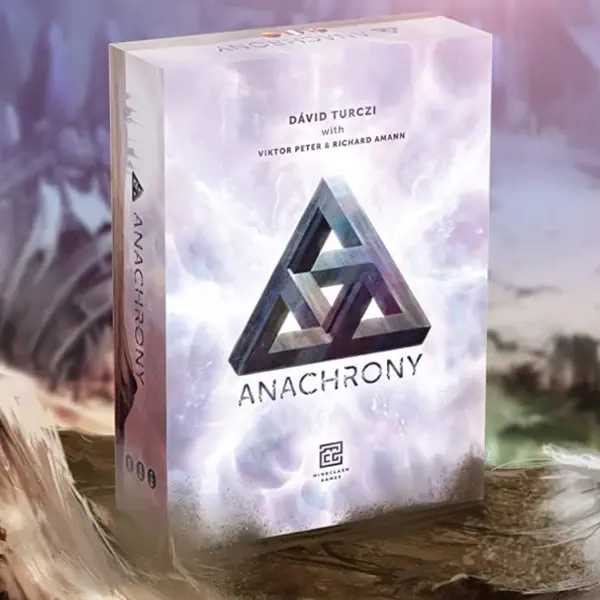 Players: 1-4
Play Time: 30-120 Min
Age: 1510+
Complexity: 4.02/5
Anachrony is one of the best science fiction board games out there, and quite frankly – one of the best board games for adults we have had the pleasure to play. It comes from the acclaimed Dávid Turczi who has designed a series of complex, intricate, and ultimately mighty rewarding games, and published by Mindclash Games, this is a title you may want to look into.
Anachrony is like Time Bandits – more or less. You jump back in time and try to steer the past so that it impacts the future – your present – in ways that you want. Your present, however, is a post-apocalyptic society in which each of the players, called a leader in the game, tries to lead his people to prosperity and get the upper hand against other leaders.
A unique mechanic and quality of the game are that you can send your workers back in time to generate more resources in the present. The game can be a bit of a head-scratcher at first, but its mechanics unfold and click together nicely. Of course, with each jump back into the past, you will create paradoxes, which must be managed or else you risk ending the universe itself.
Players need to manage their energy, resources, and time smartly and also address rival factions. The game comes with a bunch of expansions and modular extensions of the gameplay, adding a never-ending variety to this beautiful board game that will appeal to adults, but may also be enjoyed by any group of people!
Buy Anachrony on Amazon US.
7. Pandemic Legacy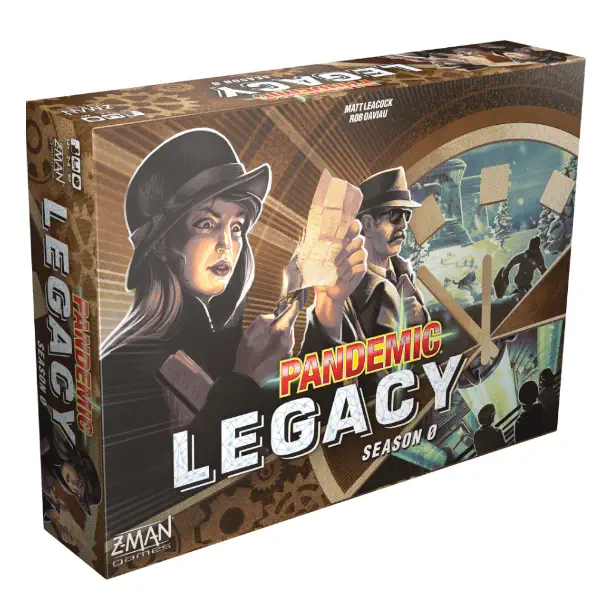 Players: 2-4
Play Time: 45-60 Min
Age: 14+
Complexity: 3.14/5
Pandemic Legacy is, as the name suggests, a legacy game. It is a unique experience that evolves. Each decision players make will have a bearing on the next rounds and sessions, and no two experiences will be the same more or less. The game is based on the original Pandemic, which has people trying to tackle a series of deadly strains that infect the world and threaten humanity's existence.
In Pandemic Legacy, players cooperate to prevent the spread of the pandemic and find a cure, but the game is rich in narrative, plot, and design, and is hailed as the best board game for adults who love the legacy genre. Much of the core mechanics of the original game are still retained in the legacy version.
You still try to stem the tide of a deadly virus – or viruses – and play as one of many characters that bring unique abilities to the table and help you tackle each challenge as it arises. The game is played in 12-24 sessions, which makes for a lengthy campaign of intrinsic design and beautiful execution.
Players agree that this is by and large one of the most worthwhile and fulfilling experiences they have had with a legacy game. The best part? At the time of writing, there are four seasons of Pandemic Legacy you can play giving you dozens of hours of great tabletop fun.
Buy Pandemic Legacy Season 0 on Amazon US.
8. Twilight Struggle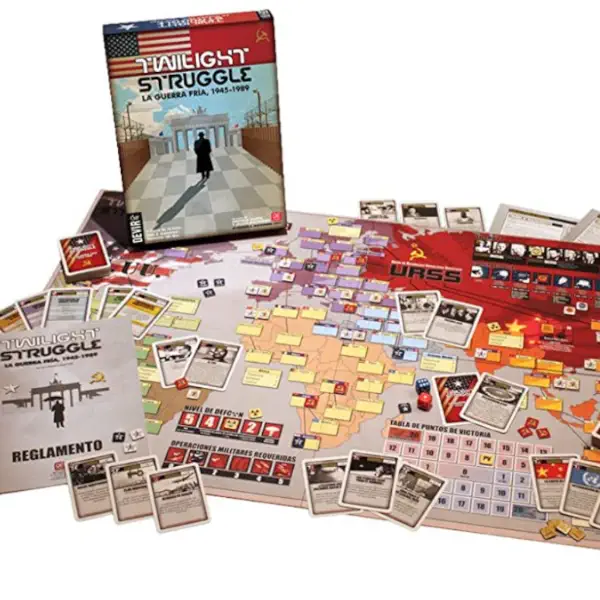 Players: 2
Play Time: 120-180 Min
Age: 13+
Complexity: 3.60/5
Any list that says to feature the best board games for adults but misses out on Twilight Struggle should not be taken seriously. Twilight Struggle is a two-player strategy game that has been around since 2005 and has recreated various conflicts and theatres of war during the Cold War, pitting the United States versus the USSR and their satellites.
The game plays as a political to-and-fro that involves military operations and clandestine operations that result in coups and toppled governments. As this unfolds, the game draws on a unique DEFCON system which exemplifies the risk of a nuclear war between the two superpowers.
Twilight Struggle though is about avoiding nuclear annihilation and winning ideologically in the long run. This is done by accumulating victory points through some actions and achievements as part of the game. You may win points by controlling areas, winning new allies, or working on other designs of your own as instructed by the game.
This is by far the best board game adults can enjoy that is set in the Cold War period and tells a different story with each copy of the game.
Buy Twilight Struggle on Amazon US.
9. Nemesis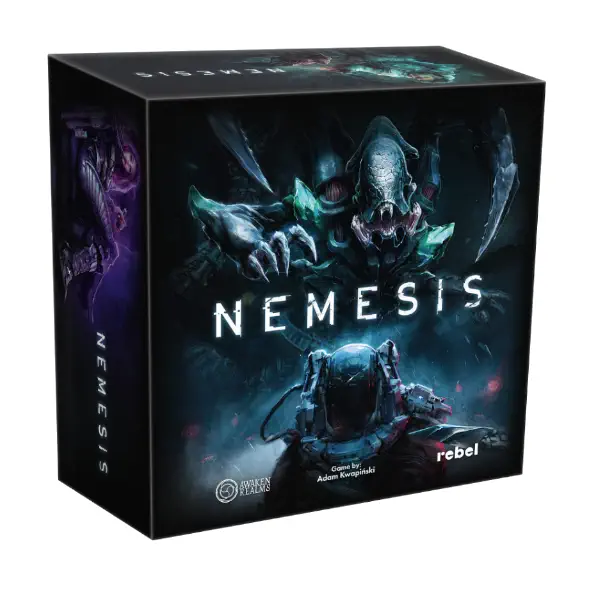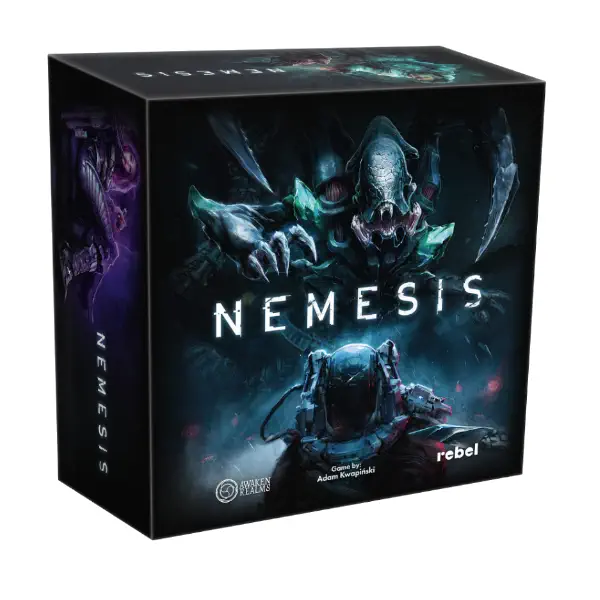 Players: 1-5
Play Time: 90-180 Min
Age: 12+
Complexity: 3.43/5
Awaken Realms' Nemesis is one of the top board games you and your adult friends may come together to play. The game was designed by Adam Kwapiński and has enjoyed critical acclaim and seen multiple sequels and expansions follow. Nemesis is the answer to the question – what if you could live through Ridley Scott's Alien movies?
It's a nerve-wrecking journey where each player takes over a unique character with special abilities and has their agenda. The game can be played co-operatively, where you try to fulfil many missions and safely return your ship to Earth or blow it to pieces and escape on time, or competitively.
The competitive setting is what gives Nemesis its unique cat-and-mouse quality. Each character may have a mission to guide another player to their death and then escape the ship to win the game. Other players may be genuinely trying to save the ship and vanquish the alien invaders and… oh, yes.
There are aliens – big, slimy, and nesting-in-your-chest-cavity types of aliens that may come a-bursting out of you at any moment. Do you head down a dark corridor with one of your crew members or do you prefer to stick in larger groups where betrayal cannot go unnoticed?
All of this matters… but then again, you hardly have the time to dilly-dally if the ship is about to explode. Players must take a chance on each other, manage resources, throw Molotovs at big alien creatures, and try to survive this cosmic ordeal.
Nemesis is very possibly one of the most gripping space adventures you will enjoy on your game night, and our best board game for adults who love the suspense of not knowing whom they may trust.
Buy Nemesis on Amazon US.
10.Arkham Horror: The Card Game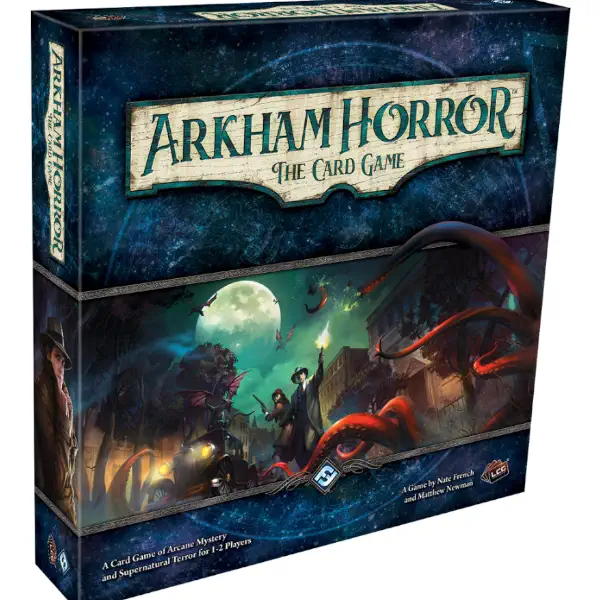 Players: 1-2
Play Time: 60-120 Min
Age: 14+
Complexity: 3.53/5
Set in the Lovecraftian pantheon of Cthulhu Mythos, Arkham Horror: The Card Game is a gripping adventure into the supernatural. This makes for the perfect board game for adults who enjoy mystery, don't mind the oozing horror, and love the ambience.
Published by Fantasy Flight Games, this is a living card game which will take you through the entire mythology of Lovecraft and put you on cases that uncover more horrific truths about the world and the ancient creatures that still visit it.
The game has narrative-driven gameplay that will lead you through unique scenarios with each one offering a fresh layer of fright. Players will have to make decisions based on their encounters as they try to get to the bottom of each case, creating unique playthroughs and ways to experience the game.
You need not be a Lovecraft story-telling fan to feel how thrilling this game is and how it pulls you into its immersed and thematic atmosphere that will make you believe that just like one of your determined characters, you are threading on a thin line with death gaping back at you from every dark corner.
Praised for its high replayability, immersive theme, and unique and ever-evolving narrative gameplay, Arkham Horror: The Card Game is perhaps one of the most serious board games for adults on this list.
Buy Arkham Horror: The Card Game on Amazon US.
11. Barrage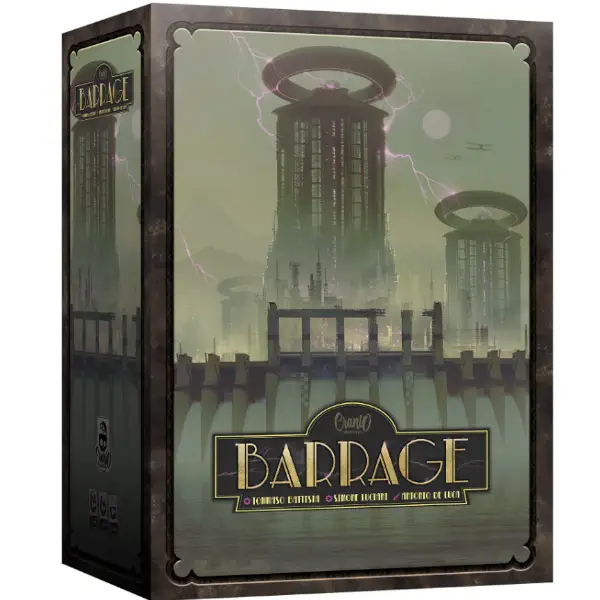 Players: 1-4
Play Time: 60-120 Min
Age: 14+
Complexity: 4.08/5
It's time to sluicegates of progress and reap the benefits of thereof – or shut the valves on the dams and hog all the hydroelectric power you can. In Barrage, players will take the roles of tycoons and entrepreneurs who are competing against one another to create the most efficient hydroelectric power plants, leveraging an array of game mechanics and resources to achieve their goals.
Players will also have to sculpt and alter the terrain, trying to speed up the rivers and waterways to boost the power they can produce and thus secure more points. Each participant will collect resources, build various infrastructures, and add more workers to their expansive force. The game uses a clear-cut worker placement mechanic which still involves a fair degree of strategizing as your decisions now will have an impact on your future.
This is a heavy Euro-style game and one of the more serious options for board game fans on our list. Adults may appreciate Barrage owing to its realistic theme, compelling gameplay, and somewhat challenging mechanics that make you double-check every call you make as the game progresses, and you compete for every bit of resource.
Barrage is a game of deep strategic thought and a title that allows for endless replayability where the joy of playing comes from defeating your opponents through skill, foresight, and tactical design.
Buy Barrage on Amazon US.
12. Mage Knight Board Game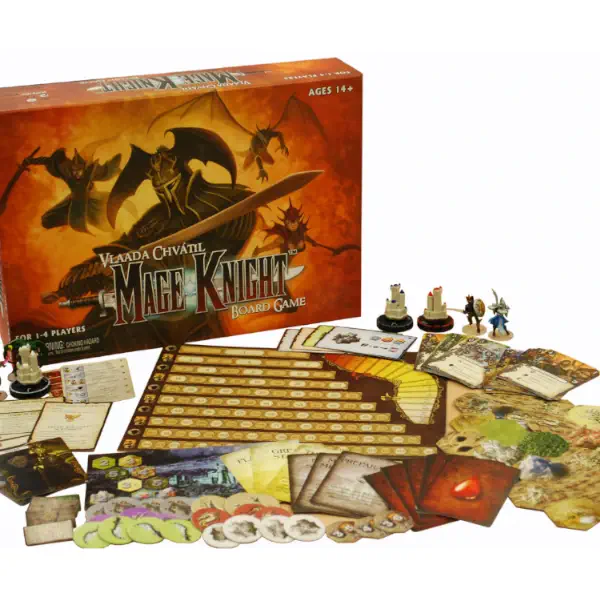 Players: 1-4
Play Time: 60-240 Min
Age: 14+
Complexity: 4.35/5
Deck-building, role-playing and a very modular kingdom – Mage Knight Board Game has it all. This WizKids adventure game will have players play as… well, mage knights who set out to perform meats of magic and strength across a magical land that festers with dark magic, terrible monsters, and proverbial villains.
The game will have players advance through some campaigns and storylines with the action unfolding based on a modular terrain that is explored by the knights. Every successful feat will allow players to level up their characters and access new equipment and abilities.
Each playthrough may feel different as it comes with all sorts of small tweaks to the story and gameplay that make for the game's great variability. Players will explore ancient ruins and fight dangerous beasts. The game itself offers so much in terms of the experience as you get to play solo, cooperatively or even competitively.
The game's end is triggered based on the scenario you have chosen, and it will also depend on what mode this is – conquest, solo, cooperative, or competitive. The game usually lasts between 2 and 4 hours and makes for a great tabletop experience and one of the best adventure board games for adults on this list.
Buy Mage Knight Board Game on Amazon US.
13. Too Many Bones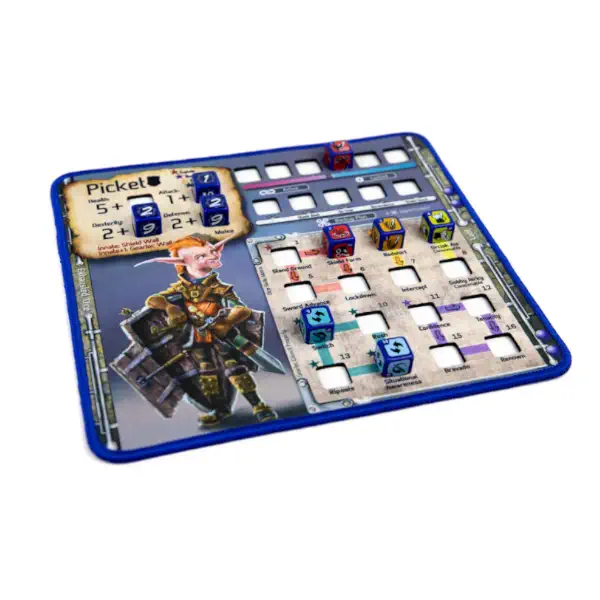 Players: 1-4
Play Time: 60-120 Min
Age: 12+
Complexity: 3.85/5
Too Many Bones is a game designed by Chip Theory Games that uses unique a dice mechanic to create compelling and highly-customizable characters called Gearlocks. Each player gets to play their character and uses a set of personalized dice, which can be spent to perform actions, advance certain character attributes, and generally defeat monsters and bosses in various encounters as part of an overarching storyline.
The game brings players together as they try to complete different quests of varying difficulty, with many encounters proving a real challenge and taking an actual strategic thought to overcome. The game is a real brain-teaser when it comes to min/maxing your character, as there are certain optimal decisions to make.
Even if you are not so inclined on maxing out your character strengths, you can bring unique, fun, and rewarding builds to the game and experiment with all sorts of abilities. The dice can be used to perform various actions, such as casting a spell, wielding a melee attack, or performing a ranged attack.
The board of the game is modular, which makes each playthrough different and fun, offering some surprises down the road. Too Many Bones is one of the most popular board games for adults, owing to its built-in difficulty with each playthrough offering a new challenge that takes coordination and collaboration.
Overall, Too Many Bones is an engaging bit of tabletop adventure which feels and plays rewarding and offers so many ways to have fun as you go along.
Buy Too Many Bones on Amazon US.
14. Wingspan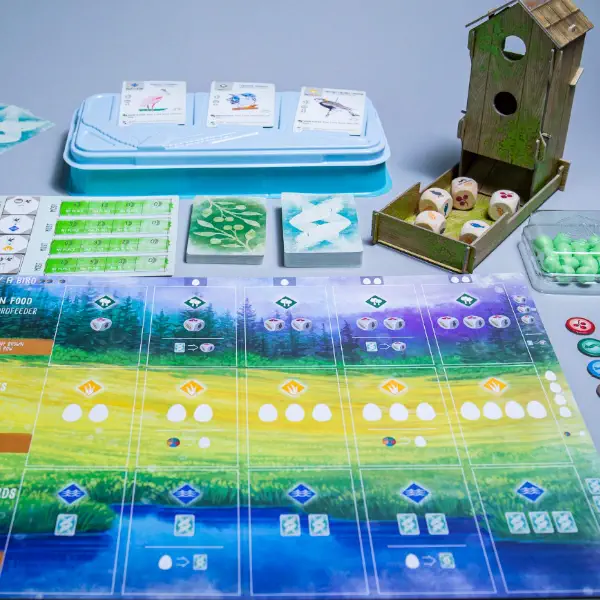 Players: 1-5
Play Time: 40-70 Min
Age: 10+
Complexity: 2.46/5
Wingspan is a beautifully designed board game for adults that will make you appreciate bird wildlife in ways you have not thought possible before. The goal of the game is to attract the most prominent bird species and make them nestle in the habitats you have built for them. This would require careful resource management and anticipating some seasonability of bird behavior.
Players will compete for various food sources to make sure that they have enough food to offer exotic and rare birds, which arrive in their habitats and allow them to score even better victory points. The game is highly educational, but it also doesn't expect players to familiarize themselves with ornithological terminology.
Wingspan can be played competitively or in a relaxed atmosphere of laidback fun, which makes it the perfect board game for adults, even when you are not feeling too competitive. The game is designed to be accessible to players of all skill levels. The components are beautifully crafted to create an immersive and pleasant experience which strikes home with players.
There is a lot of room for tactical maneuvering and ultimately, Wingspan feels and plays as a fun and neat game to try!
Buy Wingspan on Amazon US.
15. Great Western Trail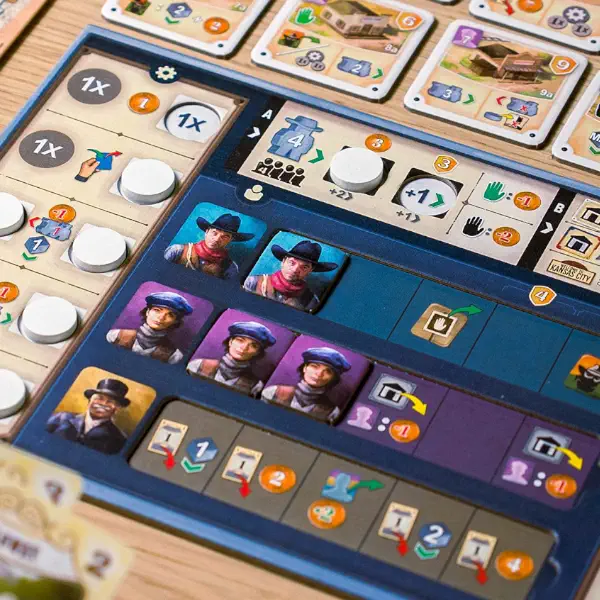 Players: 2-4
Play Time: 75-150 Min
Age: 12+
Complexity: 3.70/5
Featured in South Park and popular culture in general, Great Western Trail is a brilliant board game for adult players. The strategy game was designed by Alexander Pfister and published by Stronghold Games. In Great Western Trail, players take the role of cattle drivers who try to cross a long and treacherous terrain in the American West, feel with bandits and calamities of all sorts.
Players take the long and arduous trek through familiar places such as Kansas City, Denver, and San Francisco, and collect resources in exchange for delivering and selling their cattle successfully. This allows them to construct a variety of buildings that make rearing and breeding, as well as transporting, cattle much easier. The game is great fun and there is a lot of to-and-from between the players who strive to earn the biggest buck cowboying in the American West.
Who succeeds is a matter of picking a good strategy, anticipating a few calamities around the round, and denying your fellow players some opportunities that they would otherwise have had it not been for your shrewdness.
Buy Great Western Trail on Amazon US.
16. Ark Nova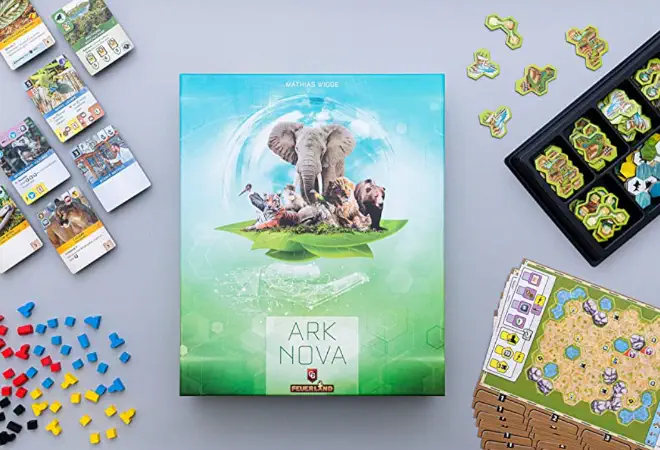 Players: 1-4
Play Time: 90-150 Min
Age: 14+
Complexity: 3.72/5
Ark Nova is one of the biggest board game hits for adults that has hit the shelves of hobby stores lately. The game focuses on planning and building a modern zoo that you need to manage scientifically to make sure that all species feel well and thrive. You also want to keep visitors happy.
The game relies on heavy hand management as you sift through a variety of different card types, including but not limited to Animals, Sponsors, Association, and others, that allow you to perform different actions and advance work on the zoo. Players need to spend their resources smartly and make sure that they hire the right specialists, build special enclosures, and increase the scientific renown of their project.
Ark Nova has gone with a lot of content right in the core box, packing hundreds of cards that make the experience deeply fun and engaging and offering you plenty of variabilities and worthwhile experiences.
The game offers highly-thematic and strategically-rich entertainment that is shared with others but can also be experienced on your own through the game's solo mode. All in all, Ark Nova truly makes for one of the best board games for adults.
Buy Ark Nova on Amazon US.
17. Dominion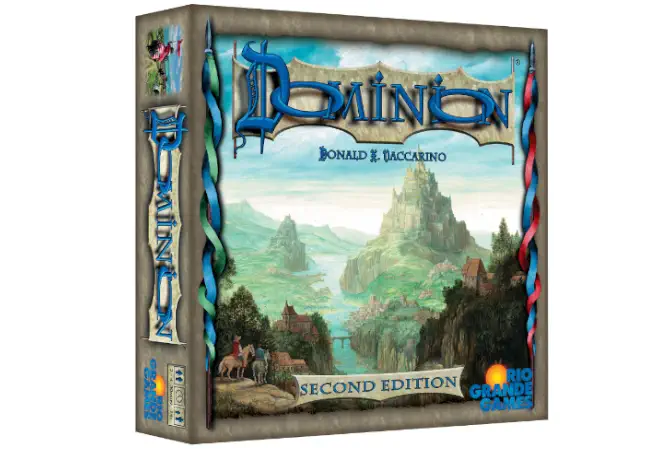 Players: 2-4
Play Time: 30 Min
Age: 13+
Complexity: 2.35/5
Dominion – the timeless classic that has more expansions than we care to name. In all seriousness, though, Dominion is the grandfather of the deckbuilding genre in the board games hobby, and it's one of the best games for adults on this list.
Published by Rio Grande Games and designed by Donald X. Vaccarino, the game will have you play a very classic version of deckbuilding, where you start with a small deck and gradually improve it by burning weaker cards and acquiring stronger ones that can trigger a series of chain-effects.
Dominion is a very dynamic and replayable game, as every box of the many expansion that has been released over the past 15 years is compatible with every other version. The second edition of the game has standardized all cards and the fact that you draw different common cards – from which decks are formed – gives the game an endless variety and approach.
Overall, Dominion makes for an immensely fun game that you will come to love and appreciate – it reminds you of that early-day deckbuilding game, and it cannot be any other way. Dominion is the timeless godfather of the genre and a very fun and worthwhile game to this very day!
Buy Dominion on Amazon US.